Windows 11/10: Free Download 4K Movies for Surface Hub from YouTube
Where and How to Free Download 4K Movies Videos for Windows 10 – powered Surface Hub Tablet
January 21 might be all about Windows 10, the next chapter in Windows, but there's something for the hardware-heads as well, such as, Surface Hub. It is an 84-inch tablet giant being packed with a 4K screen resolution, sensors, speakers, WiFi, NFC, microphones, cameras, Wireless Projection and more. But here what we'd like to show you is how to download and watch 4K movies on Surface Hub, instead of how powerful the Surface Hub works. Moreover, it also helps troubleshoot insufficient storage space for 4K movies on Surface Hub tablet.
Where to Get and Free Download 4K UHD Movies for Microsoft Surface Hub?
4K UHD is a resolution of 3840 x 2160, twice the horizontal and vertical resolution of 1080p HD. You can see more details and feel more real while watching videos with 4K UHD resolution. So, it's definitely a piece of good news that Microsoft unveiled Surface Hub with 4K display that can process 4K content. And due to the native support for MKV on Windows 10, playing 4K movies wrapped by MKV on Surface Hub is no problem. But the questions are where to get access to 4K movie content and how to free download 4K movies for Surface Hub? In fact, you can free get and download 4K movies from the most popular video site – YouTube. In 2010, YouTube announced its support for 4K video uploads. And YouTube users could watch 4K videos/movies by choosing 2160p option in the quality menu until December 2013.
To watch 4K movies on Surface Hub online, you need to click on the gear icon, move to Quality option and choose 2160p 4k. But please note that watching 4K content requires a 25Mbps or faster downstream internet connection which is faster than most people have. Thus, watching online 4K movies on Surface Hub may be stutter. But good news is that you can have a fluent viewing if you download 4K movies and play them on Surface Hub offline. It's easy to implement with the help of a free 4K/8K movie downloader – WinX YouTube Downloader.
WinX YouTube Downloader is one of the most popular free 4K 2160p movie downloaders. It is available to free download 4K UHD movies with 4096 x 2160 or 3840 x 2160 video resolution, 8K videos with 7680×4320, 1080p HD, 720p and SD video quality. Most importantly, it is fully compatible with a wide array of Windows operating systems, including Windows 10, Windows 8, Windows 7, Windows XP, etc. With Multi-thread and Multicast Technology, it helps enhance audio video sync spontaneously and finish 4K movie downloading for Surface Hub at 5-8x real-time download speed. And the High Quality Engine ensures that the video audio quality will never be damaged in the process of 4K UHD movie downloading.
How to Free Download 4K Movies for Surface Hub?
For starters, we should download and install WinX YouTube Downloader on your Windows (10) computer. Then launch it to perform 4K movie downloading for Surface Hub by following the steps below.
Step 1. Open YouTube website, search for a movie in 4K resolution, pick out the target 4K movie, and then play it. At this point, you need to copy the URL appeared in the address bar.
Step 2. Click on the chain-like button on WinX YouTube Downloader, and press "Paste & Analyze" button to grab the 4K movie video information. Once finished, please choose "3840 x 2160" option and click "Ok".
Step 3. Hit "Download" to begin to download 4K movie for Surface Hub.
Then it remains only to wait until the 4K movie downloading is accomplished and then transfers the downloaded 4K movies to Windows 10 Surface Hub for later offline playback.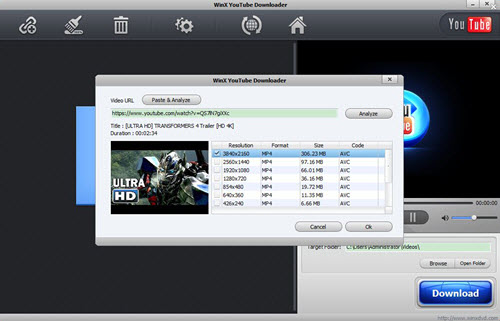 How to Troubleshoot Insufficient Space for Storing 4K Movies on Surface Hub?
It is known to all that 4K movie file size is very big. The first 4K movie you can download is 160GB. It really requires massive space to save 4K movies. Check the 4K movie storage suggestions below.
1. Stream 4K movies from computer/PC to Surface Hub.
This solution requires you to download 4K movies on your computer, and then stream 4K movies from computer to Surface Hub. Thus, you can watch 4K movies on Surface Hub without occupying memory. Wireless Projection enables users to share their Windows desktop to the Surface Hub both wired and wirelessly.
2. Compress 4K movies to fit for Surface Hub with minimum quality loss.
If you want to store 4K movies on Surface Hub with relatively less storage, a powerful video converter titled WinX HD Video Converter Deluxe can help compress 4K movie size to fit for Surface Hub with minimum quality loss. Only several mouse clicks are required: load downloaded 4K movies -> select output profile for Surface Hub -> hit RUN to begin compressing -> once finished, simply transfer the compressed 4K movies to Surface Hub. The newly supported hardware acceleration technology including most advanced Intel QSV, MMX-SSE, Nvidia CUDA/NVENC, Hyper-threading and AMD 3DNow! makes WinX HD Video Converter Deluxe become world's No.1 fast video converter.
If you need an all-in-one 4K/8K movie video downloader and converter capable of free downloading (4K UHD/8K FUHD) movie videos as well as fastly compressing and converting 4K/8K movie videos to PC, Mac, iPhone, iPad, Microsoft WP8 Pad/Mobile, Xbox, Zune, Surface Pro, Android Samsung Galaxy, HTC, Google, Sony Xperia series, etc. please turn to WinX HD Video Converter Deluxe.