Best MP4 Compressor for Windows 10 Without Losing Quality
I bet all of us have MP4 video files which are probably downloaded from the web or recorded by cameras. However, we may need to shrink them, in order to save space in our computer, mobiles or other devices, or to save time when sharing (GoPro) MP4 videos to friends via email or uploading to YouTube and the like. Here comes to the question. Which is the best MP4 file compressor? In this post, we will focus on picking out the best and easiest MP4 compressor for Windows 10.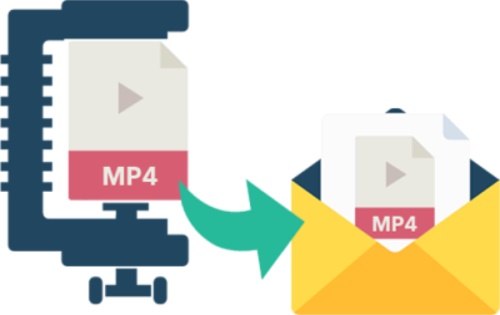 Handbrake vs online MP4 compressor vs WinX HD Video Converter Deluxe, which is the best MP4 compressor for Windows 10?
Our final choice of best and easiest MP4 compressor for Windows 10 [100% clean]
WinX HD Video Converter Deluxe | Average User Rating: ★★★★☆ (based on 475 votes)

Compress 4K/HD MP4 and others on Windows 10 32bit/64bit and lower while keeping high quality.

Offer multiple ways to reduce MP4 file size: decrease resolution, bit rate, choose a more compressed codec, crop/trim unwanted parts, etc.
Internet connection can be the one to blame most likely for YouTube TV not working on Ruku, Xbox, HDTV etc. But this doesn't necessarily mean that your Internet is too slow. People with fast fiber optic connections can also suffer from YouTube TV freezing or not loading. It's all about your internet connection to YouTube server. In brief, a slow connection to YouTube server could delay audio and video data, resulting in a loading screen, while a fast connection is able to stream videos without interruption and accommodate 4K UHD up to 7.1 channel surround sound.
Is HandBrake the Best MP4 Compressor for Windows 10?
HandBrake is a well-known video transcoder, workable on various operating systems including Windows 10. It allows you to import MP4 videos and could do you a favor when you need to compress them. However, it doesn't seem to be workable sometimes.
"I have a lot of mp4 files I'd like to compress to save space. I've tried Handbrake but it makes output files bigger than the originals. Anything else I can try?"
"I have tried the program Handbrake and had a couple of issues with it. For some strange reason the file always deletes itself after it's finished compressing. It seems to be a common issue with Handbrake if you google it, but I don't believe there is a fix yet."
HandBrake isn't an easy-to-use MP4 compressor for Windows 10. If you're not a tech-savvy guy, it's easy to get stuck in those complicated settings. In the end, you may get a bigger MP4 file, or do compress it but with much quality loss.
Will Online MP4 Compressor Be the Right One?
Opponents of desktop-based program argue that an online MP4 compressor is enough to reduce MP4 file size on Windows 10. Yes, sometimes your requirement for MP4 compression can be met by online service. But it's necessary to point out the most common issues with online MP4 video compressors. Let's name a few below.
1. Online MP4 compression tools, such as Convert.Files and Zamzar, are filled with ads.
2. They have limitations on input file size, maybe 50MB. If your MP4 file is larger than the maximum size, you have to pay a high price for it.
3. Users may be rejected to compress MP4 files on Windows 10 unless an account is registered.
4. Email address is always required to receive download link of compressed MP4 files, which may contain virus or other malware.
5. Online MP4 compressors cost more time, because they rely on network bandwidth, and support one-by-one compression only.
Which Is the Best MP4 Compressor for Windows 10?
After long-time and side-by-side comparison, WinX HD Video Converter Deluxe stands out as the best MP4 compressor for Windows 10 32bit and 64bit. As a professional desktop-based video compression software, it is much easier than Handbrake, and don't have any disadvantage that online MP4 compressors own.
It allows you to compress MP4 videos on Windows 10 through different ways.
1. Choose a more compressed codec.
If your target MP4 video is encoded with MPEG-4, then re-encode it to AVC/H.264. But if it is encoded with H.264, you can compress this MP4 video to HEVC/H.265 - the successor of AVC/H.264. Compared to its predecessor, HEVC/H.265 offers about double the data compression ratio at the same level of video quality. By testing, a MP4 video could be reduced by about 60% after converting to HEVC.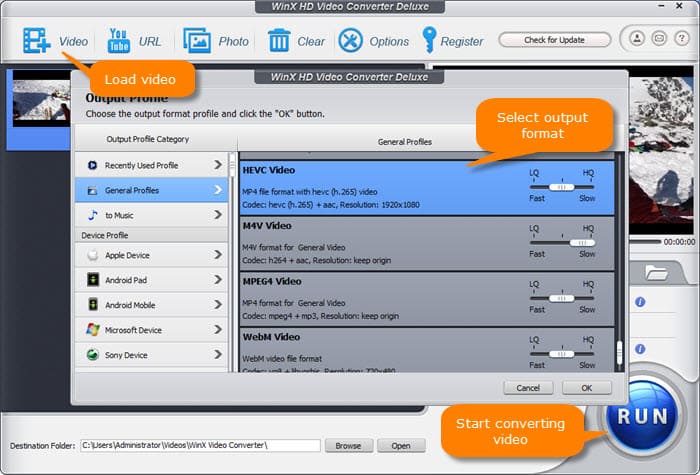 2. Decrease MP4 video resolution.
Got a MP4 video in 4K? Just reduce the resolution if you don't have a 4K-ready TV or monitor to play it on. Sometimes we don't need super high definition video and our eyes can't tell the subtle difference. Video will look perfect if it fits our device perfectly. So if your video resolution is higher than your display resolution, lowering resolution will be a good way. You won't see obvious quality loss. This MP4 compressor is available to customize video resolution on Windows 10. You can choose one from premade options or type in any values.
Here we list some common video resolutions for your information. You can check the original resolution and choose one level below it.
2160p (3840×2160), 1440p (2560×1440), 1080p (1920×1080), 720p (1280×720), 480p (854×480), 360p (640×360), 240p (426×240)
3. Lower bit rate
The lower bit rate you set, the smaller file size you get. However, you're not suggested to put a too small value, if you don't want to lose too much quality after compressing MP4 video. To keep a relatively high quality, you're advised to reduce bit rate by 20% to 30%. For regular video where music/audio isn't too important, you can choose 160 as the audio bit rate.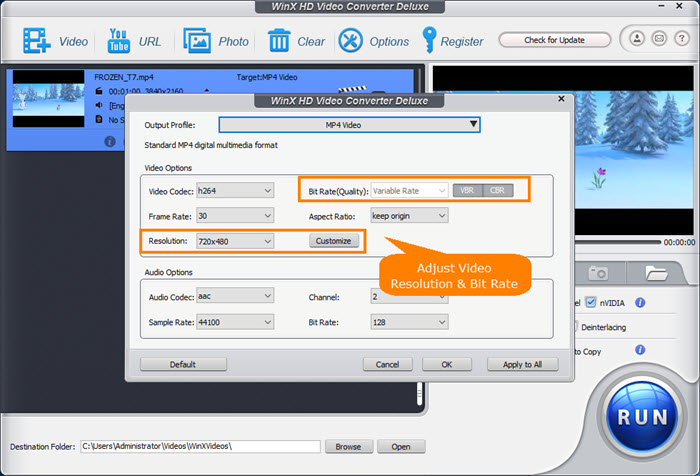 4. Crop and trim off unwanted part.
This Windows 10 MP4 compression software also enables you to shrink file by cropping and trimming off unwanted parts, such as the ads, titles, trailers, titbits, black bars, etc. Simply drag the bar or set start and end time, you'll cut off unwanted footage. Tick the box of Enable Crop, you'll be able to cut away black edges or unimportant area.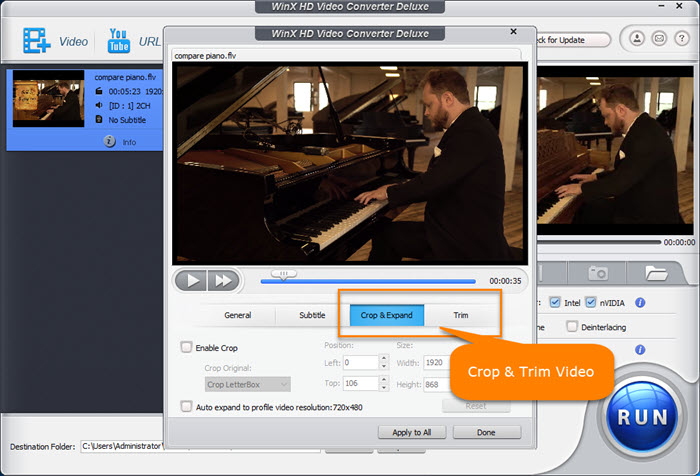 5. Drag the bar to LQ.
By default, this MP4 compressor sets output profile at the middle position between LQ and HQ. To compress MP4 video without changing file format, resolution or other parameters, you can simply drag the bar to LQ. It will reduce about half size.
As for the frame rate, you'd better keep your MP4 video as the original. This is because unprofessional settings may make movement in your video seem jerky or unnatural.
To sum up, WinX HD Video Converter Deluxe is the best way to compress MP4 files. Built with high-end technologies (Intel QSV, MMX-SSE, Nvidia CUDA/NVENC, Hyper-threading, AMD 3DNow! Tech, High Quality Engine), it can finish MP4 compression at super fast speed while keeping good quality.
Besides serving as a MP4 compressor for Windows 10, it is also a video converter that can convert virtually all videos to mainstreaming formats and devices, a free online video music downloader supporting 1000+ sites, and a photo slideshow maker allowing you to add background music.
Free download this all-in-one MP4 compressor for Windows 10 now >>
Please feel free to share this tutorial if you think it is helpful!