"I want to find a good sounding mp3 player that plays FLAC/losseless audio. Does anyone know of a music player that can decode FLAC files? It doesn't have to be anything special in terms of looks, but must be cheap or free, and sounds good."
As we said, FLAC is not so widely supported as MP3. To be specific, FLAC cannot be played back natively on iOS, OS X, Android 3.0 and before, Windows 7 and before, etc, unless you download third-party apps/plug-ins. Windows Media Player and Android phones like Samsung Galaxy started working as your portable FLAC players since Android 3.1 and Windows 10 added native support for FLAC audio codec. In recent year, more and more car devices and home audio system /home media servers are turning themselves into a FLAC player, such as Citroën DS5, Tesla Model S, Sony's High-Res Audio Players, Pioneer, Cambridge Audio, Logitech, Seagate FreeAgent Theater+ HD, HDTV Network Media Player, etc. Here we are presenting a best free FLAC player, which decodes not only FLAC music, but also MP3/AAC songs, 4K/8K movie videos, etc.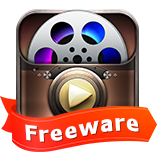 2020 Best Free FLAC Player for Windows (10)/Mac - 5KPlayer
Firstly, 5KPlayer is a totally free music/video player available in both Windows and Mac versions that can be safely downloaded from Softonic.com, a well-known software discovery and download portal. Then 5KPlayer functions as a professional FLAC player, focusing on providing superior audio playback experience. You don't have to install any third-party codecs or plug-ins to play FLAC, APE, MP3, AAC, MIDI, MKA, OGG, PCM, WAV, etc. Besides, it enables video audio airplay among computer, iDevices and Apple TV.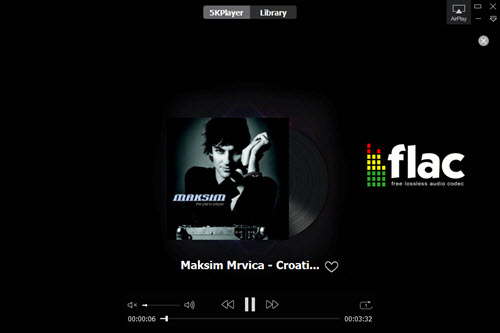 How to Play FLAC on Windows 10/Mac
Here we give you an example of how to play FLAC on Windows 10 with 5KPlayer
Step 1. Preparation
Download 5KPlayer for Windows or 5KPlayer for Mac first and get it installed immediately.
Step 2. Play FLAC songs
1. Open the free FLAC player and click into the Music module.
2. Load your local FLAC files by clicking the "+" button or drag and drop the song directly to the main interface.
3. Double click to play your FLAC music.
Step 3. Change style easily
1. Switch from "Library" to "5KPlayer" mode.
2. Right click the interface, choose "Audio", Equalizer Style, and then select the style you like, such as classic, dance, large hall, pop, techno, etc.
Free FLAC player for iOS/Android will be presented till the next update...