How to Add Subtitles to MP4 AVI MKV Movies Videos on Windows 10
Add Subtitles on Windows 10: How to Add Subtitles to Movies/TV Shows/Personal Videos in MP4, AVI, MKV and More on Windows 10
Windows 10 supports for various subtitle formats for videos natively, including SSA, ASS and SRT. That's really a piece of good news for those guys who'd like to play videos movies with subtitles on Windows 10 for learning foreign language or better understanding the story line. But before enjoying videos with subtitles, the first thing you may need to do is add subtitles to the videos. If you happen to need to insert external subtitle, this article committing to provide solution to add subtitles to videos/movies/TV episodes in AVI, MP4, MKV, etc, on Windows 10 can do you a big favor.
Powerful Video Subtitle Adder for Windows 10
With WinX HD Video Converter Deluxe, you can easily add SRT subtitles to movies/videos/TV episodes in any format, including MKV, AVI, MP4, WMV and more, on Windows 10, 8.1, 8, 7, etc.
Where to Download Subtitles to Movies/TV Shows on Windows 10
Apart from googling a subtitle for a movie or TV episode, you can also find your desired subtitle from many popular subtitle provider websites. Here, we list top 4 subtitle download sites where you can find a great number of subtitles in multiple languages and different subtitle formats for millions of films and TV shows.
1. Moviesubtitles. org (total subtitles: 87,476; movies:11,557; downloads:19,793,413)
2. OpenSubtitles (Now it has 3,360,958 subtitles for downloading. Besides, the site comes with many other features, like upload, request, etc.)
3. Download.hr/subtitles.html (Simply type in the movie name, choose language to begin searching and downloading a subtitle.)
4. Subscene.com (Also available for uploading and rating a movie subtitle.)
If you want to add subtitle to a self-made video, you can create a srt subtitle file with a text editor like Notepad and then add it using a subtitle adder.
How to Add Subtitles to Videos/Movies on Windows 10?
To attach subtitle on a video or movie, you first need a subtitle adder like WinX HD Video Converter Deluxe. With this tool, you are able to:
* Add SRT subtitles to videos in MKV, MP4, AVI, WMV, MOV, FLV, and other popular formats;
* Insert SRT subtitles to videos without changing video format;
* Embed external SRT subtitles to videos and also convert the videos to other formats;
* Add subtitles on Windows 10, Windows 8.1, 8, 7, etc.
FYI: SRT (SubRip) is one of the most widely used formats for subtitles. It is accepted by many media players, some hardware home media players, subtitle editors and also YouTube.
Step-by-step guide to add subtitle to a video/movie
To begin with, you should download, install and launch WinX HD Video Converter Deluxe on Windows 10.
Step 1. Load the video/movie to the Windows 10 subtitle adder by clicking "+ Video" button.
Step 2. Once the video is imported, this tool will display a pop-up window named "Output Profile". Choose a file format same with the original to keep the original video format, or specify a different one to output the video with a new format.
Step 3. Click "Edit" -> press "Subtitle" -> check the box of "Enable Subtitle" -> check "Extra" and hit "Add" button to load the srt subtitle file you download or create before. Once loaded, just hit "Done" to go on.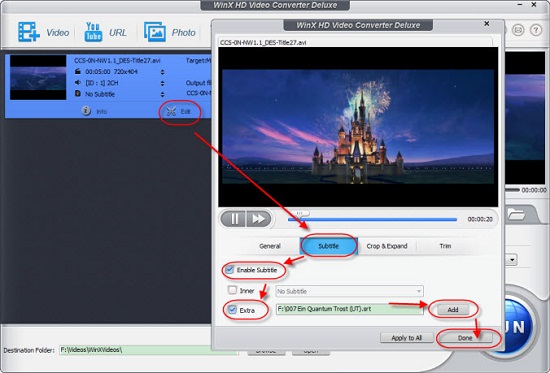 Step 4. Hit "RUN" to begin and finish adding subtitle to a video on Windows 10. After that, you can open your MP4/AVI/MKV files with subtitles.
After that, you will get a new video with subtitle embedded, and play it with a Windows 10 video player.
- Add SRT subtitles to movies, TV shows, home-made videos; | Disable inner subtitles with one link permanently;
- The hardware encorder helps convert videos with subtitles to MP4, H264, AVI, MOV, MKV, iPhone, iPad, Samsung Galaxy, Sony PS3/4 and more at the No.1 fast speed;
- Free download movies/TVs/videos from 1000+ sites; make phone slideshow videos, edit movie videos.