[Time-tested] Free Video Converter without Watermark or Time Limit
With the raising of digital cameras, from GoPro, DJI, to iPhone, everyone wants to make full use of these recordings. Vloggers want to share the footages on platforms like YouTube, Instagram. Ordinary users need to play and enjoy the memories on PC, TV and mobile effortlessly. All these can be done easily if you have a quality video converter. Although the market is perfused with a wide range of video converting tools, some of them are even free, the exported video is likely to be placed with a big watermark, which is totally unwatchable or unusable.
Instead of paying for their premium video converters to remove the watermark, here we handpick a list of free video converters without watermark, time limit or other hidden limitations at all. All those tools don't leave a footprint, logo or any other watermark on your videos.
Note: If you google the internet, you may find software like Movavi, Freemake Video Converter is listed in the review of top free video converter without watermark, which cannot stand the test. In our actual test, the free video converters come with watermarks. They automatically encode watermark onto the video from the beginning to the end, and ask for upgrading to its Pro version to remove the watermark. So if you do want a truly reliable and free video converter which won't bother with watermark, check our top list, all of which are tested without watermark.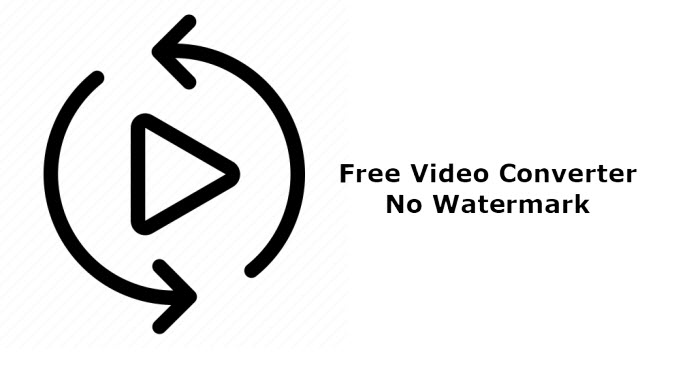 Top 4 Free Video Converter with No Watermark
No 1. Handbrake
Compatibility: Windows, Mac, Linux
CNET rating: 4/5 stars
Best for: Open-source free video transcoder with no watermark or other limit.
Handbrake has been recognized as the video transcoding standard for years, which allows you to free convert video you throw at it on Windows, Mac, and Linux effortlessly and doesn't watermark you video at all. We are happy to find that Handbrake has made some minor enhancements to its intimidating interface. And In addition to common video to MP4/MKV conversion, Handbrake now optimizes the presets for standard or high-quality 4K/HD conversions, along with the specific device profiles.
Key features:
Support both unprotected DVDs and videos.
Convert nearly any video to MP4, MKV or WebM.
Customizable settings for advanced users to tweak image size, resolution, codec, quality, aspect ratio, filters, and more.
Batch encoding video at a time.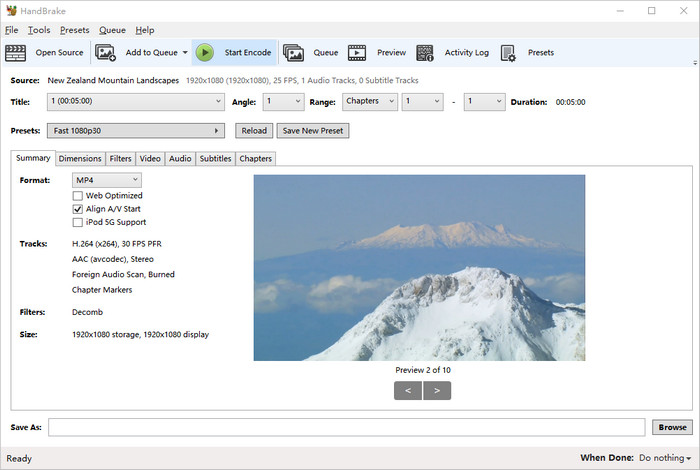 No 2. FreeConvert
Compatibility: Web-based.
Trustpilot rating: 2.3/5 stars
Best for: Online free video converter without the need to download external software.
FreeConvert, as its name suggests, is a 100% free online tool that supports converting not only video but also image, audio, ebook, and more. It helps to convert video files from one format to another without the need of installing any third-party software. Unlike many other online tools that add logo or watermark to converted file, making it unwatchable, FreeConvert helps to convert video with no watermark.
Video files are converted easily. Just upload your video to be converted, choose a preferred format, and click Convert. There is no pop-ups when converting. However, you are limited to 25 minutes of converted file and process a maximum of a giga per file. If your files are bigger and probably longer than 25 minutes, you need to upgrade to Pro and pay for $9.99-25.99 a month to get rid of the limitations and ads.
Key features:
Support a wide range of files including audio, video, image, document, ebook, archive, vector, etc.
Easily convert video to MP4, MOV, MKV and more.
Convert video saved on device, Google Drive, Dropbox, and URL. No 3. Any Video Converter Free
Compatibility: Windows and Mac
CNET rating: 3.5/5 stars
Best for: Free video converter without the need to download external software.
Any Video Converter is worthy the name, taking any video from your computer and converting them into just any video format you want. There is no time limit or watermark in the free video converter. Instead, it offers a lot of options, from format like MP4, VOB, MPEG, MKV, M2TS, to device such as iPhone, Android Samsung, Roku, etc.
Unlike Handbrake that is a little bit complicated for new comers, Any Video Converter Free is easy to use. Just import the video, choose a preferred format, and hit convert, then you are ready to transcode the video to another format. You will be pleased to find the converted video isn't watermarked with any logo and it is reusable and watchable after conversion. Any Video Converter Free is blamed for buggy playing in the window. But it is still worth trying if you want a free video converter with no watermark or time limitation.
Key features:
Convert video between any format, incl. DV, OGG, WebM, MP4, AVI, 3GP, etc.
Burn video to DVD with customized DVD menu templates.
Basic video editing such as split video, crop video, add watermark or subtitle to video.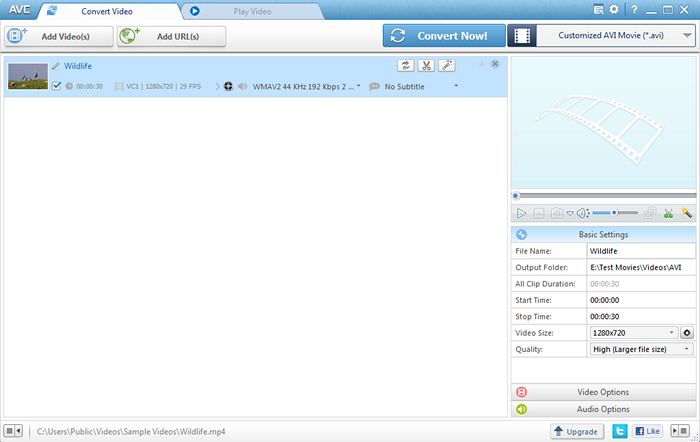 No 4. VLC Media Player
Compatibility: Windows, Mac, Linux, Android, Unix, iOS, and more platforms
CNET rating: 4.5/5 stars
Best for: Free media player with video converting features.
VLC has been around for a long time as a world-known free media player that can read and play MP4, MOV, HEVC, WMV, and other mainstream video formats without any external codec pack required. But if you dig into the program, you may happy to find it offers a reliable free video converter housed in its full-fledge media player, available for you to freely convert video file at ease and therefore make it compatible with different devices. The output video delivers a satisfactory quality, with no watermark embedded in the file.
Key features:
Work on all platforms incl. Windows, Mac, Linux, Android, etc.
Play DVD, video, and audio files freely.
Provide customizable video conversion feature.
Tailor the video output for specific devices like TV, Android, YouTube, etc.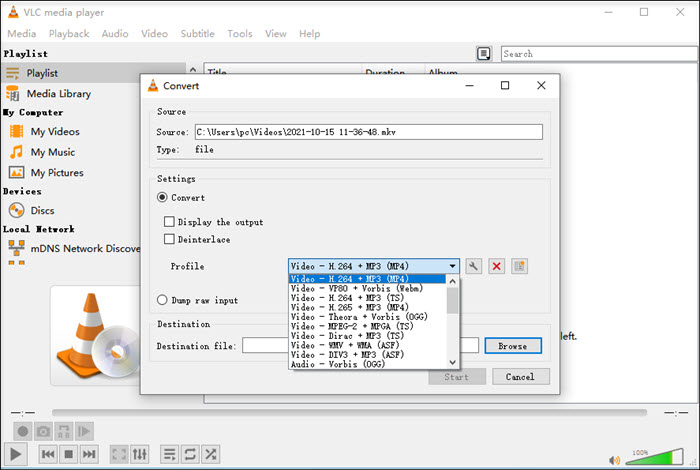 Frequently Asked Question
How Can I Convert a Video for Free without a Watermark?
Most video converters cannot let you convert video to MP4 or other format without watermarks. But the above video transcoders do not offer watermark or logo at all. You can feel free to use them. And the video converting steps share almost the same workflow. Here we take WinX as an example to convert a video:
Free Download WinX onto your computer.
After installation of the video tool, you can launch the program and load the video file to be converted by hitting the +Video button.
Choose a preferred output format. If you want to make it playable, and sharable on more platforms, it's advised to choose MP4 H.264 as the final output. You can also tweak the settings to adjust the video quality or shrink the size. Basically, higher resolution, and bitrate will lead to bigger data and slow encoding time.
Then save the output file and click RUN to begin converting video without watermark.