4K HDR 60fps HDR 10/Dolby Vision Video Free Download
Many devices now have the HDR feature that offers a wider range of color details and a punchier image. If you want to download some real 4K HDR sample/demo videos to show off your device's video and sound system, it won't be that easy.
Google "HDR video download", lots of results even on the first page are cheating users. Go to the 4kmedia.org site that claims free Ultra-HD HDR HLG Dolby Vision video download, select an HDR video, and click the Download File button, there will be redirects with an error message saying "Google Drive can't scan this file for viruses". The (file name.zip) is too large for Google to scan for viruses.
The 4K Downloader, a web-based online video downloader tool, seems to fully support a 4K HDR clip download. Copy and paste a YouTube HDR video URL to the box, and click the green Download button, the source YouTube HDR video will be analyzed quickly. A chart shows all the available quality, format (WebM), file size, options (HDR 60fps, 60fps), and a green Download button. Click the Download button and it's very disappointing and annoying - there are endless redirects and ads. All the efforts are in vain.
Here Comes A True Free HDR Video Downloader - No Limits, No Redirects, No Virus
Don't be frustrated. Here's a free 4K HDR video downloader - WinX Video Converter , which is tested to be able to download HDR videos. The program supports downloading 4K HDR demo/sample video 60fps, HDR songs, HDR Dolby Vision movies from 1000+ video sites. The batch download is available. There are no quantity limits, no ads, no virus, no redirects.
4K HDR 60fps Demo Video Free Download Tutorial
Step 1: Free download the software and open the program on your computer, click the icon at the top menu bar. Open the HDR video you want to download, copy and paste the video URL to the box, click the "Analyze" button, and the source 4K HDR demo video will be loaded immediately. A video information screen will appear.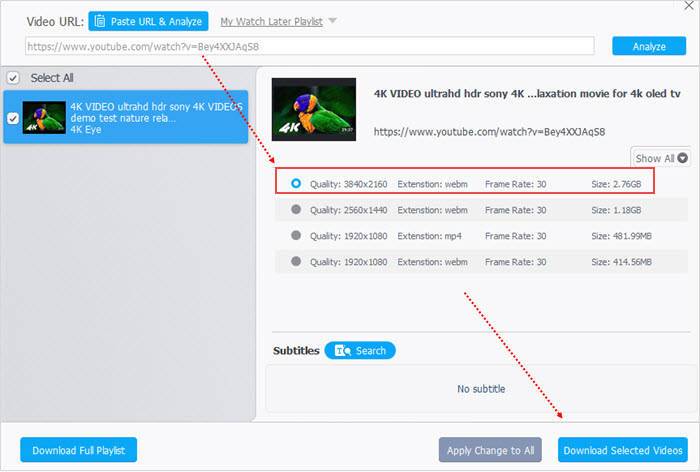 Step 2: Select the video parameters you'd like to save and click the Download Selected Videos to close the window. Click the Browse button to choose a location to save the downloaded 4K HDR video sample.
Step 3: Click the Download Now button to start the (4K) HDR video free download process. The time it takes to completes the HDR video download job also depends on the video file size, your internet connection speed, and your computer hardware. Now you can free download HDR videos for offline playback on 4K HDR TVs, Android mobiles, Windows PC, iPhone, iPad, game consoles, etc.
[HDR Video Resource] Where to Find HDR Content to Download
There seem to be massive HDR10+ Dolby vision videos online. However, some HDR videos are upscaled 4K HDR and not native HDR and are not worth downloading. Now, many video sites and streaming services support HDR video streaming, below are some reliable places where you can find 4K HDR 60fps Dolby Vision content to download or stream online.
YouTube
YouTube is the first major video-sharing platform to support HDR. YouTube has a 4K HDR channel with 230K subscribers. The HDR Channel is the first real HDR channel on YouTube and has hundreds of real 4K HDR 60fps demon videos/sample videos. You can play these 4K HDR videos on HDR-compatible devices, such as iPhone 8 or later, new 4K HDR TVs from Samsung, Sony, LG, Chromecast Ultra, PS4, PS5, Xbox, etc.
Amazon Prime Video
Amazon Prime Video offers access to thousands of movies, Amazon originals, and TV series in HDR with Dolby Atmos or Dolby Vision on compatible devices such as LG 4K HDR TVs. It's more difficult to dig out HDR titles to watch on Amazon Prime Video since there's no set category for HDR. Users can find out 4K titles first and look for the title with HDR label under the movie or TV series title. To watch Prime Video in HDR offline, read the guide on how to download HDR movies and shows from Amazon Prime Video.
Netflix
Netflix supports HDR 10 and HDR Dolby Vision and is a great place to watch HDR movies and TV shows. To watch Netflix HDR, your Netflix plan should support streaming in UHD, an HDR-compatible streaming device, an internet connection speed of 25Mbps or higher, and the streaming quality set to High. Make sure the HDR Video option is enabled before you watch Netflix in 4K HDR 10 or HDR Dolby Vision. If the Stream HDR Video option is greyed out, your device may not meet Netflix HDR requirements.