How to Solve YouTube No Sound on Windows (10), Mac, Chrome, FireFox, TV, iPhone, Android, Roku...
How to get sound on YouTube has been asked thousands of times. Below is an example.
"I'm not stupid, I do have my volume up and the YouTube video isn't muted, but I have no sound when I watch YouTube videos. The video is playing but no sound. If anyone could help I would really appreciate it. Thanks!"
There are answers, but it's never easy to find one exactly working for you. So here we've gathered up all kinds of ways to fix no sound on YouTube website or app.
Table of Contents:
No sound on YouTube video? Download it and see if it can play with sound!
We do have solutions to solve YouTube no sound problems. But if all failed, you can try to download online video and check if the offline YouTube video and sound can play properly or not. To download video for free, we recommend WinX HD Video Converter.
Part 1 Why Does Your YouTube have No Sound?
Sometimes, problems of no sound on YouTube are just caused by little things like forgetting to turn on sound on your computer, which really happen to some of us. There're many reasons for this issue.
The sound is disabled on YouTube video player, computer system, or an external speaker system.
The sound is muted from the web browser tab.
Audio drivers are out of date.
The browser you use to watch YouTube video could be the problem.
The Adobe Flash Player is corrupt or outdated.
Your security software interferes with Flash content.
A running multimedia program like any Messenger, music or video player interferes with YouTube.
YouTube videos contains copyrighted audio track, which leads to the silence.
"Google made a code change recently and it caused ALL YouTube video paged to ope with the audio muted". What you can do is waiting until Google fixes the code.
Bad network connection.
Part 2 How Can You Fix No Sound on YouTube?
We will start with the most basic level to help figure out what's going on with the loss of audio on YouTube. Well, I suggest you go through this list of solutions to fix the YouTube no sound problem one by one.
Solution 1. Check sound settings.
Not only should you make sure that the sound of your YouTube player isn't muted, but also you need to unmute and turn up the volume of your computer system and your external speaker system if there is. To check if your device speakers are muted or at the lowest possible volume setting, right click the speaker icon on the Taskbar, select Open Volume Mixer, and now you should see a few sliders. Make sure the sliders are not muted and not positioned at the bottom. In addition, you also need to go up to the browser tab where the YouTube page is currently open. Right click on the YouTube tab and see if there's an option says Unmute site. Click on it and now YouTube should play with audio. Solution 2. Check sound card.
Check if other video/audio streaming sites or apps have no sound problems, such as Facebook and Netflix. This is for your sound card verifying. If all other sites and apps can play sound normally, then your sound card has nothing to do with the YouTube no sound problem.
If no sound issue also happens on other sites and apps, then your audio drivers may be obsolete and need an update. Search for and open Device Manager, click Sound, video and game controllers, right click on your sound card and then select Update driver. Choose a desired way to search for drivers, search automatically or browse computer. When you have done updating, reboot your computer and try watching a YouTube video again. Solution 3. Run audio troubleshooter
If you encounter YouTube no sound problem with Windows (10) computer, you can try the audio troubleshooter to fix the problem. Click Start button, Settings, type troubleshoot, and then select Troubleshoot. Next, click Playing Audio and Run the troubleshooter. Then, Windows will start detecting problems and try fixing problems. Solution 4. Check Adobe Flash player.
Check out the version of your Adobe Flash player. YouTube and many other video websites use Flash player for video playing, and Adobe Flash browser plug-in problems happen often, which, as a result, show up as no sound or audio in YouTube videos.
Download the newest Adobe Flash player to have a try if you are still using an old version. Or get the previous back if the YouTube no sound problem appears only after you use the upgrade edition.
Solution 5. Restart, clear, update, reinstall, or try a different web browser.
We also find many users report YouTube no sound on Windows 10 Chrome, Firefox, IE, Microsoft Edge, etc. If you have sound problem on a web browser, here're a few things you can try to get rid of no sound issue.
Restart your web browser and reopen YouTube.
Clear the history and cache of your browser.
Open an incognito window to visit YouTube website.
Update your web browser.
If it is already the latest version, reinstall it.
Switch to a different web browser.
Solution 6. Configure your security software
You may be unable to hear YouTube video if your anti-virus programs and firewalls interfere with Flash content. Such kind of software might monitor and block network connections from third-party flash content. In this case, you need to configure your security software and allow 3rd-party Flash content to access the internet.
Solution 7. Turn off the leveling on your Roku TV
If you have no sound with YouTube on a Roku TV, try to press the * button and scroll down to Volume mode. Next, turn it to off and now you should be able to hear the YouTube video.
Solution 8. Close running multimedia program.
Multimedia program such as Spotify may interfere with your YouTube video. So check if there're running multimedia programs and close them. After that, you may hear YouTube sound.
Solution 9. Download YouTube videos.
If you are tired of no sound on YouTube videos problems for poor network or other reasons, downloading videos to avoid all of them seems like a good way out.
No sound on downloaded YouTube videos? Both bad net connection and inappropriate online video downloader would cause YouTube video no sound, because your audio download may have stopped before it is finished. If you lost sound in the downloaded videos, the problem might be sorted out by changing the downloading software.
A good one is WinX HD Video Converter Deluxe, which performs as an all-in-one free video downloader, converter and editor. From feedback of users, there has never been no-sound issues in downloaded video with this professional and fastest video downloader. Better yet, there are various special video downloading help files.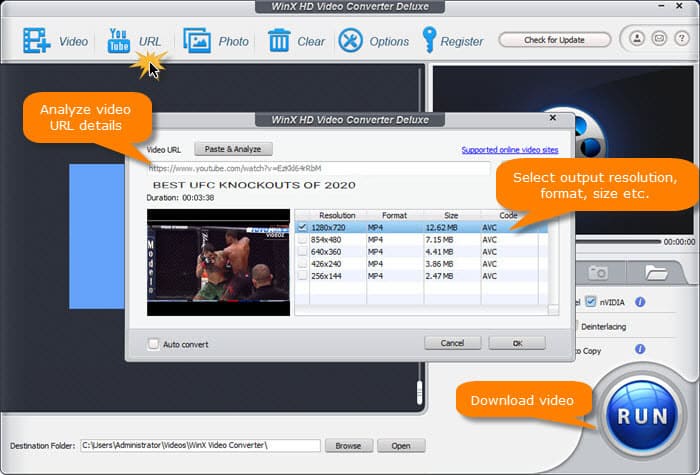 More information about WinX HD Video Converter Deluxe
1. This url video downloader delivers high performance for downloading any videos at the most competitive speed (5-8x real-time download speed).
2. Embedded High Quality Engine helps to keep original audio/video quality, while hardware acceleration, Multi-thread and Multicast Technology, which are designed to enhance YouTube audio video sync, play a big role in solving the YouTube videos no sound problems.
Free download WinX HD Video Converter to help you fix YouTube no sound issue!
Note: There is no quick solution for YouTube no sound problems caused by copyright restriction and YouTube being in the code update phase.
Disclaimer: Digiarty Software does not advocate downloading or copying copyright content for any commercial purpose and suggests referring to the copyright laws in your countries before doing so.