Download Liked Facebook Video to MP3: Online Tool or Software?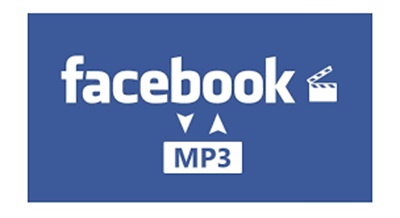 A few weeks ago, Facebook disabled some tricks about changing the URL to mobile mode to download video, since then saving video from Facebook turns complex. It is easy to watch videos from Facebook, upload to share proud videos with others, follow interested people and like their great content, but how about saving music, speech or comment videos into MP3 to portable devices and computers?
Save the audio from liked video for playback on different apps and devices, so you don't have to worry about losing it or looking for it over and over again. However, you spend hours trying to find any possible button to download it, but all in vain. If you don't want to waste more time, check the methods below to download Facebook video to MP3.
Ways to download and convert Facebook video into MP3:
1. Online Downloader and Converter
It is easy to find online Facebook downloader and converter from a search engine, and almost all of them are free to use. Some popular online video downloaders include FBDOWN, SaveAs and so on, and you only need a few simple steps to follow the instructions on their website to accomplish. Actually, if you only want to save the audio part of a video, an online recording tool can also be used as a reference solution.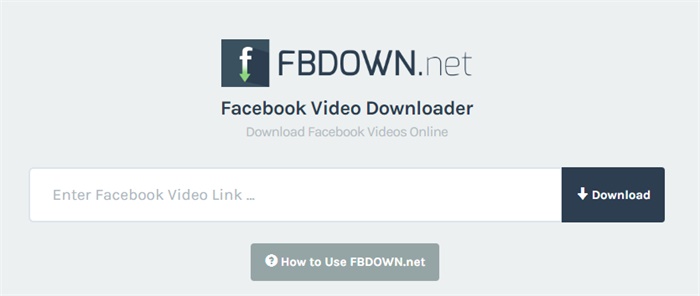 Online video downloaders are easy to use, with neither special requirements for computer OS nor software installation. But they have shortcomings.
1) Features of online tools are limited. For example, some do not have both download and transcoding functions and you cannot save Facebook video into MP3 format as you want. You should find and switch to other online tools or install plug-in to enable the function.
2) With lots of ads, online video downloader does not have a clear web interface.
3) Online downloader is not reliable enough, you are likely to misclick and automatically download something and even virus that will hard your computer.
4) Online tools require network connection and are slower than installed softwares. Bugs like download blank content, browser stuck, etc., are running out of your patience.
2. Best Facebook Video Downloader and Converter Software
Online tools seem pretty good, they are easy to find, and no need to install software, thus saving storage space. Although online tools are our preference, their deficiencies and hidden troubles tell us the finest choice would be offline software. A professional, powerful, and all-in-one software like WinX HD Video Converter Deluxe is your worry-free solution to download Facebook video in the most simple way.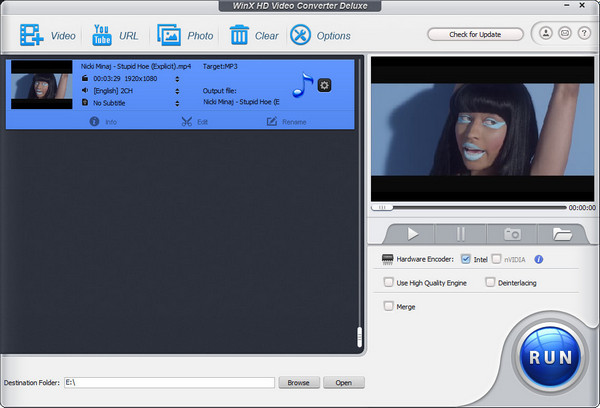 How to download and convert Facebook video to MP3
Step 1: Download and install WinX HD Video Converter Deluxe.
Step 2: Open to the interface and click URL button. Copy the video's URL and paste it to the example box, click to Paste & Analyze.
Step 3: Select the output video resolution, and select Auto convert box, choose to music on the left side, click on MP3 option and then press OK.
WinX HD Video Comverter Deluxe supports customizing the bit rate of output audio from 80 kbps to 256 kbps. For the highest music quality in MP3 codec, the bit rate is 320 kbps, and it is almost indistinguishable from the lossless format in a subjective sense of hearing. But higher quality means larger in file size, 265 kbps MP3 audio occupies 1.92 MB of storage per minute and 320 kbps MP3 audio occupies 2.40 MB of storage per minute. For the best balance between size and quality, you can just retain the audio bitrate at 265kbps, since it's really imperceptible to tell the difference between 256kbps and 320kbps.
Now, free download it and follow the tutorial step by step, you can backup video from not only Facebook but also 1000+ video sites like YouTube, Vimeo, and Instagram, etc. You can check the full list of supported online video sites.
Also, WinX HD Video Converter Deluxe is prefused with 420+ output formats, allowing you to download and convert Facebook video or any other contents to MP4, MKV, MOV, FLV, MP3 and all models of TV, computer, iPad, iPhone, Android, etc., so you can play your favorite videos anywhere anytime. It helps to transcode videos for sharing on different SNS sites with preferable settings, thus freeing you from format limitation troubles.