Download Amazon Prime Movies to iOS/Android, PC, Computer
Conveniently, Amazon Prime Video members can download Prime Video movies and TV shows to Android and iOS devices for offline watching. However, the Prime Video title download feature is not available to all devices. There's no option to download Amazon rental or purchased titles to your computer/PC, or hard drive. Even you run an Android emulator on your computer and you download Prime Video content to your PC, you can't watch the downloaded title on your PC once you move it out of the emulated Android environment. There's no legal Amazon Prime Video download app or ripper program. Follow the guide below to download movies from Amazon Prime legally.
Amazon Prime Video Download Feature Compatible Devices
Not all devices have Prime Video movies download feature, to download Prime Video movies or TV shows for offline watching, you need to meet one of the following device requirements. Note that you can't directly download Amazon Prime videos and movies to computers/PCs.
A Fire tablet (other than Kindle Fire 1st Generation)
An Android, iOS, or Windows 10 device with the Prime Video app installed.
Note: device compatibility may vary by location.
How to Download Purchased or Rental Prime Videos Movies and TV Shows
To download Prime Video titles/movies/TV shows to Android, iOS, Windows 10 devices, or Fire tablets, open the Prime Video app on your device, find the title/movie/TV shows you wish to download, and open the video detailed page, tap the Download button and save the content to your device.
Also read: top 4K movie list on Amazon Prime Video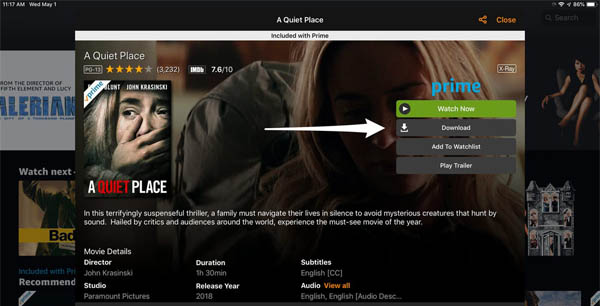 Note: Prime Video offers an option to download the entire season for TV shows. To download the individual episode, tap the Download icon on the list of the episode you want to save.
Prime Video Download and Viewing Availability
Not all titles on Amazon Prime Video are available for download. For third-party video subscription titles on Prime Video, you can download available titles to two devices at one time. A maximum of 15 or 25 total titles download depends on your location. For rental videos, once you've downloaded a title to a compatible device, you may not be able to download that title to another device or watch the title on multiple devices using the same Amazon account. For purchased content, you may download available videos to four compatible download devices.
You are not allowed to play the download Prime Video titles over Chromecast or Airplay. It's possible to play the downloaded Prime Video movies and TV shows to a television using compatible adaptors. You have 30 days to begin watching the downloaded Prime Video titles and you should finish watching a title once you start watching it. You won't be permitted to watch the downloaded title if your membership or trial expires or is canceled.
Can't Download Amazon Prime Video Titles? Check Our Tips
If you're having trouble downloading movies and TV shows from Amazon Prime Video, try the following troubleshooting tips, and try downloading again to see whether the issue is resolved.
Check your device compatibility. We list the Prime Video download compatible device above. If your device is not compatible, you won't see the title download option.
Check your Amazon Prime membership. Make sure your membership or trial is not expired or canceled. The download feature is only available to paid Prime users. Amazon Household members with shared Prime benefits have no options to download Prime Video content.
Check your location. If you are using a VPN or you are accessing Amazon Prime Video abroad, there are fewer Amazon titles available to stream and download. Only a selected Amazon Originals titles are available to stream outside your home country.