YouTube to AAC Converter: Rip AAC Music from YouTube
As is known to most of us, the built-in YouTube video formats are MP4, FLV, Webm, 3GP and the like. YouTube, as an online video sharing website, is not born with audio formats. Accordingly, YouTube to MP3 conversion has long been a stupendous demand until the termination of MP3 licensing recently while the successor AAC (and MPEG-H) taking over. So music addicts have to veer round to YouTube to AAC converting.
From a different perspective, Apple takes AAC, a standard audio format for iPhone, iPod, iTunes and iPad, as "baby". Therefore, converting YouTube to AAC (for iPhone, iPad, iPod, iTunes) is especially urged by Apple users. Like YouTube to MP3, to convert YouTube to AAC means to download and extract music off YouTube, so you need a YouTube to AAC converter.
FAQ about YouTube to Music (AAC) Conversion
1. Why people tend to AAC audio format instead of MP3 recently?
MP3 is being discontinued recently. Certain mp3 related patents and software of Technicolor and Fraunhofer IIS have been terminated. Bernhard Grill, director of that Fraunhofer division and one of the founder of the MP3 said AAC is "more efficient than MP3 and offers a lot more functionality". Besides, designed to be the successor of the MP3 format, AAC (Advanced Audio Coding) generally achieves better sound quality than MP3 at similar bit rates, both as lossy compression though.
2. Is it legal to download YouTube to AAC, MP3, MP4 or other file?
You won't commit piracy or violate a copyright by streaming anything at any time - on YouTube. YouTube grants something called "Fair Use", and it is illegal to download, use and share copy-righted YouTube videos without getting permission from copyright owners in some cases under US copyright law. But it is believed that it will become legal to download any video from YouTube in the future. Learn more about whether it is to convert YouTube videos.
3. How to Convert YouTube to AAC on Windows 10/8/7?
WinX HD Video Converter Deluxe, instead of an online YouTube video converter, is a desktop app that can download videos from YouTube or other online sites, and convert YouTube videos to AAC, MP3, AC3, WMA and other audio formats, or convert YouTube videos to MP4, AVI, MOV, WMV, MPEG and any mainstream video formats.
It allows you to extract your favorite YouTube videos as AAC files without registration, plug-in and codec needed. After converting YouTube to AAC, you can playback YouTube as music on your Apple iPhone, iPod, iPad, iTunes, or simply on with a free media player on your PC or Mac.
For Windows only. If you are a mobile user, please click here.
How to Convert YouTube video to AAC music?
Case 1. If you have downloaded the YouTube music video and saved on your hard drive, just convert it to AAC with VideoProc. See the next steps.
Step 1. Load YouTube video
Launch the software upon use, click "Video" button on the main interface to get into VideoProc - Video section, and then click "+ Video" to load your YouTube music video.
Step 2. Choose AAC as the output format
"Target Format" center, switch to "Music" option and target the second option, namely, AAC, Advanced Audio Codec in AAC or M4A Container, and hit "OK".
Tips: You can edit video like cropping and trimming. For faster conversion, VideoProc will make use of your Intel or nVIDIA hardware encoder on your computer, if any.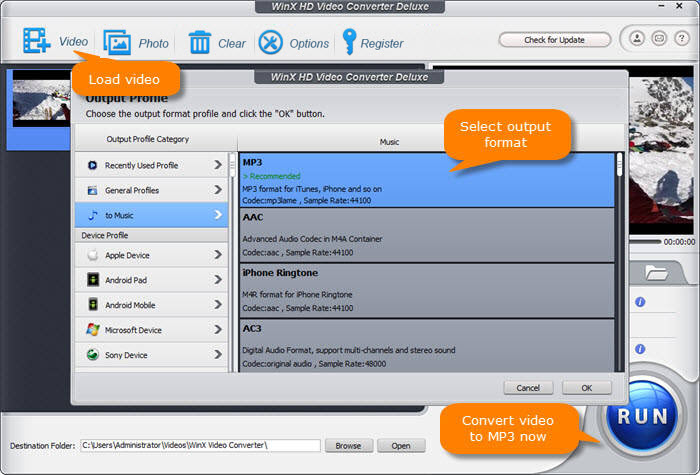 Step 3. Start YouTube to AAC conversion
Change the Output folder and the conversion process will be started at one go once you tap the "RUN" button. Since AAC is perfectly compatible with Apple devices, you can transfer music from PC to iPhone free.
How to Download YouTube Video to AAC without Conversion
Case 2. You are allowed to download music video from YouTube into AAC music codec directly without conversion using VideoProc.
Step 1. Input a YouTube URL
This time click into "Downloader" module, click "Add Music" button on the main interface, and ctrl C the link (URL) of your desired YouTube video.
Step 2. Choose M4A (AAC codec) output format
Hit "Paste URL & Analyze" and choose the option with m4a extension. Make sure your network has been connected now. Step 3. Download YouTube into AAC
Click "Download selected video" and press button "Download Now". Later the M4A (AAC) file will be saved to your target folder.