How to Free Download Yoga Music Online to Have a Relaxing Yoga Time
Here's ways to free download yoga music/songs online for yoga lovers.
You may be tired of stressful work, daily hassles and fast-paced lifestyle, suffer with health problems in neck, shoulders, hands etc, for sedentary work at a computer and worry about your plump figure with arrival of summer. Yoga, one of the most popular workouts, is a good solution to strength & shape your body, release pressures and uplift your emotions. And sometimes, people would like to practice yoga with peaceful and soothing music/songs for grabbing a more relaxing yoga time or enhancing the effectiveness. Here, we will introduce how to free download yoga music/songs online with a yoga music downloader.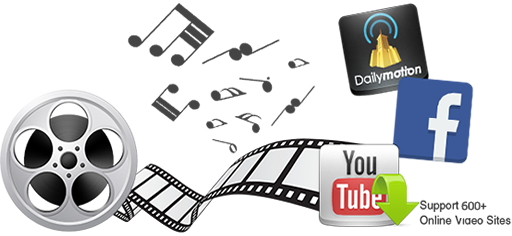 Download Yoga Music/Songs (MP4/MP3) Free?
WinX YouTube Downloader offers a convenient and speedy way to free download great yoga music/songs (MP4/MP3) or any other kinds of music, pop, classic, rock, kids songs etc, from YouTube, Vevo, SoundCloud, Audiomack and alike sites. [100% Clean and Safe!]
How to Free Download Yoga Music?
Certainly, you can easily seek out favorite yoga music from iTunes, Spotify, or top music download sites. Some of them requires you to pay for downloading, while some others ask for month subscription fees, registration or a survey. However, if you want to get free yoga music with no interruptions, we suggest you to free download wanted yoga music/songs from YouTube, Vevo, Vimeo, Dailymotion and other online video-sharing sites with the best free online music downloader - WinX YouTube Downloader.
WinX YouTube Downloader is powerful on free downloading music in any genres, including relaxing yoga music/songs/playlists, pop, classic, rock, deep house and more as well as latest hit singles/albums from 300+ online video-sharing sites with no limitations at a pretty high speed.
Download and install the best yoga music downloader on your Windows (10) PC and follow the guides to free download yoga music in only 3 steps.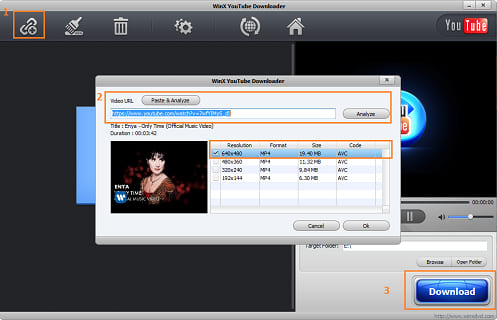 1. Hit "Add URL" button on navigation bar to enter video analysis window.
2. Search your favorite yoga music on YouTube or any supported sites. Copy and paste its YouTube URL to address bar. Hit Analyze to get video title, duration and multiple results of video resolutions, formats, sizes and codec. Select the most suitable results and Click OK.
3. Set target folder and click Download button to start yoga music free download.
In addition to download yoga music videos, WinX YouTube Downloader also eanbles you to get yoga music MP3 from SoundClound, Audiomack and similar MP3 sites following the above steps.
Top 10 Yoga Music
1. Only Time - Enya
2. Happiness Is… - Yungchen Lhamo
3. Gravity of Love - Enigma
4. Offering - R. Carlos Nakai & Peter Kater
5. Fragile - Sting
6. Gift of Light - Nadama & Shastro
7. Zero G - Adham Shaikh
8. Angel - Jack Johnson
9. I Get Lost - Eric Clapton
10. Watermark - Enya
▪ Free download yoga music/songs/playlists and hit singles/albums from YouTube and alike sites keeping original audio quality at a sharp speed.
▪ Convert yoga music/songs/playlists to MP3, WAV, AAC, FLAC etc, for playback on iPhone/iPad/Android/Windows Phone and music players whenever and wherever.