Windows 10 Previews Roundup - How to Download Best Windows 10 Preview Video
Q: I went to Windows.com and saw that Windows 10 was about to be all set. Should I download Windows 10?
A: Different persons have different opinions. Nevertheless, read the following Widows 10 preview and guide first.
Q: I visited Microsoft's Windows 10 preview page, only to find that it asked me to be a part of building Windows 10 by joining the Windows Insider Program. It said then I could get the technical preview of Windows 10, all builds and easy-to-use feedback app. What is Windows Insider Program all about?
A: Windows Insider Program is software for installing the Windows 10 preview. It requires signing up and downloading on your Windows computer. The downloaded file will be ISO file that can be converted and transferred to DVD with WinX DVD Copy Pro or ripped to USB with WinX DVD Ripper Platinum.
Microsoft has announced that it will release Windows 10 while overriding Windows 9. The precise reasons are unclear to us all. But many people desperately itch for credible and technical windows 10 preview to weigh and consider whether it is a necessity or must to upgrade Windows 8 to Windows 10 or Windows 9 to Windows 10.
>> Please read: Windows 10 vs. Windows 8
Before Downloading Windows 10 Preview Free
Firstly, how to find a useful and neutral Windows 10 preview may be more worthy of attention.
1. Watch Windows 10 preview demo online such as YouTube. Video is the best way to interpret the features and operations of an operating system, program, app or other new products. Afterward, you can free download Windows 10 preview videos from YouTube with WinX YouTube Downloader.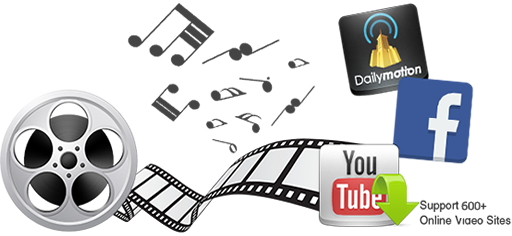 How to Download Windows 10 Preview Videos?
WinX YouTube Downloader


Free download Windows 10 preview videos from YouTube.

WinX HD Video Converter Deluxe


Download and convert any Windows 10 related vdieos.

It can save (and convert, natch) videos from the likes of YouTube, and output presets for every portable device from Android to Windows Phone.
- Rick (CNET Editor)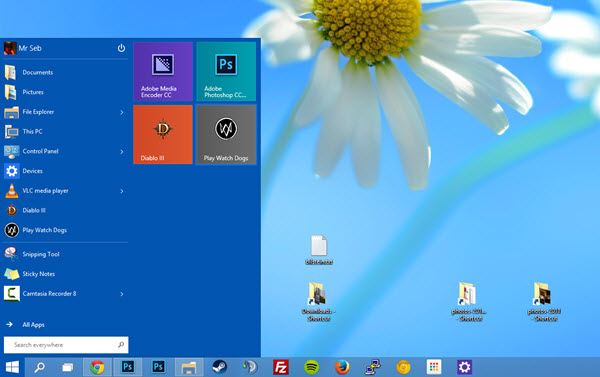 2. Find reviews on the third-party authorized technical websites, such as cnet.com, techcrunch.com, pcworld.com, extremetech.com and techradar.com. They are all trustworthy commentating sites that demonstrate both the pros and cons of things. Otherwise, you can sort out similar sites by viewing the traffic and page ranks and usually choose the higher ones. And do remember notice the date of such review and the update frequency of the site and focus on the refreshed information.
For example: This fledgling operating system is at once panacea and prescience, a remedy for Windows 8's identity-crisis that also rethinks and reworks the overly-bold approach to Microsoft's dream of unifying the desktop and mobile experience. - from cnet.com on Sept.30, 2014
3. Filter the malicious websites and only search for plugin-free ones. Avoid to visit the narrow niche sites because it is risky to be affected by spyware, adware, malware or virus. And avoid reading the over-hype pages because they may be the affiliates or advertisers.
How to Free Download Windows 10 Preview Video Free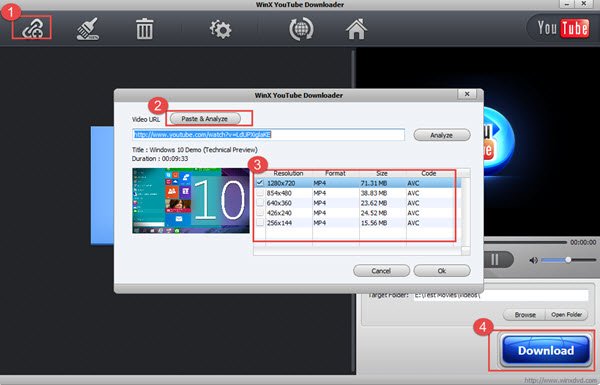 This is a step-by-step guide of free downloading the videos of Windows 10 preview/review from YouTube after downloading and installing WinX YouTube Downloader, a Windows-specific online YouTube video downloading software program that is completely compatible with Windows 10, Windows 8.1/8, Windows 7 and so on.
This Windows 10 YouTube video downloader can be used in the following way for downloading Windows 10 preview videos:
Step 1: Open the downloader on PC, find a good Windows 10 preview video, click on the URL and copy it after clicking "+" button.
Step 2: Click "Paste & Analyze" and let the YouTube video downloader analyze the video.
Step 3: Among the analyzed results, select one based on your requirement on the output quality or the file size and tap OK.
Step 4: Hit "Download" button on the right bottom. After a short while, you will get a full video of Microsoft new OS Windows 10 preview or review.
Preview on Windows 10 New Features:
- Start menu
- Multiple virtual desktops with Task View
- Metro apps running in windowed mode
If you need to download and convert Microsoft Windows 10 preview videos from YouTube to iPhone 6/5S, iPad Air/iPad Mini, Samsung Galaxy Note Edge, etc, please turn to WinX HD Video Converter Deluxe.


Still have problem about downloading Windows 10 preview/review videos free? Please feel free to Email Us >>