NTSC vs. PAL | What Is NTSC and PAL DVD Format Region
Still confused about what NTSC and PAL are and NTSC vs. PAL? Here are the answers, with guide on how to convert NTSC to PAL or PAL to NTSC.
Q - "Which video version is good? NTSC 30fps or PAL 25fps? I have DSLR which can record in NTSC mode (max 30fps) and PAL mode (max 25fps). I have heard PAL has edge even if fps is less. Just need expert opinion on this."
A - Actually it depends on which region you are at, for NTSC and PAL are two TV region standards for different countries or parts of the whole world. There is a saying that PAL looks better than NTSC. Is that true? Let's see what are the differences between PAL and NSTC.
Need a Best Free NTSC/PAL DVD Ripping Tool?
WinX DVD Ripper/for Mac
Free rip and convert any PAL/NTSC DVDs to MP4, MOV, MPEG, Apple/Android and other OS devices etc fast and easily.
WinX DVD Ripper Platinum offers a comfortable interface to carry out DVD ripping operations as easy as possible - Ionut (Softpedia Editor)
What Is NTSC?
National Television System Committee, aka NTSC, is an analog TV display system for commercial use in USA, Canada, Japan, Taiwan, Korea, etc, using 525 scan lines and delivering a frame rate of 30 fps.
What is PAL?
Phase Alternating Line, abbreviated in PAL, also is a color encoding system for TV commercially used in limited regions, such as UK, Hong Kong, etc, using 625 lines and delivering a frame rate of 25 fps. But there are still differences between countries using PAL:
• Standards B/G: Most of Western Europe, Australia, and New Zealand
• Standard I: UK, Ireland, Hong Kong, South Africa, and Macau
• Standards D/K (along with SECAM): Most of Central and Eastern Europe
• Standard D: Mainland China. Most analogue CCTV cameras are Standard D.
NTSC vs. PAL: What are the differences?
Some of the differences between NTSC and PAL can be seen from the definitions, while there are still others:
1. NTSC and PAL are systems for different part of countries.
2. NTSC 30 fps vs. PAL 25 fps.
3. Resolution: 720x480 vs. 720x576
4. It is said that all players sold in PAL countries support both PAL and NTSC DVD disc, while most NTSC players only play NTSC.
Related: free rip NTSC DVDs, free rip PAL DVDs, Copy off Region 1/2 DVDs
How to Free Convert NTSC/PAL DVD to MP4/MPEG/MOV?
Here we offer you a free and safe DVD ripping software WinX DVD Ripper to convert DVD in NTSC/PAL format to digital files like MP4 or to mobile devices (iPhone)/HDTV (Apple TV). It has versions for both Windows (10) PC and Mac. Feel free to download DVD Ripper Windows or install DVD Ripper Mac. Here we take ripping NTSC/PAL DVD on Windows 10 as an example: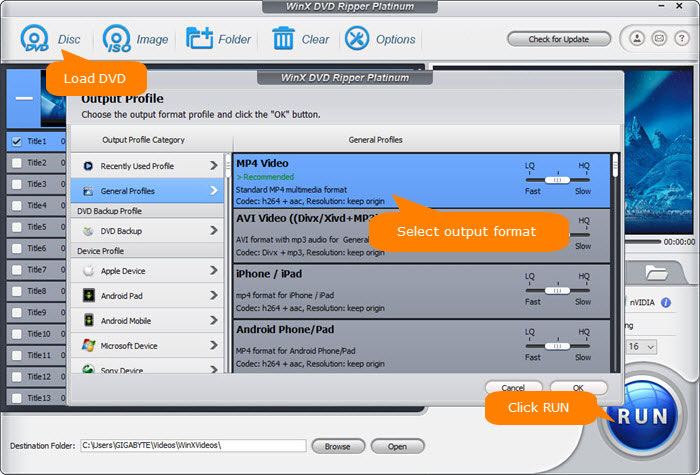 Step 1. Insert your NTSC or PAL DVD
> Open this free DVD ripper and click "DVD Disc" button to load the DVD movie content.
> The right title will be auto detected as to all movie DVDs, except for Disney X-project DRM protected ones. | how to rip copy protected DVD
Step 2. Choose output format
> Select your desired output format, such as MP4, widely compatible with nearly all devices.
> If you are planning to rip NTSC/PAL DVD to iPhone or Apple TV for watching offline, then hit the very right button on the main interface.
Step 3. Select a destination folder
Click "Browse" button, if necessary, to set a destination folder to store the output file.
Step 4. Start your NTSC/PAL DVD ripping
Press button "RUN" to start the process and that's all.
Free Get Best Video to PAL/NTSC Converter Software
WinX HD Video Converter Software - convert MP4, MKV, AVI, FLV, etc videos to PAL/NTSC DVD formats. Convert any SD, HD and UHD videos. Free download online videos from YouTube, Vimeo, etc.
How to Convert Video to PAL/NTSC DVD format?
As to convert digital videos to PAL/NTSC DVD format, you should turn to another video software - WinX HD Video Converter Deluxe, which is designed to support 370+ output formats. And NTSC/PAL are just two among hundreds of them. Converting video to DVD format is a piece of cake, and you just need to first free download Video Converter. Here we take converting MP4 to PAL as an example: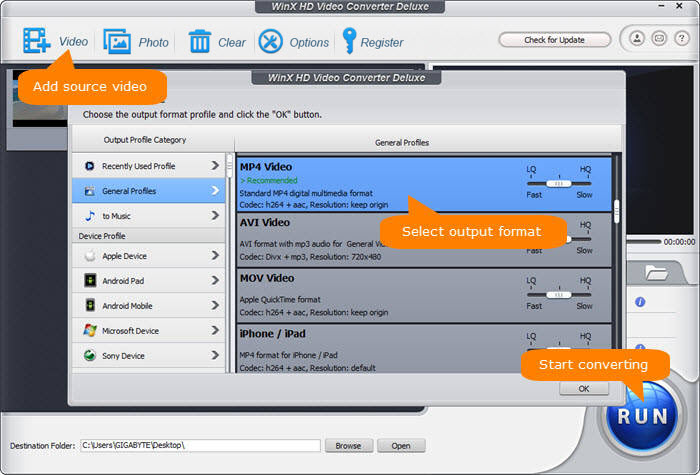 Step 1. Load your MP4 video file
> After tha download and installation, launch the video converter software.
> Click the "+ Video" button to load your MP4 or any other video files.
Step 2. Select PAL as the output format
> After the video loading, a Output Profile window will pop up right away.
> Scroll down to "DVD Profile" -> choose "PAL DVD Format".
Step 3. Set the output folder
"Browse" to select a site or folder to save the output PAL file.
Step 4. RUN the conversion now
Hit the button "RUN" to start converting MP4 to PAL. Actually there are other video parameter settings for high-level users, allowing you to personalize video resolution, aspect ratio, etc.
Still have some trouble about PAL vs. NTSC? Please feel free to Email Us >>
External Sources
Region codes and countries: DVD (commonly digital video disc) region codes are a digital rights management technique designed to allow film distributors and television companies to control aspects of a release, including content, release date, and price, according to the region...