What Is MP4? How to Convert MP4 Video to Different File Formats on Windows 10?
Dig out features of MP4, and solutions to convert MP4 videos
If you often deal with digital media files, you must have noticed many file formats, such as MP4, AVI, WMV and MKV. Well, what features do these formats own respectively? Is it possible to convert from one to other? Based on these questions, we begin our exploration and discussion right now. In this article, we pick out the most popular file format - MP4 as the target, explaining what is MP4, as well as how to convert MP4 to a different format.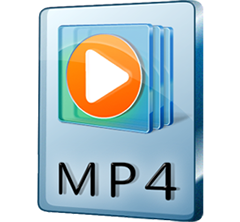 Part 1: What Is MP4?
MP4, also known as MPEG-4 Part 14, is a multimedia container format developed by International Organization for Standardization. It is based on QuickTime container format and identical to QuickTime container format. In addition to storing video and audio, MP4 can also be used to cover subtitles and images. The official filename extension for MP4 video file is .mp4. It is worth noting that MP4 is highly-compressed and delivers small file size, thus can be easily stored and transmitted over a narrow bandwidth. Moreover, MP4 has been accepted by most consumer devices.
* For more information about MP4 definition, features and advantages, just read "What Is MP4 Format?".
* Compare MP4 with other formats: MP4 vs AVI, MP4 vs H.264, MP4 vs MPEG4, MP4 vs M4V, MP4 vs MKV, MP4 vs WebM, MP4 vs MP3
Despite that MP4 is a popular format, sometimes we still need to convert it. Maybe we need to convert and compress MP4 in 4K/1080P to a smaller MP4 file, or we want to convert MP4 to a different format, say, convert MP4 to AVI. So, how to achieve MP4 conversion? It's easy. Just use a piece of video converter software like the one recommended here, or navigate to a website to convert MP4 online.
Best MP4 Video Converter for Windows (10) and Mac
WinX HD Video Converter Deluxe - It is able to convert any MP4 file, be it in SD, HD, 4K or 8K, to almost all formats (i.e. AVI, WMV, MOV, MPEG) and devices (i.e. iPhone, iPad, Android) you like. Certainly, it can also be used to convert other formats to MP4.


Part 2. How to Convert MP4 Video?
Generally, there are two ways available for you to convert MP4 video. Check details below.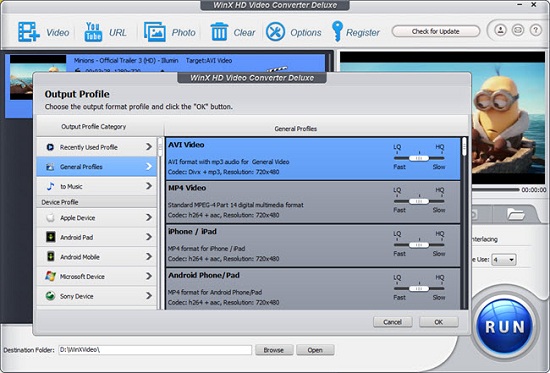 Solution 1. Make use of MP4 video converter software.
You can choose one from the top 3 MP4 converters to have a try. Here, we take the No.1 - WinX HD Video Converter Deluxe as an example.
To begin with, free download the converter to your Windows PC or Mac. If you have upgraded to Windows 10 or Mac OS X 10.11 El Captain, you can use this tool for conversion as well.
After processing download and installation, you can go to the 1--2-3 step instantly.
Step 1. Launch the converter and click +Video button to load the MP4 video(s) you want to convert.
Step 2. From the auto pop-up Output Profile panel, choose a target format to convert MP4 to. As you can see, WinX MP4 converter offers a dozen of categories, such as PC General Video, Mac General Video, Apple Device and Android Device. It totally consists of 410+ output profiles.
Step 3. Tap RUN to begin converting MP4 video in no time, if you think there's no necessary to do video editing. Armed with the world's most advanced Intel QSV, MMX-SSE, Nvidia CUDA/NVENC, Hyper-threading and AMD 3DNow! Technologies, WinX HD Video Converter Deluxe is claimed as one of the top 3 fast video converters and will finish MP4 conversion at super fast speed.
Solution 2. Convert MP4 video online
Different from converting MP4 with desktop software, online conversion doesn't require application installation. But you still have some preparation work to do.
Preparation:
1. Make sure that your network connection is available.
2. Find a website that supports online MP4 conversion well.
Different sites require different steps to perform MP4 conversion. Here, let's take MP4 conversion on Zamzar as an example.
Step 1. Upload the MP4 video to the site.
Step 2. Choose the format to convert MP4 to.
Step 3. Fill in your email address to receive converted files.
Step 4. Convert the MP4 video right now.
Step 5. Download the converted file from the email address you entered before.
Which method to use for MP4 video conversion? Software or online sites? The comparison will make you clear.
* Application download and installation: converter software - Yes; online site - No.
* Network is required while uploading and converting MP4: converter software - No; online site - Yes.
* You need to download converted file from email or the site: converter software - No; online site - Yes.
* Which one is faster: obviously, software can perform MP4 conversion much faster than online converter.
* Batch video conversion: converter software - Yes; online site - No.
Still have question on converting video to/from MP4? Please feel free to Email Us >>