Video Too Large to Store, Send or Upload? Use VLC to Compress It First
Learn how to resize your large (MP4 or other) video with VLC on Windows (10) or macOS computer by changing crucial factors that determine the file size of a video.
Known to all, VLC is an open-source multimedia player, totally clean and free of charge. But many people may ignore that it's actually an overall solution for media playing, streaming, conversion and downloading. Today, we will put focus on its video compression feature, listing 4 ways to compress video with VLC on Windows/Mac.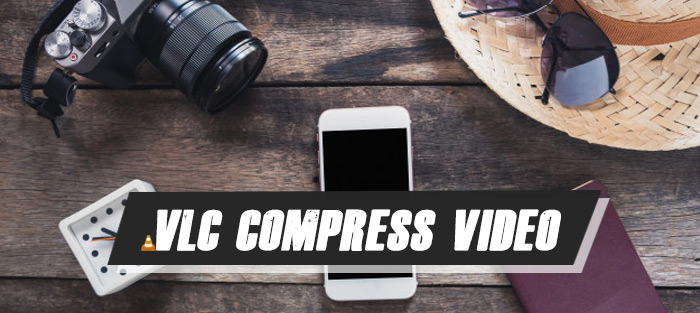 First off, let's make it clear what determines the file size of a video. From the formula "video size = bit rate x duration" and the post of factors that decide video quality and size, we can draw that bit rate and video length are the key points, with several other video parameters, say video codec, resolution, frame rate affecting the final size too. So, no more other words, just check how VLC compresses large video taken by iPhone, GoPro, DJI or digital camera by adjusting the key factors above.
Whenever you wanna resize video with VLC compressor, please DOWNLOAD VLC and finish the setup, then follow the steps below.
1. Click "Media" -> "Convert / Save" or tap "Ctrl + R" keyboard shortcuts to pop up a smaller control;
2. Add source (4K/HD) video into the file list;
3. Click "Convert / Save" button to go ahead;
4. Choose profile and do settings according to the four video compression methods offered below;
5. Rename output in destination folder and click "Start" to compress video in VLC at once.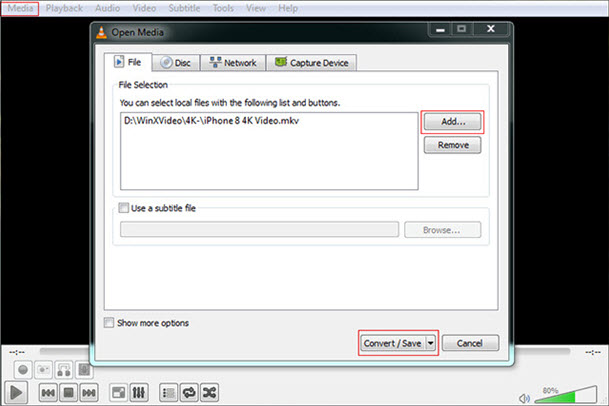 4 Ways Are Available for Compressing Video with VLC
#1 VLC Compresses Video by (Down)Scaling (Recommended)
E.g: Downscale 4K to 1080p, 1080p to 720p, HD to SD
Scaling refers to changing the resolution of video to get video size changed. Here in order to shrink video size, downscaling is required. If you choose a profile with no SD or HD tag, like Video - H.264 + MP4 (TS), the resolution frame size will remain as original. So click setting icon right near profile and navigate to resolution to fill either of scale, width and height value to downscale source video.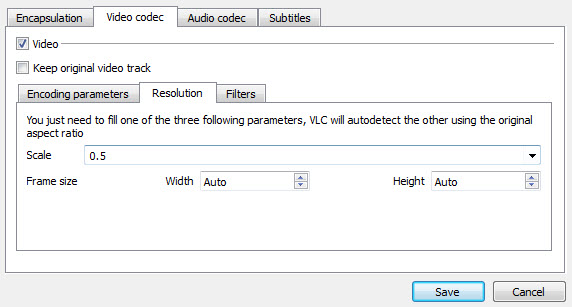 To make it easier for the novices to compress video for sharing online or watching on mobile/home TV, VLC presets 10 video profiles with resolution fixed in 1080p, 720p HD and (640x480) SD as shown in the screenshots. The difference between SD, SD Low and SD High mainly lies in video bit rate and frame rate parameters which will be specified in Way 2.
Related: 6 Ways to Compress Large Video Files for Email

Way 2 - VLC Compresses Video by Changing Video Encoding Parameters (Recommended)
E.g: H.264 MP4 -> H.265 MP4, 120/60 fps -> 30fps, 40000kb/s -> 8000kb/s
VLC gives user an ultimate control over video codec, bit rate and frame rate. Embracing all media formats supported by FFmpeg libavcodec and libavformat libraries, VLC is able to recognize and transcode a variety of videos to H.264/HEVC MP4/MKV, VP8 Webm, WMV, AVI, FLV, ASF, MP3, MPEG etc. (Check VLC Format Support from Wiki). Generally H.264 MP4 is the go-to pick for its wider compatibility and better balance between file size and quality. But sometimes if the end player or social site supports HEVC, or you just shrink video for saving space, it's more recommended to downsize large video to H.265 MP4, because the High Efficiency Video Codec / H.265 codec achieves the same quality as H.264 with only half the size.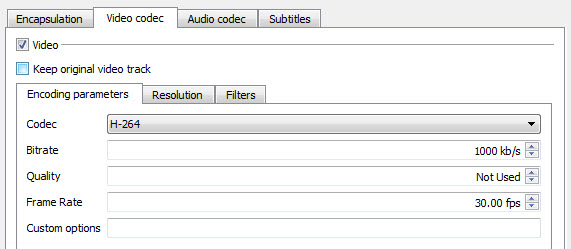 Since 30 frames per second is enough for human eyes, it's available to compress high-fps video by lowering the fps directly to 30. Note that if the high-fps video is taken for slow motion, take care to decrease the fps before you post producing a favored slow motion video.
As is mentioned above, file size can be calculated by multiplying bit rate and duration. So with video duration and other stuff unchanged, downgrading high bit rate properly reduces file size at one go. Generally, 4K video looks clear and smooth when streaming at 35Mbps or higher, 1080p at 8000kbps, 720p at 5000kbps, 480p at 2500kbps, 360p at 1000kbps...
Way 3 - VLC Compresses Media Size by Altering Audio Encoding Parameters
VLC also enables user to downsize audio size by resetting audio codec, bit rate (to 128 kb/s), sample rate and channels.

Way 4 - VLC "Cuts" Video by Recording a Portion of Video
VLC does not support cutting or trimming video for removing unwanted video part off. Therefore, you can alternatively "cut" video content by recording the important or necessary clips only with "Record" feature under playback.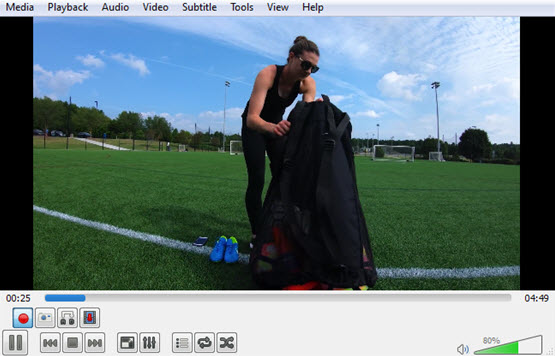 What If VLC Gets Too Slow or Stuck on Compression? Try the Best VLC Alternative!
VLC compresses large video too slow, or VLC crashes on Convert / Save? Try the best VLC video converter alternative - WinX HD Video Converter Deluxe, which is skilled in compressing huge (4K/HD) video by transcoding, downscaling, tweaking parameters, cutting, trimming, and cropping at GPU hardware accelerated speed, making it possible to obtain 90% compression ratio with pixel-level quality difference.
In addition, it lists 420+ cover-all output profiles to meet various video compression needs, hot iOS/Android mobiles, gaming consoles and web sites included. You are still empowered to set quality at low, normal or high level. Of course the higher quality, the larger file size.
Steps of Cutting Large Video with WinX HD Video Converter Deluxe:
Step 1: Open WinX HD Video Converter Deluxe and add source big video through "+Video" button.
Step 2: Choose a target format like H.265 MP4, and click "Trim" button to move to another panel.
Step 3: Set the video start and end time for cutting and confirm.
Step 4: Hit "RUN" to have hardware finish the compressing work at up to 47x real-time faster. Better than VLC converter, WinX HD Video Converter Deluxe outputs playable video even when you stop the conversion half way.