How to Free Download Video Game Music/Soundtracks/OST/Game Theme Songs
Brief Introduction of Video Game Music/Soundtracks
Video game music is the soundtrack or background music accompanying video games or TV games, mainly constituted by game theme songs, game sounds, original soundtrack (OST) and background music. Video game music is indispensible in any games because it can enhance the play experience, that is, the game soundtracks offer certain emotion for whole game and foil atmosphere. And it can also move the game plot along and help player perfectly fitted into the game as well.
The interesting thing is that some games are going from zero to hero with the hot video game music/soundtracks. Therefore, there are increasingly number of people are fond of getting video game music download.

HOT Search: Free YouTube Downloader, Video Converter, Best New Games 2018, Funny Movies Free Download, Free Download Cartoon Videos
Tips of Getting Video Game Music/Soundtracks MP3 MP4 Free Download
For every video/online/app games, the game scene is blood, the game plot is bone while the music is the soul. There are many fabulous and cool video game soundtracks worth a download. So in this part we will show you how to easily download video game music/soundtracks/OST/game theme songs MP3 MP4 for free.
Before everything, you are highly recommended to use WinX YouTube downloader, the best free and safe video music downloader. It can easily download any video game music and other videos in 720p 1080p HD or 4K 8K UHD with super fast speed and keep the original quality. Plus, this all-in-one video music downloader supports for downloading from over 300 online video sharing sites like YouTube, Vevo, Vimeo, Dailymotion, Yahoo, etc.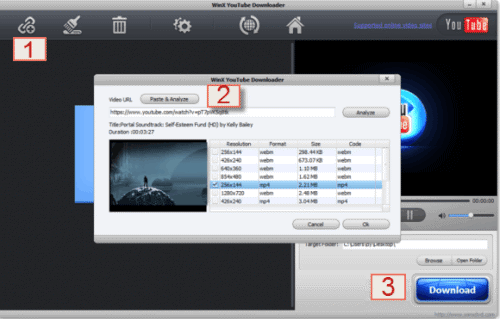 Preparation: Free download WinX YouTube downloader and install it.
Step 1: Copy and paste video game music full URL.
Find your favorite game soundtrack and copy the entire link (start with https://www....). Click the first button located in the upper bar named "+ URL" and tap "Paste & Analyze" button to finish the first step of video game music download.
Step 2: Analyze the video game soundtrack MP3 MP4.
After a few seconds, you are able to see the different format, size, resolution and code listed in the box and you can choose one option that fits you most, hit "OK".
Note: As shown in the screenshot, WinX YouTube downloader supports for downloading MP3 MP4 and other media files. So you can download any video music by this remarkable downloader for offline listening or watching.
Step 3: Run video game music download.
You are free to choose a destination folder to save your downloaded video game MP3 MP4 by clicking "Browse" button. All things done, tap "Download" to get your target video game soundtracks download process started.