How to Update iPad to iOS 8/8.0.2 and Fix iOS 8 Problems
How to Update iPad to iOS 8/8.0.2 and Fix iOS 8 Problems
Apple just released its latest version of iOS 9.3, while a part of iPhone/iPad users are still using iOS 8. iOS 8.0.2 fixes most of the problems found on its previous iOS 8 and iOS 8.0.1 before. So far, there is no big bug from users' feedback, who have already updated iPad iPhone to iOS 8.0.2. But how to update to the newly released iOS 8.0.2 directly from iPad or iPhone 6/6 Plus/5S? How to fix iPad iOS 8 update problems if you have run into the situation with slow Wi-Fi, short battery life, sound not working on your iPhone iPad? Here we will offer you a detailed iOS 8 updating guide on iPad iPhone and solutions for iOS 8 update problems.
Related: iPad Video Converter, Best free apps for iOS 8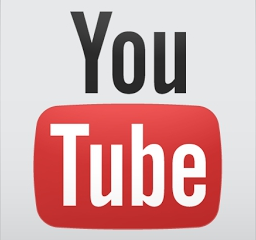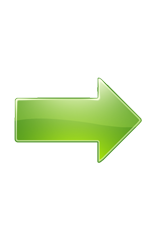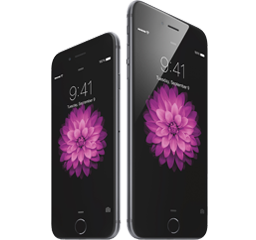 Download YouTube Video to iPad iOS 8/9
WinX HD Video Converter Deluxe/for Mac

Download and convert YouTube video to iPad Pro/Air 2/mini 3/4 running iOS 8/9/9.3 on PC and Mac.


WinX HD Video Converter Deluxe is the right application to transform High Definition videos into a wide range of formats on Windows.
- Boogerman (Miracletutorials Editor)
How to Update to iOS 8.0.2 on iPad?
iOS 8.0.2 now is downloadable for free on iPad 2 and over, iPhone 6, iPhone 6 Plus, iPhone 5S/5C/5/4S, as well as iPod Touch 5th generation. So how to update iPad to iOS 8.0.2, which comes with bug fixes and improvements? First make sure that your Apple iPad will be compatible with new iOS 8 and then follow our next guiding steps to update iOS 8 from iOS 7 or below on iPad.
Preparation of Updating iPad to iOS 8
1. Back up your iPad. Before update iPad to iOS 8.0.2, you'd better to back up your device with iTunes to keep your message, contacts or other information safe. Remember to have a complete backup stored either via iTunes or via iCloud, in case you need to downgrade form iOS 8 to iOS 7. iTunes 12 is coming...
2. Clear up enough space of your iPad for updating to iOS 8. About 4.5 GB is needed to download iOS 8.0.2, so you need to check out which app or file takes up the most space by Going to Settings ->- General ->- Usage. Have a backup of your large-size videos, photos and messages on computer and then get them deleted. Actually, you can get your deleted files back after download iOS 8.0.2, because iOS 8 update does not need this much space. >> How to backup iPhone 6/Plus videos to computer or DVD.
3. Make sure your iPad has enough power while updating to iOS 8.
Update iPad 5/4/3/2 to iOS 8
1. Most often, you will receive a notification on your iPad that iOS 8.0.2 is available to update. Then Go to General ->- Software Update ->- Click the button "Download and Install". There are two ways that work for you, updating to iOS 8.0.2 on iPad or on PC/Mac.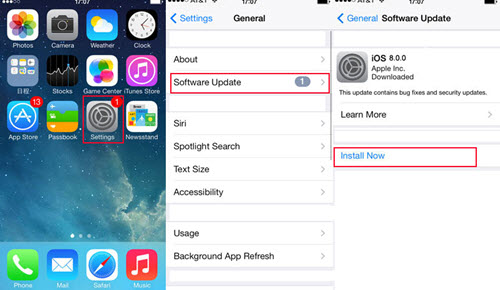 2. Once the "download and installation" progress is completed, next comes the setting up steps. You will need to choose to enable Location Services or not, do the Apple ID Sign in, etc. And that's the end of iOS 8 updating process on iPad.
After successfully update your iPad to iOS 8, you can start to enjoy the new features of this Apple mobile operating system. Watch HD YouTube video online fluently on your iPad Air running iOS 8, or you can try to record full HD 1080p videos at 60 FPS with iPhone 6/6 Plus after updating to iOS 8. If you also desire to download YouTube videos for playback, a HD YouTube video downloader is necessary, which should have presets for your iPad or iPhone 6/6 Plus (iOS 8) with permission of video resolution or aspect ratio adjusting. At this point, WinX HD Video Converter Deluxe works great. >> How to download YouTube video to iPhone 6 running iOS 8
How to Fix iPad iOS 8 Update Problems?
There are many iOS 8 update problems, especially when you choose to update iPhone iPad to iOS 8 or iOS 8.0.1, like Safari working slow, most functions of mail not being able to work, 3G connections failing. Actually, the best way to fix most of the problems is to downgrade to your iOS 7 or update to iOS 8.0.2.
Take a look at iOS 8.0.2's bug fixes: (resource from Apple Support)
1. Fixes an issue in iOS 8.0.1 that impacted cellular network connectivity and Touch ID on iPhone 6 and iPhone 6 Plus.
2. Fixes a bug so HealthKit apps can now be made available on the App Store.
3. Addresses an issue where 3rd party keyboards could become deselected when a user enters their passcode.
4. Fixes an issue that prevented some apps from accessing photos from the Photo Library.
WinX HD Video Converter Deluxe - The best all-in-one video software, which has been updated to support iPhone 6S/6S Plus, iPhone 6, 6 Plus (running iOS 8/8.0.2), iPad, Samsung Galaxy Note 4, Note Edge, etc, playing as a YouTube downloader, video converter for SD, HD, 4K Ultra HD videos, slideshow maker and video editor.