UEFA Euro Championship 2016 Theme Songs | Guide to Free Download MP4/MP3 from YouTube
What Is UEFA Euro Cup 2016 and David Guetta Theme Song?
Similar to FIFA World Cup, UEFA Euro is a men's football championship that is regularly held in summer once every four years. And from 10 June to 10 July 2016, the 15th UEFA Euro Championship (also called UEFA Euro 2016 or Euro 2016 for short) will be held in 10 host cities in France.
Totally 24 teams in Europe will attend the match, the scale and range of which should not be underestimated. But will the theme song of the UEFA Euro 2016 stacks up against that of the World Cup? This article will focus on how to download UEFA Euro 2016 theme song or video (mp3 or mp4), David Guetta feat. Zara Larsson - of This One For You (Teaser), for example, from YouTube and other online video sharing sites.
2017 UEFA Euro Cup:
2017 UEFA Europa League final | Location: Friends Arena, Solna Municipality, Sweden
July 16: UEFA Women's EURO 2017 kicks off in the Netherlands
About UEFA Euro 2016 theme song: 'Bienvenue en France' is the theme of a spectacular exhibition of French spirit and mass choreography opened UEFA EURO 2016. David Guetta, world-famous music star, took centre stage for the opening ceremony of UEFA EURO 2016, presenting the official song on the field of play before the opening match of the tournament between France and Romania. As early as in December 2015 right after the 2016 Euro Cup qualifying was finished, Global DJ and music producer David Guetta was summoning one million fans to record with him and be part of the Official Song of UEFA Euro 2016. The winners would not only win the ticket and VIP treatment, whose recordings would also be taken by Guetta and mixed into his UEFA EURO 2016 anthem 'This One's For You'. Many people already can't wait to hear the full track. The official release, announced on May 13, is in the offering. Now that the match is in full swing, you can download This One's For You, David Guetta 2016 Euro theme song MP4 or MP3 using either a free online Euro video/song downloader or an all-in-one HD video converter that can be downloaded below: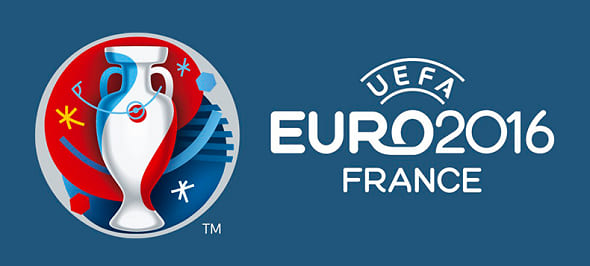 How to Free Download UEFA Euro Theme Song?
WinX HD Video Converter Deluxe
Download & convert various online videos (say, David Guetta UEFA Euro Cup 2016 theme song) mp4 mp3, etc.

WinX YouTube Downloader
Download 2016 UEFA Euro theme song videos online with ease.

WinX HD Video Converter Deluxe can save (convert, natch) videos from the likes of YouTube, and output presets for every portable device from Android to Windows Phone.
- Rick (CNET Editor)
Download the Best-ever Theme Songs of UEFA Euro Football Championship
Official UEFA Euro Theme Songs List (1960-2016)
| | | | | | | | | | | | | | | | | |
| --- | --- | --- | --- | --- | --- | --- | --- | --- | --- | --- | --- | --- | --- | --- | --- | --- |
| Year | 1960 | 1964 | 1968 | 1972 | 1976 | 1980 | 1984 | 1988 | 1992 | 1996 | 2000 | 2004 | 2008 | 2012 | 2016 | 2020 |
| Host | France | Spain | Italy | Belgium | Yugoslavia | Italy | France | West Germany | Sweden | England | Belgium & Netherland | Portugal | Australia & Switzerland | Poland & Ukaine | France | Pan-European |
| Theme Song | - | - | - | - | - | - | - | - | More Than a Game | We're In This Together | Campione | Forca | Can You Hear Me | Endless Summer | This One's For You | - |
Here's the review of the top-rank (from good to bad) UEFA Euro Championship songs in the recent years.

1. Forca (Euro 2004) - Nelly Furtado
Forca is a pop folk song written by Nelly Furtado, and Gerald Eaton and Brian West. The song name is Portuguese slang that means goodbye and translates as "Keep going", or "Kick ass". It is considered as the most beautiful song of European Championship, which talks about the spirit of the force to a team that plays the best and the most beautiful football.

2. Can You Hear Me (Euro 2008) - Enrique Iglesias
Strangely, "Can You Hear Me" received generally negative reviews (e.g. being inappropriate for the venue), but positive and successful scores in many European countries. Enrique Iglesias itself is a well-known Spanish record producer and actor and of course a singer famous for Bailando, El Perdedor, Hero, etc. >> Check Enrique Iglesias's best songs.

3. Campione (Euro 2000) - E-Type
It was performed by Swedish musician E-Type and written by the same, together with Rick Blaskey and Kent Brainerd. Not as catchy as La Copa De La Vida but absolutely better than Waka Waka (FIFA World Cup 2010 theme song), Campione gained a huge popularity during the tournament and has since been heard in football games around Europe.

4. Endless Summer (Euro 2012) – Oceana
The official UEFA Euro 2012 song by German singer Oceana Mahlmann played before every match in the tournament modes and in the intro. It sounds like Abercrombie and Hollister music probably because of the use of electro track.

5. More Than a Game (Euro 1992) - Towe Jaarnek & Peter Joback
Written by Peter Jöback and Lasse Holm, More Than a Game is more than just being a composition of the football game, it did bring much joy to Euro 1992.

6. We're In This Together (Euro 1996) - Simply Red
Although conceptually confusing with Three Lions (Euro 1996), the official anthem of the England football team, We're In This Together in the album Life of Simply Red is the official theme song of Euro 1996. This song is a classic encouraging song for sports.
How to Free Download Euro 2016 Official Theme Song in HD MP4 or MP3?
"How can I download the trailer music or official theme song of European Football Cup 2016, This One's For You, by David Guetta free in HD MP4 or MP3" is a frequently asked question recently. The other related queries go like how to "download UEFA Euro 2016 intro video from YouTube" and "get UEFA Euro theme songs of all time free".
All those issues can be figured out by use of a free online music/video downloader.
WinX YouTube Downloader is the best free online video and music downloading software on Windows OS (Windows 7 and Windows 10 are included). It can help you download UEFA Euro Championship game videos in MP4, FLV, WebM, etc, David Guetta or other Euro theme songs (MP3 and so on), as well as other HD sports events and athletic contest videos (incl. FIFA World Cup and 2016 Olympic Games). It supports the video or audio sources from YouTube and 300 mainstream online media sites.

How to Download Euro 2016 Theme Songs or Football Game Videos Free?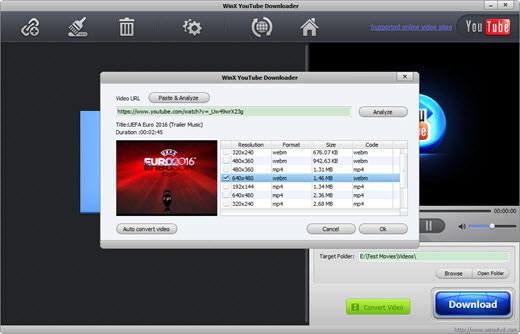 The following tutorial shows 2016 UEFA Euro theme song trailer music video download with free WinX YouTube Downloader in 3 steps.
Step 1. Prepare the software and add the music/video in.
Download and install the free video downloader on your computer. Search the video or music source online and launch the software. Check whether the video/music website is in the list of online video sites supported by WinX YouTube Downloader. If yes, copy the URL of the Euro 2016 song/video, and click +URL button to insert it.
Step 2. Choose an output format.
Click "Analyze" and wait a second for the result, then choose among the output format/resolution options listed. You can download 4K or 1080p HD videos with the freeware. Then click OK.
Step 3. Hit Download button and go.
Click Browse button to select a folder where you want the output Euro video file to be saved, and click the big Download button to let it start.
Note: Please check "Auto Convert" item if you'd like to extract MP3/AAC/AC3 from the UEFA Euro 2016 videos, or convert it to other formats to fit your iPad, iPhone, Apple TV, iTunes, Samsung, HTC, Nokia, PSP, Xbox and other gadgets. There are 410+ built-in output profiles waiting for you.
Attention: We do not advocate illegal use of YouTube videos and suggest you respect the copy right of the contributors.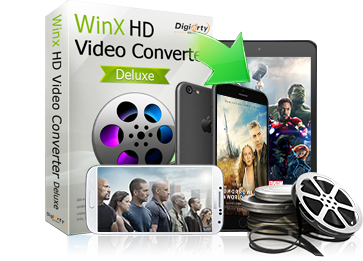 Alternative: Download & Convert Online Euro 2016 Videos/Songs
WinX HD Video Converter Deluxe is a one-stop solution to both download and convert any kinds of videos.

Free download David Guetta Euro 2016 mp3, Euro intro and game videos from 300+ online sites;


Convert UHD/HD/SD videos to mainstream video or music formats;


Have versatile profiles for iOS/Android/Windows mobiles, tablets, game consoles, etc;


Edit and personalize any videos.