UEFA Euro | How to Download Euro Trailer/Final 4K Videos on YouTube
Guide on Euro Cup (Final) 4K Videos Download with Detailed Euro Info of Schedule, Teams, Qualifying Goals, etc.
- "I am from the U.S. and would love to watch a match at the 2018 UEFA Champions League final that will be held in Ukraine. However, I wonder if I can attend and buy a ticket even though I'm not a citizen of either European country?"
- "I find that UEFA final 2018 Real Madrid vs Liverpool video has been on YouTube for weeks. And there are some other top 10 goals videos. How can I download Euro 2017-18 final videos in 4K resolution from YouTube for free?"
There was a great summer of sport in 2016, and there is the hotly-anticipated UEFA Final 2018, which has been played on May 26. We had prepared here all you need to know about the 2016/17 UEFA European Championship, covering information from Euro Cup 2016 dates, schedule, groups, tickets and qualifying goals to Euro 2016-17 live streaming sites/apps. Well this time, you will know how to easily download UEFA 2017 final 4K videos from YouTube, which also goes for downloading Euro 2016/17 theme song, highlight videos of UEFA Euro 2016-17, etc.
Download 2017/2018 UEFA Final Videos from YouTube & Other 300+ Video Sites with Only ONE Tool
The No.1 fast FREE 4K video downloading tool - WinX YouTube Downloader can help you download any Euro 2016-17 4K/8K UHD highlights videos to PC, Mac, iPhone, iPad, Android, etc.
Where and How to Download UEFA Euro 2017-18 Videos?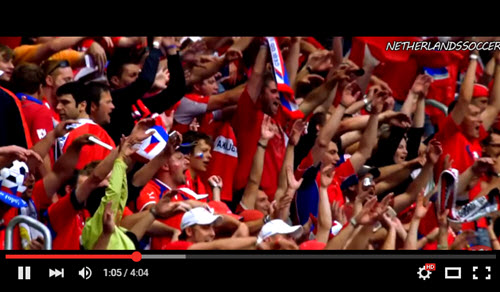 • Many a Euro Cup 2018 music video has been uploaded online on YouTube, Facebook and other video sites. For example, there are UEFA Euro 2018 preview video and videos of top 10 best qualifying goals on YouTube, as well as constantly updated Euro Cup 2018 draw videos on Facebook. Downloading Euro Cup 2017-18 videos will be a breeze, as long as you have the URL.
• Well, the first point is feasible only if you have a best online video downloader software. Considering over 110 million Windows 10 installs, it'd be better to be compatible with the newest OS. Guess you've also noticed that Euro 2018 4K video is not hard to find. But to download Euro 2018 championship videos in real 4K resolution requires video downloader embedded with UHD video analyzing engine. WinX YouTube Downloader happens to meet all the demands. Better still, it can free download 2018 UEFA Final 4K videos in No. 1 fast speed from over 300 sites.
[Example] Steps to Download 2017-18 UEFA Final Videos from YouTube

2018 UEFA Final YouTube


Download WinX YouTube Downloader for Windows 10/8/7 and before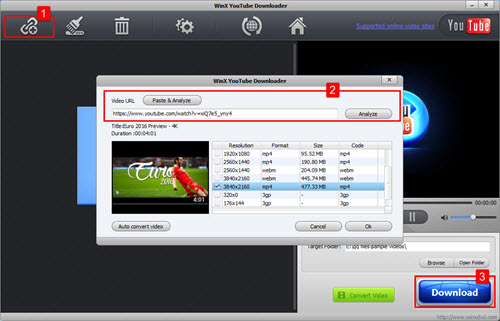 Step 1: Download and install this free sports video downloader on your PC. And launch it.
Step 2: Go get a UEFA Euro 2018 Final video URL on YouTube, Facebook or other video sites. Here you can copy the link we have listed above.
Step 3: Click URL button on the main interface, paste and analyze the link, and then wait for a list of output parameter options. Choose your preferred one. To download Euro Cup 2016 Final 4K video, select "3840x2160".
Step 4: If you don't need to do video format conversion, set a Target Folder, press Download button directly, and the UEFA Euro Final trailer video will be saved in 4K resolution in seconds or minutes.
A Bunch of UEFA Euro 2016 Championship Information Is Coming!

When and where will UEFA Euro 2016 be held?


UEFA Euro 2016 Championship is going to be held in France for a month, from June 10 to July 10 in 2016.

Where to buy UEFA Euro Cup 2016 tickets?


All fans can check the ticket availability and buy a Euro 2016 tickets from UEFA official site (www.uefa.com/uefaeuro/ticketing/).

What are those UEFA Euro 2016 qualified teams?


This year in 2016 UEFA Euro Cup 2016, there are 24 qualifying teams, standing out from the total 51, including France, Albania, Austria, Belgium, Croatia, Czech Republic, England, Germany, Hungary, Iceland, Italy, Northern Ireland, Poland, Portugal, Republic of Ireland, Romania, Russia, Slovakia, Spain, Sweden, Switzerland, Turkey, Ukraine, Wales. And 24 teams have been divided into 6 groups:
Group A: France, Romania, Albania, Switzerland
Group B: England, Russia, Wales, Slovakia
Group C: Germany, Ukraine, Poland, Northern Ireland
Group D: Spain, Czech Republic, Turkey, Croatia
Group E: Belgium, Italy, Republic of Ireland, Sweden
Group F: Portugal, Iceland, Austria, Hungary