Home > Resource > Seeders vs Leechers
How to Pick the Fastest Torrent with Best Seeder/Leecher Ratio
What Are Torrent Leechers and Seeders? How to Choose the Fasted Torrent with Best Seeder/Leecher Ratio and Speed up Torrent Download?
- What does it mean to "seed" or "leech" a torrent file? Whenever I go to download a torrent file, it says something like "Seeders/Leechers - 23/69". I've been told that Seeder is someone who finished downloading the file and is only uploading, and then what does torrent Leechers mean? How to select a good torrent file considering seeders and leechers in torrent?
This is a guide on how to pick the best torrent file to speed up your movie torrent download, which, as a matter of fact, is determined by seeder/leecher ratio. What are seeders and leechers in torrent? Seeders vs leechers, what is the difference? We will start with the basics. Besides, we suggest converting downloaded movie torrent to video format, say MP4, for easier access on PC, Mac, and various portable devices.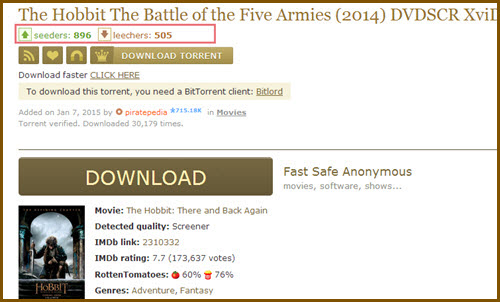 What Are Torrent Leechers and Seeders?
Leecher in torrent has two meanings, one of which refers to downloader, indicating that a peer doesn't have 100% of the data. Also, leechers mean peers that download much more than they upload, do not leave their BitTorrent client open for file seeding once movie was downloaded or excessively limit the upload speed. Compared with seeders, leechers provide poor share ratio.
>> What are seeders in torrent?
Torrent Seeders to Leechers Ratio
Anyone can enter a torrent site and fast download movie torrents, safely or not, if they have the wit to choose a fastest torrent, which is reflected in the seeder/leecher ratio. Well, what better way to get to know the meaning of seeder to leecher ratio (abbreviated SLR) than through downloading movies torrent with a BitTorrent client in safe torrent sites? Once you know what leechers and seeders mean in torrent, SLR will be understandable.
How to Pick the Fastest Torrent File with Best Seeder/Leecher Ratio
To speed up the movie torrent download, which actually rests with torrent seeder vs leecher ratio, you first need to choose the best torrent file. Seeder to leecher ratio data will be shown on every torrent download page right under the title. The higher the SLR is, the faster the torrent download speed will be. Take an example of how to pick the fasted The Hobbit 3 torrent with best SRL.
1. Make up your mind which movie torrent you want to download. Here we take The Hobbit 3 for instance.
2. Get ready with popular torrent clients, such as uTorrent or its alternative.
3. Go to some safe and free torrent sites, such as The Pirate Bay, for some of them require logging in or are fee-based sites. We assume that your first option is to free download a best movie torrent file.
4. Type "The Hobbit: the Battle of Five Armies" into the search box and you will get a list of The Hobbit 3 torrent in various formats and resolution, such as 720p, 1080p, XviD, Rmvb, HDTV x264, etc. A little trick to find a best movie torrent with proper seeder/leecher ratio fast is to click the one with most comments or thumbs-up.
5. Pick the torrent with best seeder to leecher ratio, which means that the more the seeders and the less the leechers, the better.
>> How to Download The Hobbit 3: The Battle of the Five Armies Torrent 1080P Free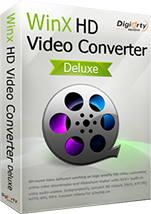 Download, Convert Movie Torrent to iPhone, iPad, Android - Use All-in-one WinX HD Video Converter Deluxe
* Online downloader and video converter enables you to download and convert sharp 4K, Full HD 1080p video from YouTube.
* Converted downloaded movie torrent to MP4, H.265, H.264, MPEG, AVI, WMV, FLV, VOB, MOV, MKV, M2TS, etc.
* Converted downloaded movie torrent to all common models of iPhone, iPad, Android phone, Andrord tablet, PSP etc.
* Adjust movie video audio parameters, add/select subtitle, merge, trim, crop the video |Detailed User Guide
Still have trouble about how to pick the fastest torrent file with best seeder/leecher ratio? Please feel free to Email Us >>