2021 Top 4 Fast Video Converters Reviews and Free Download
Summary: Find the fastest GPU hardware accelerated video converter here to change video format in the blink of an eye.
"I need a really fast video converter right now. I have an .avi file video but it's not working in Windows Movie Maker so I want to convert it to .wmv. Could anyone suggest a fast converter?"
Living in a fast pace, most of us hold the idea that time is money. When it comes to convert videos, the converting speed climbs to something very significant, besides video conversion ability. Well, which video converter can run at really fast speed? We sort out the top 4 fast video converters for PC/Mac users and will share you how to convert videos fast through GPU acceleration.
Best 4 Super Fast Video Converters Review
Although video conversion speed depends partly on the speed of computer and the settings for encoding/transcoding, the speed also has much to do with the converter you use. Under the same test conditions, the following 4 converters stand out.
Average User Rating: ★★★★★ (based on 2580 votes)
WinX Video Converter is able to transcode any videos smoothly, including large 4K UHD clips, at a 47x real time faster speed than before and 5x faster than any other competitors. Besides, it can ingest whatever footage you feed it, be it MKV, MP4, AVI, MOV, H.264, HEVC, VP9, AV1, etc. with complete preset profiles for iPhone, iPad, Android mobiles, TVs, YouTube, Instagram, etc. High quality can be reserved as well.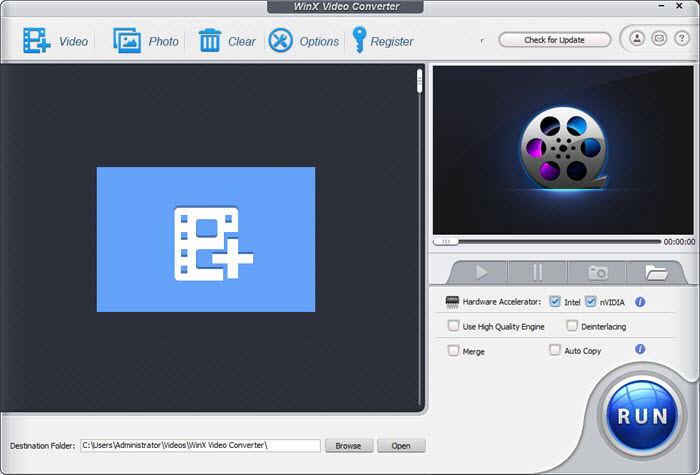 How does WinX Video Converter achieve No.1 fast speed?
WinX Video Converter is sitting pinnacle among its peers by courtesy of advanced Level-3 (Intel/Nvidia/AMD) GPU hardware acceleration, alongside multiple CPU cores, hyper-threading tech, Auto Copy, etc. Check below to know more details:
GPU hardware acceleration techs (Intel QSV, NVIDIA CUDA/NVENC and AMD) enables WinX to take full advantage of GPUs to cope with the compute-intensive (4K) video converting task and to ease the burden of CPU, achieving a 5X faster speed than non-GPU accelerated converter. Check here to know what GPU hardware acceleration technology is if you're interested.
The embedded multiple CPU cores (up to 8), MMX-SSE, Hyper-threading & AMD 3DNow! Click to know what multiple-core processor is.
"Auto Copy" mode enables you to copy streams without transcoding codecs, which will keep 1:1 original quality and accomplish video container format conversion mission 10X faster than transcoding.
We've done a test for converting MKV to MP4 with and without hardware acceleration. There is a huge speed gap as follows between such two situations.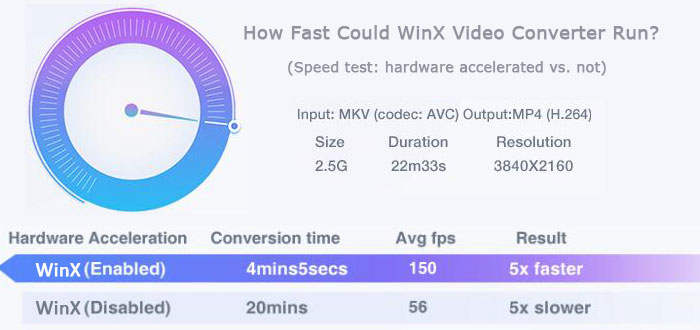 Average User Rating: ★★★★☆ (based on 316 votes)
This program is classed as one of the fastest 4K video converters, partly because of its impressive conversion speed. It is a versatile fast video converter for MP4, MKV, AVI, WMV, MOV, HEVC (H.265), AVCHD, Blu-ray M2TS/MTS, 3GP, MXF and other file formats. It allows users to load and convert videos at SD, 720P/1080P/1080i HD, 2160P 4K UHD and even 8K Full UHD, to a ton of popular formats and devices like iPhone, iPad, Android, Sony, Chromecast and 420+ presets.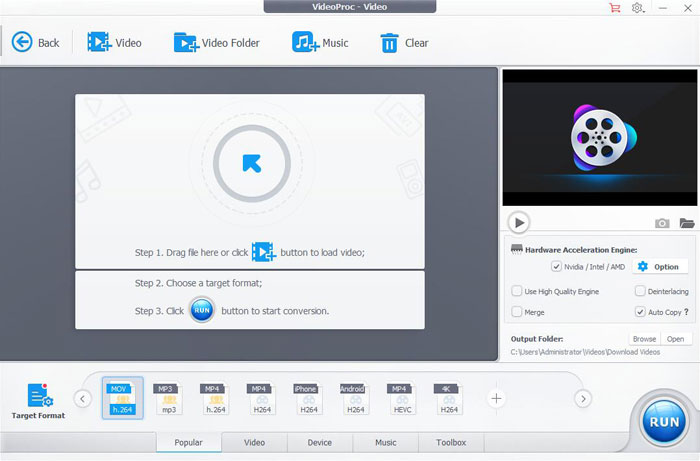 How did VideoProc implement such high speed?
Go back to the first product to check the accelerators, for both of them are coming from the same company and the built-in techs are much of muchness. There is needless to repeat it.
Average User Rating: ★★★★ (based on 254 votes)
Any Video Converter Ultimate is another good choice for fast video conversion. It can convert various video file formats like MP4 and AVCHD to another format as well as popular smartphones, tablets, game consoles, etc. Additionally, Any Video Converter Ultimate haS many bonus features like edit videos (trim, crop, merge, etc.), and download online videos/audios.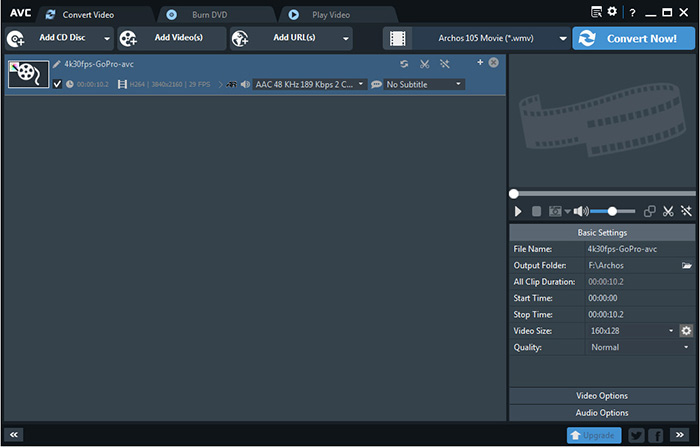 What trump card does AVC have to accelerate speed?
The silver bullet AVC has GPU hardware acceleration techs including NVIDIA NVENC, AMD AMF and Intel QSV. As for the multiple-core processor and Auto Copy mode, it isn't mentioned on its official product webpage.
Average User Rating: ★★★★ (based on 218 votes)
Wondershare Uniconverter is also a recommendable program which can finish video conversion at a rapid speed. When it comes to functions, there's no big difference among these three fast video converters. It is designed to convert videos in different formats, trim videos, join video clips into one, download videos, etc.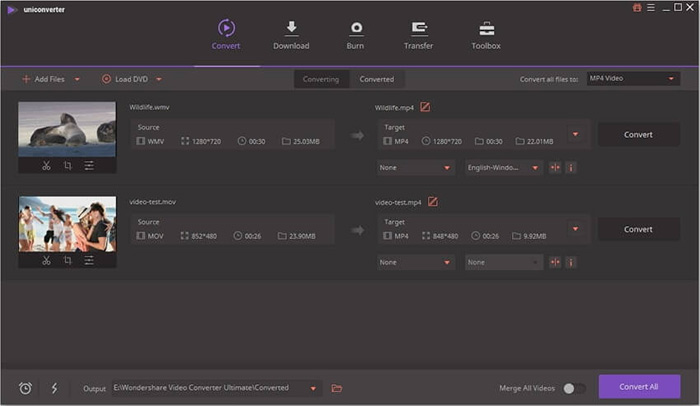 What does Uniconverter have to compete for the title of Fast video converter?
It features GPU acceleration transcoding while converting videos to HEVC/H.264. It utilizes the full power of your computer's multi-core process to achieve fast conversion speed. No other acceleration techs or Auto Copy mode are mentioned.
This part concentrates on the features introduction (all about theories). How fast would they be? It would be much more intuitive via data. The below part directly shows you the actual conversion speed via our test. Check the following test results:
Bonus Tip1: [Speed Test] Which Video Converter Converts Video at Fastest Speed?
Test input video info: a MKV (AVC) video (duration: 7.8 mins; size: 178.8MB; resolution: 1280x720; frame rate: 23; bit rate: 2500kbps)
Test output video info: MP4 (H264) lossy conversion; parameter settings and video length are not manually adjusted.
Test environment: a Windows 7 64-bit desktop armed with Intel(R) Core (TM) i5-3470 CPU @3.20 GHz 3.60 GHz and 8GB RAM.
(Only one video converter software is running each time, no other software or tools standby in the background.)
WinX Video Converter

VideoProc

AVC Ultimate

Uniconverter

Output File Size
126.2MB
153.2MB
157.4MB
101.4MB
Output Quality
Excellent
Excellent
Excellent
Excellent
GPU Hardware Accelerator
Enabled
Enabled
Enabled
Enabled
Other Accelerators
(Multiple-core processor, hyper-threading, MMX-SSE, AMD 3DNow)
All Enabled
All Enabled
Unsupported
Only multiple-core processor enabled
Avg FPS during conversion
205FPS
158FPS
109FPS
133FPS
Conversion Time
63.56 secs
74 secs
169 secs
113.22 secs
The above table has illustrated the speed gap among the top 4 fast video converters. Of course, the data is not fixed, since it's also related with your computer hardware configurations. If you resort to a desktop with higher configurations, the conversion speed will be even faster.
Bonus Tip2: How to Fast Convert Videos via GPU Acceleration?
Here, let's take WinX Video Converter as an example. Above all, download and install this fast video converter on your computer. And then, follow the steps below.
Step 1: Load Source Video to the Program.
Open this converter, and then click + Video button in the top bar or simply drag and drop to browse and select target video files for further conversion.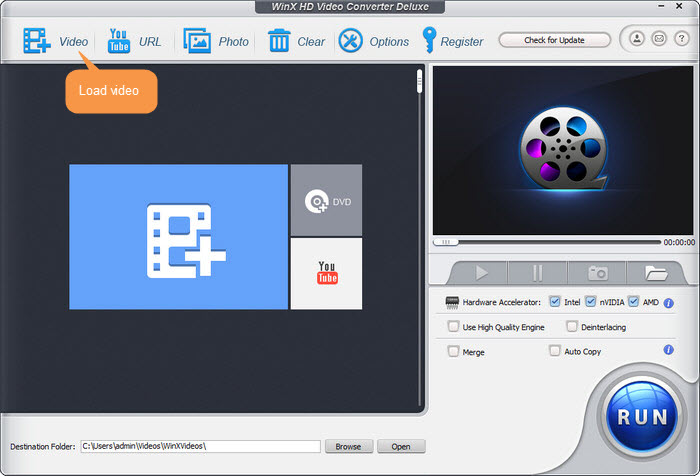 Step 2: Choose Output Format Based on Your Needs.
As the video is loaded, an output profiles window will pop up automatically. Choose your desired output format, for example, you're always recommended to choose MP4 Video (h264+aac) to convert videos to MP4 since it can be freely playback on different players and the process can be accelerated via GPU acceleration.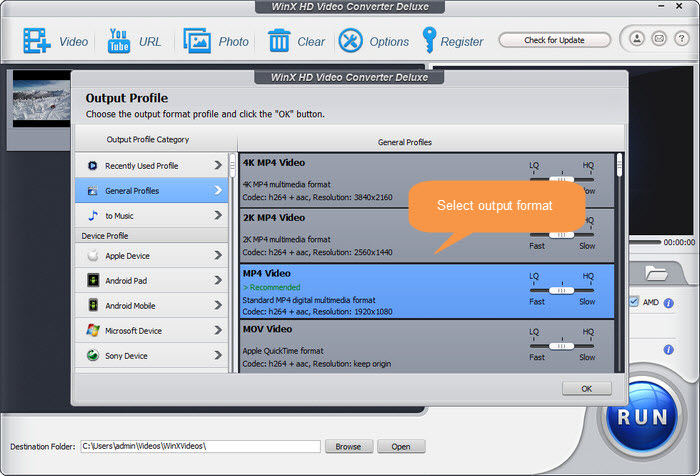 Step 3: Start Converting Videos Fast via GPU Acceleration.
It's worthy noting that Hardware Acceleration Engine is checked by default to speed up video conversion to full extent if your computer has required hardware. Now all you need to do is to hit RUN button to begin converting videos immediately with this fast video converting software.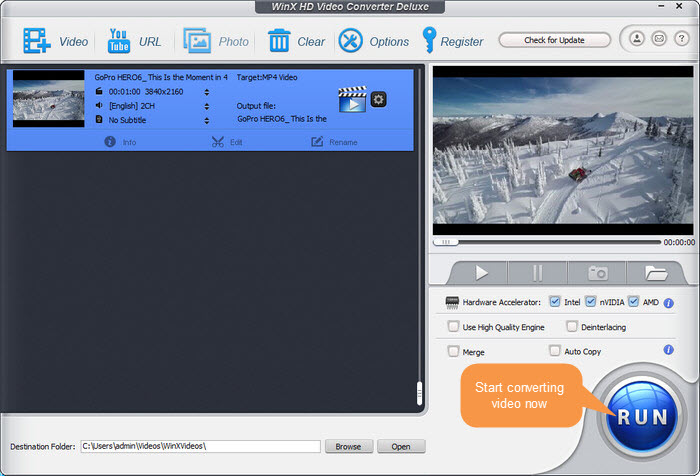 Here is a quick tutorial video to fast transcode videos or remux videos for those who don't want to read the whole article.
The pace of upgrades and replacement are whopping fast. No one can capture the 1st title in a certain industry all the time. The same also applies to this fast video converter ranking. There is still plenty of room for these 4 products to improve. You're warmly welcomed to share with us any better programs you've ever used via Email or FB/twitter official accounts. We'll constantly get this rank list updated!