2020 Top 4 Fast Video Converters Reviews and Free Download
Find the best fastest GPU hardware accelerated video converter here to change video format on Windows (10/8.1/8/7) & Mac at super fast speed
"I need a really fast video converter right now. I have an .avi file video but it's not working in Windows Movie Maker so I want to convert it to .wmv. Could anyone suggest a fast converter?"
Living in a fast pace, most of us hold the idea that time is money. When it comes to convert videos, the converting speed climbs to something very important, besides video conversion ability. Well, which video converter can run at really fast speed? This might be such a hard question. Many video converting programs claim that they work quickly, but the truth may not be as the same as what they advertise.
In order to figure out this question, we have tested a dozen of paid and free video converters in the market. Finally, we sort out the top 4 fast video converters for PC/Mac users and will share you how to convert videos fast through GPU acceleration. .
Which Are the Top Fast Video Converters?
Although video conversion speed depends partly on the speed of computer and the settings for encoding/transcoding, the speed also has much to do with the converter you use. Under the same test conditions, the following 4 converters stand out.
Our Picks for the 4 fastest video converters for Windows/Mac:
1. WinX Video Converter
2. VideoProc
3. Any Video Converter Ultimate
4. Wondershare Uniconverter
Average User Rating: ★★★★★ (based on 2580 votes)
WinX Video Converter is able to transcode any videos smoothly, including large 4K UHD clips, at a 47x real time faster speed than before and 5x faster than any other competitors. Besides, it can handle various types of video formats, MKV, MP4, AVI, MOV, H.264, HEVC, VP9, etc. with complete preset profiles for iPhone, iPad, Android mobiles, TVs, YouTube, Instagram, etc. High quality can be reserved as well.
Why Is WinX Video Converter & How Fast Could It Be?
1. Armed with full hardware acceleration technology powered by Intel QSV, NVIDIA CUDA/NVENC and AMD, the converter can take full advantage of GPUs to ease the burden of CPU, achieving a super fast speed for 4K/HD video conversion.
2. The embeded multiple CPU cores (up to 8), MMX-SSE, Hyper-threading and AMD 3DNow! Technologies also boost conversion speed greatly.
3. "Auto Copy" mode enbales you to convert video without changing underlying codec, naturely accomplish conversion in shorter time with original quality reserved.
To figure out how fast could WinX Video Converter run, we've done a test for converting MKV to MP4 with and without hardware acceleration. The details are as follows: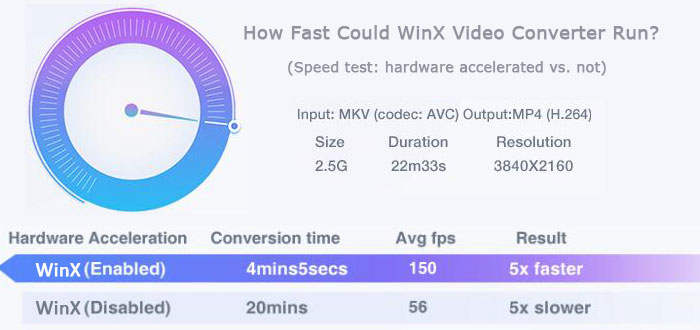 No.2 - VideoProc
Average User Rating: ★★★★☆ (based on 316 votes)
This program is classed as one of the fastest 4K video converters, partly because of its impressive conversion speed. It is a versatile fast video converter for MP4, MKV, AVI, WMV, MOV, HEVC (H.265), AVCHD, Blu-ray M2TS/MTS, 3GP, MXF and other file formats. It allows users to load and convert videos at SD, 720P/1080P/1080i HD, 2160P 4K UHD and even 8K Full UHD, to a ton of popular formats and devices like Apple (iPhone, iPad, iPod, Apple TV), Android (Nexus, Samsung, HTC, Kindle Fire), Microsoft (Windows Phone, Surface, Xbox), Chromecast, Sony, Nokia Lumia, etc. 420+ built-in preset device profiles are provided.

Free download VideoProc to convert videos fast on Windows 10/8/7, or click for Mac version >>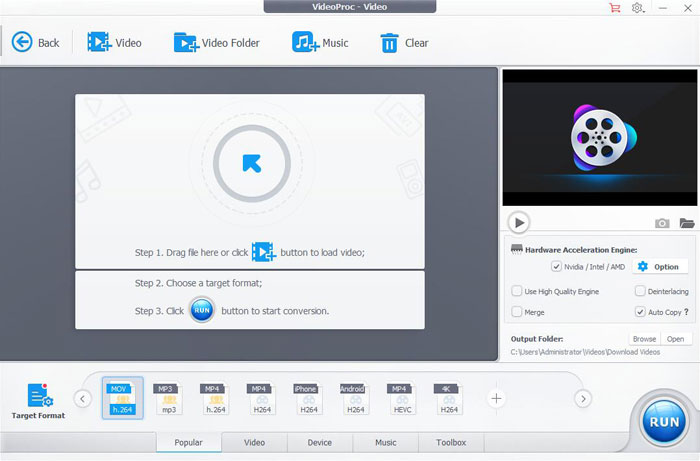 No.3 – Any Video Converter Ultimate
Average User Rating: ★★★★ (based on 254 votes)
Any Video Converter Ultimate is another good choice for fast video conversion. Like the aforementioned VideoProc, it can convert various video file formats like MP4 and AVCHD to another format as well as popular smartphones, tablets, game consoles, etc. Additionally, both Any Video Converter Ultimate and VideoProc have many bonus features like edit videos (trim, crop, merge, etc.), and download online videos/music.
As a fast video transcoder, this tool brings quick speed conversion thanks to its support for AMD APP Encoder (powered by Open CL) and NVIDIA® CUDA™ acceleration technology.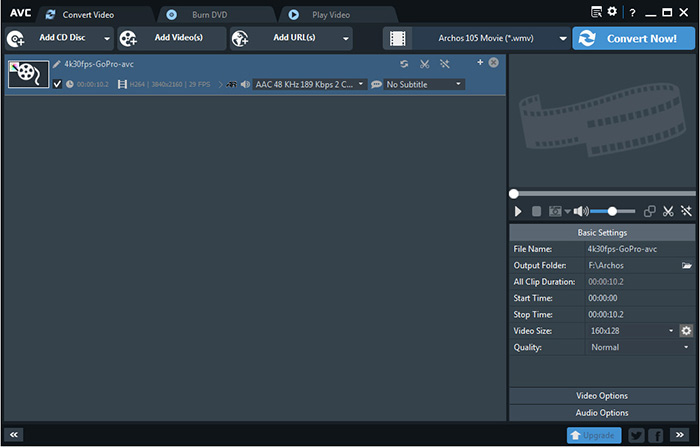 No.4 – Wondershare Uniconverter
Average User Rating: ★★★★ (based on 218 votes)
Wondershare Uniconverter is also a recommendable program which can finish video conversion at a rapid speed. When it comes to functions, there's no big difference among these three fast video converters. It is designed to convert videos in different formats, trim videos, join video clips into one, download YouTube videos, etc.
It features GPU acceleration transcoding while convert videos to HEVC/H.264. It utilizes the full power of your computer's multi-core process to achieve fast conversion speed.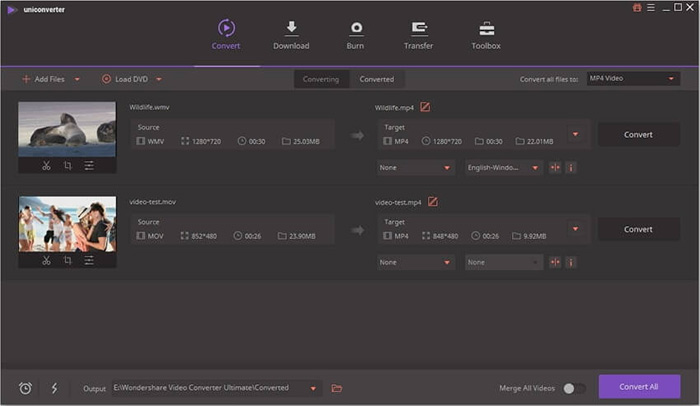 [Tutorial] How to Convert Videos Fast via GPU Acceleration?
Here, let's take WinX Video Converter as an example. Above all, download and install this fast video converter on your computer. And then, follow the steps below.
Step 1: Load Source Video to the Program.
Open this converter, and then click + Video button in the top bar or simply drag and drop to browse and select target video files for further conversion.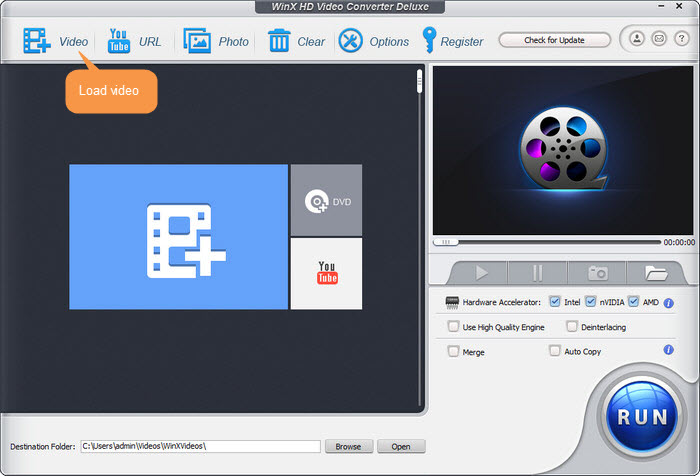 Step 2: Choose Output Format Based on Your Needs.
As the video loaded, an output profiles window will pop up automatically. Choose your desired output format, for example, you're always recommended to choose MP4 Video (h264+aac) to convert videos to MP4 since it can be freely playback on different players and the process can be accelerated via GPU acceleration.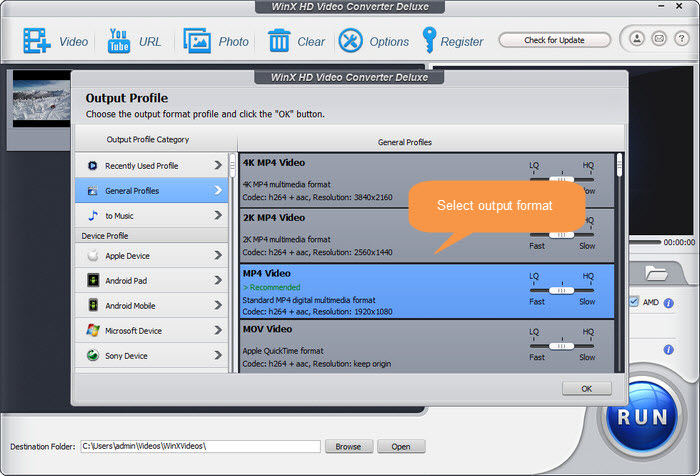 Step 3: Start Converting Videos Fast via GPU Accerleration.
It's worthy noting that Hardware Acceleration Engine is checked by default to speed up video conversion to full extent if your computer has required hardware. Now all you need to do is to hit RUN button to begin converting videos immediately with this fast video converting software.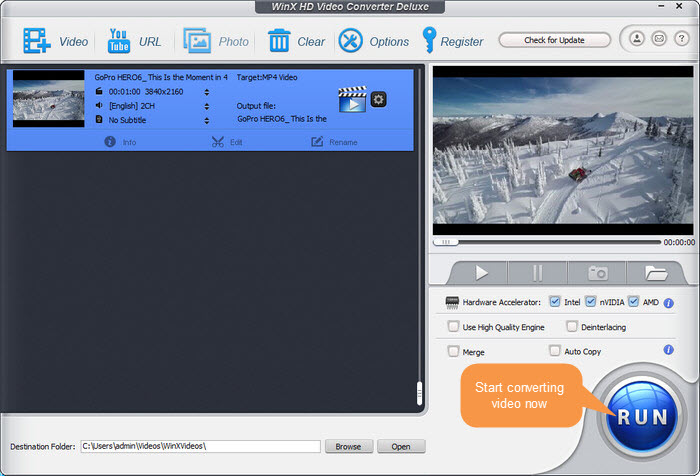 ABOUT THE AUTHOR


Digiarty Software is a leading multimedia software provider, delivering easy-to-use and innovative multimedia solutions to users all over the world.
Tips and Tricks
Newsletter
Stay up-to-date with our news, updates, guides.