Top 10 Coolest Gadgets You Should Expect in 2016
Top 10 Coolest Gadgets/Devices Coming out 2016
What's the hotspot in 2016? Fresh gadgets featuring innovative technologies are undisputedly the burning issues. Through whole year, various tech conferences, e.g. CES, MWC, Apple/Microsoft events, will be held to demonstrate a wide range of consumer electronics from portable devices to start homes. If you want to stay on the top of the tech trends, why not check the roundup of top 10 coolest gadgets 2016 from here?
Top 10 Gadgets 2016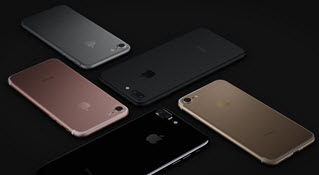 1. iPhone 7
What's hottest electronic gadget in 2016? No doubt, iPhone 7. This Apple next-generation smartphone was annnounced on 7 September 2016 showing two models, 4.7-inch iPhone 7 and 5.5-inch iPhone 7 Plus. From design to performance, iPhone 7 goes to a big improvement. The removal of 3.5mm headphone jack and antenna bands, pressure-sensitive Home button, water-resistant body and two new color options: Black and Jet Black make iPhone 7 more gorgeous, while improved camera system, top-notch A10 chip, new iOS 10, longer battery life drives iPhone to run faster and more efficient.
>> Related: iPhone 7 vs iPhone 6s vs iPhone 6s Plus
Must-have File Transfer Software for iPhone (7)
Need to backup media files of iPhone and free up iPhone storage? WinX MediaTrans offers one-click solution to transfer photos, videos and music from iPhone to computer at an extremely fast speed. In turn, it can import videos and songs from computer to iPhone so that you can watch movies/TV shows and listen to favorite music whenever wherever. Apart from iPhone, it is also available for all models of iPad and iPod.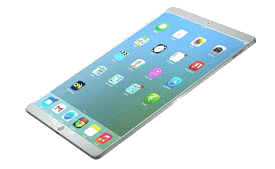 2. iPad Air 3
Not arriving with iPad Pro and iPad Mini 4 in 2015 as expected, iPad Air 3 is announced to debut in mid-Match 2016 on Apple event. A 9.7-inch 4K screen with a resolution of 2334 x 3112 and four speakers similar to iPad Pro which are most likely to launch on iPad Air 3 for driving users to have a better enjoyment on movie watching and music listening. Thanks to the latest iOS 9.0.3 and new A10 chip, this top gadget of 2016 can bring more improvements in performance, like more practical apps, true multitasking & more.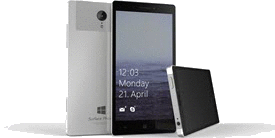 3. Surface Phone
Continuing the hit of Windows 10 and new Surface Book, Microsoft is expected to release Surface Phone in 2016 due to the hint that Microsoft had possessed the domain surfacephone.com. Earlier rumors said it may feature a 5.5-inch AMOLED HD display with a resolution of 2560 x 1440 pixels as well as adopt Intel Atom x3 64-bit processor along with 4GB of RAM running on Windows 10 but eventually no clear clues can prove correction of the above-mentioned features. Anyway, a great majority of fellows believe that Surface Phone will come out this year and shine among the top 10 gadgets 2016.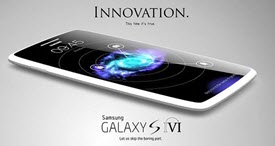 4. Samsung Galaxy S7
Samsung Galaxy S7 is believed to make it appearance at WMC 2016 with three different models, S7, S7 Edge and S7 Edge+. Similar to design of Galaxy S6, this new Samsung flagship phone may have a 5.7-inch 1440x2560 QHD screen, 4GB of RAM and a 12MP camera working on Android Marshmallow 6.0. The other rumored feature exciting fans is that the liquid cooling tech may be used to be against overheating problem of phone to deliver better-performance as well as extend battery-life.
>>What You May Need for Samsung Devices: Best Free Samsung Video Player Apps Software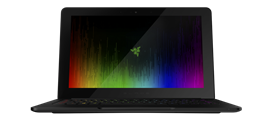 5. Razer Blade Stealth
Beyond as gaming hardware machine, Razer Blade line pushes out a Windows ultrabook named Blade Stealth on CES 2016. It arrives with two versions taking respective resolutions, 4K at 3840 x 2160 pixels and Quad HD at 2560 x 1440 pixels for 12.5-inch IGZO touch display. The Intel Core i7 processor can guarantee extreme performance, while an optional Razer Core can be added to deliver external desktop graphics and expanded connectivity via Thunderbolt 3. It was recognized as one of the top gadgets of 2016 for the dazzling features.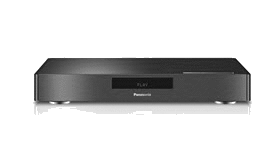 6. 4K UHD Blu-ray Player
Flourish of 4K resolution urges the development of 4K UHD blu-rays, which boast 4K resolution (3840 x 2160 pixels), vivid colors, better contrast for HDR (high dynamic range) technologies. And the first 4K blu-rays of The Martian have been available to preorder at March 1, 2016 on Amazon. From late 2015, 4K UHD Blu-ray players are developed and released by Samsung and Panasonic. When coming to 2016, more 4K UHD Blu-ray players are expected to enter the market.
>>Best Free Blu-ray Player Software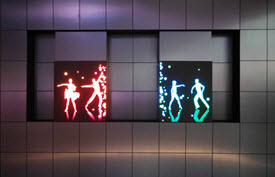 7. Samsung Modular TV
Samsung showed its innovation on TV at CES 2016. The new concept modular TV comprising of plenty of smaller moving displays available to form a 170-inch screen after joining up, brings the technology of transformability and customization possibility on TV. Users can freely reassemble flexible displays to obtain a perfect screen size and shape for movie/video playback. The aspect ratio can automatically fit content on the screen. Not only a stunning product on CES, it must be one of the coolest gadgets of 2016.
>> Related: Cons & Pros of Samsung 4K Curved TV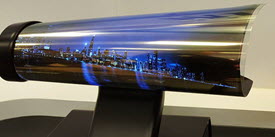 8. LG Rollable Display
CES 2016 indeed exhibits something crazy but incredibly exciting gadgets, for example LG rollable display. A prototype 18-inch display was rolled up like a newspaper. The future of display trending is explained by this LG technology. The display we use everyday can be blended for storing at a safe place in order to prevent from scratches or carrying in our bags or pockets.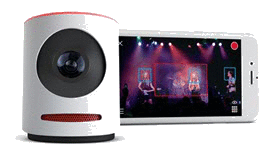 9. Livestream Movi
Livestream Movi is another top 10 gadget 2016 shown on CES 2016. It is a camera with a pocket-size aiming to help users edit numerous shots on iPhone during living events with an intuitive iOS app. It equips 150-degree all glass lens and 4K sensor to control multi-camera (up to 9) setup. Living edits like pan, zoom, cut for several shots can be realized from a single camera.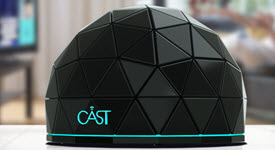 10. CAST by Genii
Among a large number of video streaming devices, CAST by Genii stands out as one of top featured gadgets at CES 2016. Apart from streaming entertainment contents to any TV in any room, it helps users to watch movies/TV shows/sports, play games with friends together as well as start discussion about the live video through chat & comment with others.
>>Related: Stream DVD to Amazon Fire TV, Stream DVD to Android TV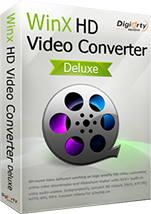 Enjoy Any Movie/Videos on Portable Devices/Smart TV?
WinX HD Video Converter Deluxe
* Free Download SD/HD/4K/8K Movies/Videos to MP4 for every device from 300+ sites like YouTube, Dailymotion, Vimeo, Metacafe.
* Transfer SD/HD/4K/8K videos to iPhone, iPad, Apple TV, iPod Touch, Android, Windows Phone,Surface Pro/Book, Xbox, Ps3/4 with ease.
* Convert/Compress HD/4K/8K Videso to MP4, AVI, WMV, MOV, FLV, 3GP, MP3, FLAC and other popular video/audio formats with high quality.
* Adjust video audio parameters like codec, bitrate, frame rate, aspect ratio, resolution, sample rate, etc.
* Trim/crop/merge video and add external subtitle files (.srt) from downloaded or local movie/video files.
* Deliver No. 1 FAST video converting speed due to its Multi-core utility, Hyper-threading Tech and Hardware Encoder (Intel & Nvidia) Support.