How to Stream online Video to Sony PS3 and Microsoft Xbox?
Here'are tips of how to stream video/movie/music to Sony PS3 and Microsoft Xbox.
It must be a huge waste to just play HD games on your game console, like PS3, Xbox and Nintendo Wii. Apart from their main purpose, you can also regard PS3 as Blu-ray/DVD player or HD Media Player. Today, this Video to PS3 Xbox guide will teach you How to Stream Online Video/Movie/Music to PS3 and Xbox.
Tip: To play streamed videos/movie in any formats (MKV, MTS, FLV, WebM etc.) to PS3/Xbox, a PS3/Xbox video converter may be needed.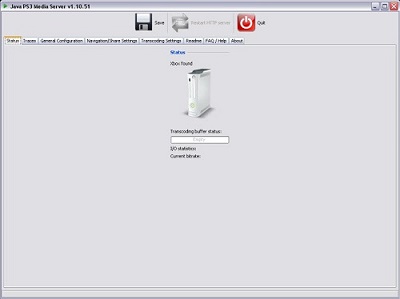 PS3 Media Server is needed
PS3 Media Server is a DLNA compliant UPnP Media Server for the PlayStation 3 video game console and also supports the Xbox 360. Written in Java, it is used with the purpose of streaming or transcoding any kind of media files, with minimum configuration. It is supported by the MPlayer and FFmpeg packages. below guides is learnt from adubvideo, posts by adub.
Step 1: Launch PS3 Media Server for Streaming Video to PS3/Xbox
Make sure you have your PS3 or Xbox 360 connected to the network. Wifi also works, but the signal sometimes does not as good as network connection. After then, set up previously mentioned PS3 Media Server. It can auto detect your device which is PS3 or Xbox then select for you. In new (beta) versions of PMS, support for a number of devices has been added so chances are you would see the corresponding device in this window.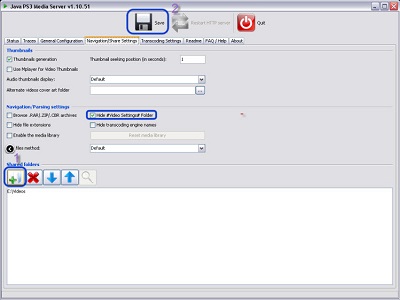 Step 2: Navigation/Parsing settings
In this procedure, you need to select your source directory with Navigation/Share Settings table. This is where all of your videos are stored that you want to serve up to your PS3, Xbox, etc. In this case it is my Videos folder on my E: drive. Use 1 to navigate to your desired directory. Lastly, save the configuration file so that PS3 Media Server can serve up the changes to your network. Also, click Restart HTTP Server if it bothers you, but it isn't necessary in this Stream Video to PS3 Xbox tutorial.
Step 3: Transcoding Settings
Video Quality Settings to select your maximum bandwidth (25 Mbits in an example on a wifi network). Note that you do not have to do this, but I think it is good practice so as not to saturate your network. HD material can take up to 50 Mbits, so if your network can support it, go for it! For those of you who don't care, you should have no problem using zero (no limit).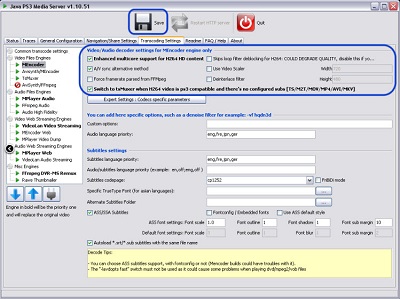 General Settings to set your buffer size. This depends on the amount of ram you have in your system. Personally I don't remember why it's set to 250 in this picture, but it is usually safe to stick with the default 600, unless you have less than 1 GB of RAM. Also, make sure that you are using all of your cores when transcoding, unless you have a good reason, as it can reduce performance if you don't.
Step 4: Save to Steam Video to PS3 Xbox
PS3 Media Server offers several encoders (H.264 encoder, AVC encoder and more) behind Video File Engines, like MEncoder and TsMuser. This will only work for people who have a multicore system. Most of you probably will, but if you don't, make sure that this is unchecked.
Tips 1: if you have a lot of interlaced video on your computer (chances are you don't) then check the Deinterlace Filter checkbox.
Tips 2: As to the Switch to tsMuxer option, use this only if your device supports .ts files. My rule of thumb is this: If I'm streaming to a PS3, check it. Else, leave it unchecked.
Related: Stream Movies/Music on Windows 10, Stream Movies from Xbox to Windows 10, Stream movies to iPhone 6/6 Plus, Play DVD movies on Wii
What If?
What if you have lots of cherish Video/Movie/Music files but your PS3 Xbox does not read them? What if your network is broken but you really want to watch HD movie through game console? What if you just feel stoned with PS3 Media Server and really need an user friendly program? Don't worry, Digiarty Software will help you out. Its All-in-one WinX HD Video Converter Deluxe is best PS3 Xbox Video converter. It supports Convert downloaded HD MKV to Xbox, MKV to PS3, backup AVCHD camcorder recordings and Blu-ray BDAV videos to PS3 Xbox while still preverse 1080p Full-HD quality. Try it now >>
Still have some trouble about how to stream movies/videos/music to PS3/Xbox? Please feel free to Email Us >>
* Free Download any SD/HD/4K UHD Videos in formats MP4/FLV/WebM from YouTube in flash.
* Convert any SD/HD/4K videos in formats MP4, AVI, WMV, MOV, MKV, MTS, MOD, TOD etc, to Sony PS3/4, Microsoft Xbox One/360, iPhone 6/6 Plus, iPad Air 2/Mini 3, Samsung Galaxy Note/S/A, Google Nexus, Sony Xperia, Windows Phone, Surface Pro and more easily and rapidly.