How to Stream Movies Music from NAS HDD to iPad iPhone TV
Detailed guide on how to convert, stream and play movie music files from NAS HDD/SSD to iPad, iPhone, Apple TV, etc
Last updated on Apr 1, 2020 by Kistent Waung

How do you kill the boredom when staying in quarantine and self-isolating owing to COVID-19? Watching movies could be a nice option, while it's hard to reach a consensus for the playlist from all your family members. You may need stream movies from NAS HDD to iPhone, iPad, TV, or desktop for watching movies on cross-screens.
Most recently, Seagate unveiled 12TB HDDs for NAS and desktop PCs, which could further expand your storage space for large-size ultra high quality movie videos. Surely, we prefer videos in higher resolution, such as 4K UHD or even 8K, and audios with higher fidelity performance to enjoy a visual-audio feast. However, even though video compression algorithm keeps improving and mobile storage capacity increases constantly, only 10 movies in 4K would eat up all the space of a 128GB iPhone 7. That's why people like NAS HDD so much. So what is NAS?


What Is NAS?
NAS on Wiki: Network-attached storage, aka NAS, is a data storage server connected to a computer network, providing data access to a heterogeneous group of clients. To make it clearer and more understandable, NAS is very like a physical version of iCloud, a storage center with nearly no capacity limits and a library accessible for family and friends to share movies, music, etc.
NAS HDD vs. SSD
Another question to be asked may be which you should choose for NAS between Hard Disk Drive (HDD) and Solid State Drive (SSD). SSD is more expensive but much faster when access small files, while HHD costs less and provides larger capacity. So generally speaking, use NAS HDD if you're gonna save relative big files such as mountains of 4K movies, or choose NAS SSD to share music/photos. SSD could be large as well, like Seagate 60TB SSD, which however comes at $10,000. Here are some advantages and disadvantages of HDD and SSD:
Pros
• Large capacities
• Larger RAID preference
• Available as SSHD (Solid State Hybrid Drive)
Cons
• Slower access
• Higher power consumption and temperatures
• More noise
Pros
• Higher read and write speeds
• Lower power consumption and noise
• Better internal NAS operations
Cons
• Smaller capacity
• Speed limitations
• Much more expensive
How to Access NAS from iPad iPhone Apple TV to Stream Movies/Music?
"Hello, I have both Android tablet and iPhone. On both I can use Plex, DS Video, DS File to read video through local network. On Android, I have more options like using a file explorer that is able to read local network content through SMB/DLNA or something like that. I am wondering if there are apps that can access NAS HDD from iPad as well. There is no finder on iOS and OS is less flexible than Android. How do you stream videos from NAS to iPad or TV?"
You can easily access server program through Network on Windows PC, due to its support of SMB protocol. But how to access NAS from iPad iPhone Android since there is no such protocol for mobile? How to stream movies from NAS to Apple TV, iPad, etc? The easiest way is to download and install a kind of file explorer app. Of course there are a bunch of finders in iOS that allow you to access your NAS and download files to devices for watching, for example, Plex media server, DS Video, DS Audio, FileExplorer by Skyjos, Documents 6 by Readdle, etc.
With help of such apps, you should be able to stream movies/music from NAS HDD to iPhone, iPad, Android and Apple TV using WiFi in the same LAN or over the internet. But there are still problems. Take Plex as an example here. Firstly not all NAS devices are supported by Plex media server. Secondly you will have to set up Plex Remote Access previously and carefully. Thirdly, sometimes Plex needs to transcode video audio for playing, but NAS capability is not good enough, and the transcoding will be simply disabled and you will receive an error instead. All in all, you will have to go through a long page to verify if Plex media server on NAS is right for you.
How to Play MKV Movies from NAS on iPhone?
If you want to stream MKV movies from NAS to iPhone for watching but your Plex for NAS cannot do the transcoding, there is a workaround: convert MKV to MP4 before you save the video on NAS for later accessing.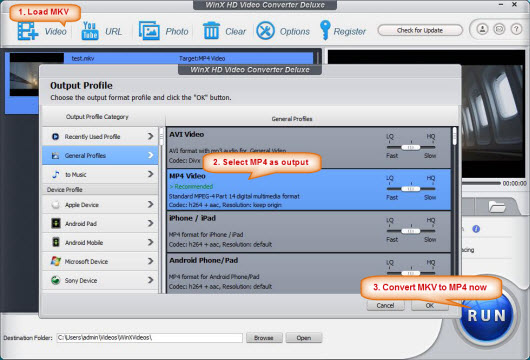 Step 1. Free get a MKV to MP4 converter
WinX HD Video Converter Deluxe can not only convert MKV to MP4, but also convert videos in SD, 1080p HD and 4K/8K UHD in any format (370+ built-in video & audio codecs). Better still, it converts video fast, 5x faster than competitors, due to its support for multiple CPU use, Hyper-threading and hardware acceleration (QSV & CUDA/NVENC).


Download MKV to MP4 converter for Windows (10)


Download MKV to MP4 converter for Mac
Step 2. Set MP4 as output format
1. Launch the converter software, and click "+Video" to load your MKV movies.
2. In the pop-up "Output Profile" window, go to "General Profiles" -> MP4 Video (Recommended)
Step 3. Convert MKV to MP4
Set a path as your destination folder and press button RUN to start converting MKV to MP4.
What Else You Can Expect of the Video to NAS Converter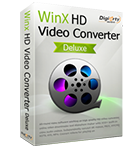 • WinX HD Video Converter Deluxe converts videos at NO.1 fast speed out of its Hyper-threading tech and support for hardware acceleration.
• With 420+ profiles built-in, it allows users to convert videos in nearly all popular video formats MP4, MKV, HEVC, MOV, AVI, etc.
• Convert videos for playing on iPhone, iPad, Android, Chromecast, Roku, Huawei Mobile, Amazon Fire phone, Fujitsu, Aquos, Apple TV, and more.
• Also a online video downloader that downloads videos from YouTube, Facebook, Vimeo, Instagram, etc (1000+ sites).