How to Solve KeepVid No Sound Problem on Downloaded Videos
How to Solve KeepVid Downloaded Videos No Sound Problem
"I tried to use Keepvid.com to get some videos off of YouTube but Plex Media server will not play the audio, video plays fine though. I downloaded them in MP4 format. Any help? Thanks."
You might have had a lot of pleasant web video downloading experience with the KeepVid online video downloader, but, still, many people get into trouble of KeepVid video no sound. There is no sound on video from YouTube you download using KeepVid while it has sound on YouTube site, Why? I'd say there are several possibilities, and that's exactly why we can't give you a general solution to all of your KeepVid video no audio problems. It depends which situation you are in.
Related: Free YouTube Downloader, YouTube Video Converter, YouTube video no audio problems, KeepVid Is Down and How to Fix?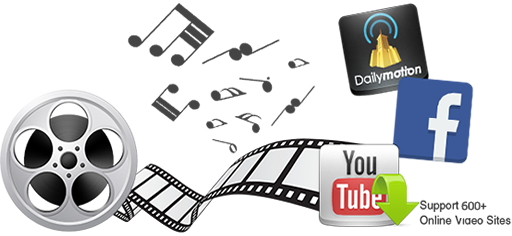 How to solve KeepVid Video No Sound Problem?
WinX YouTube Downloader
Free YouTube Downloader help avoid KeepVid no audio problem.

WinX HD Video Converter Deluxe
Download and convert YouTube videos with no audio problems.

It can save (and convert, natch) videos from the likes of YouTube, and output presets for every portable device from Android to Windows Phone.
- Rick (CNET Editor)
Video Downloaded with KeepVid Has No Sound
Certainly you can solve this KeepVid no audio issue and make it never happen again, but you've got some work to do. We've classified the KeepVid no sound problem into two different parts. Go find which one you belong to and check our recommended solutions.
Part 1. Both YouTube and KeepVid Downloaded Video Have No Sound
If you download YouTube video on keepvid.com only to find there is no sound, go back to YouTube website and see if there is no audio in the online video either. If yes, the KeepVid video no sound problem is on the source YouTube video. Services like KeepVid just download video files. There is no conversion.
Part 2. No Sound Problem Only Happens to KeepVid Downloaded Video
The video may have sound on YouTube but not on your PC, which you download via KeepVid.
1. KeepVid actually tells you the ones that have just video or just audio or both. So before you download YouTube videos on KeepVid, take a careful look at the video output format list and choose those without "Video Only" right behind, by doing which most of your KeepVid video no sound problem may be solved.
2. It is probably a problem with YouTube and the encoding on their end. Try another media player, like playing the downloaded MP4 video with VLC to solve the KeepVid no sound problem. Check out KeepVid supported output formats.
3. What you're watching on YouTube is the file that's actually been downloaded, while your PC has a version you downloaded through keepvid.com, which may not have done completely or correctly. There is not a whole lot out there in terms of support for your KeepVid video no sound problem solving. We offer you two options here.
How to Solve KeepVid Video No Sound Problems
First is to use a free KeepVid alternative YouTube downloader, like WinX YouTube Downloader, to download full YouTube videos and then convert downloaded video to AVI, and see if that works. Or you can choose to avoid KeepVid video no sound problem from the start by adopting an all-in-one YouTube downloader to fast download and convert full movie video all at once with audio track and without loss of quality. In this regard, WinX HD Video Converter Deluxe works great.
WinX HD Video Converter Deluxe using guide to solve KeepVid no sound problems...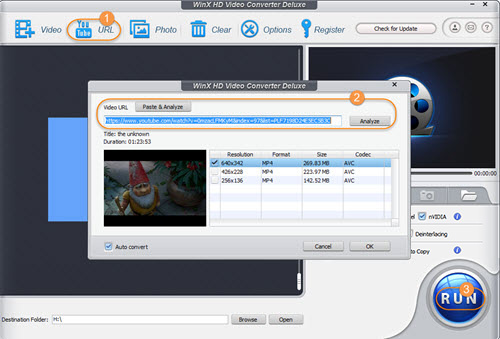 Info about WinX HD Video Converter Deluxe
(For KeepVid video no sound problem)
1. All-in-one video software as an Ultra HD video converter and YouTube downloader.
2. With over 320 video codecs & 50 audio codecs, KeepVid video no sound problem will never happen for the reason of video format with WinX HD Video Converter Deluxe.
3. Deliver a 32x faster real time converting speed so that YouTube videos can be fully downloaded within minutes with no audio problems.
4. Embedded High Quality Engine and "Yadif Double Frames" De-interlacing Engine help to keep original audio/video quality, while Multi-thread Technology, which are designed to enhance YouTube audio video sync, performs great in solving the KeepVid video no sound problems.
Download WinX HD Video Converter Deluxe to have a try...
If all fails, our support team is still here to help you deal with KeepVid videos no sound things. So relax and email us with your particular case.
If you need to convert video to the best video size for YouTube uploading or set audio video parameters, please turn to WinX HD Video Converter Deluxe.