iPhone 11/Pro/Max: How to Extend iPhone Battery Life If You Like Playing Movies Videos
How to Save iPhone 11/Pro/Max/XS/8/7 Battery Power and Extend iPhone Battery Life?
There are ways to save your iPhone battery power that you might never have known especially, when you are indulging in movies. Through reasonable power-saving settings, you may be on the way of extending the service life of your iPhone 11/Pro/Max/XR/8/7, etc.
Most Effective Way to Save iPhone Power
The smartphone developed by Apple is always widely known for unsupported battery changing. However, the longer the battery has been used, the shorter the stand-by time of phone will be. It is not suggested to change the battery by yourself unless you are a dye-in-the-wood expert because detaching battery will endanger your new iPhone to make it scrap easily.
The biggest killer of iPhone battery is not CPU, not calling, but watching videos or playing games on the larger and larger screen. Fast battery drain is also a long-existing issue with iOS 13 update. So, how to save the battery power of Apple iPhone during video playing has become the increasing concern. Hopefully, some of the following tips will be helpful for iPhone battery life prolonging.
>> Before that, you may need WinX HD Video Converter Deluxe to save iPhone's Battery life.
1. Lower the brightness of iPhone: Auto adjusting the screen brightness is one of the default settings of iPhone. It means that iPhone is working in highest luminance. The power consumption is as fast as 1% per two minutes. If you wish to save power while watching videos or playing games, you have to learn to get rid of this habit and make the following change:
Settings -> Wallpaper & Brightness -> turn off "Auto-Brightness" -> change the screen brightness to 40% constantly.
This can meet your basic need of watching videos on iPhone while controlling the power loss obviously.
2. Close some other apps: The power of your iPhone may run off inadvertently, and some unnecessary apps are stealing it even if they are working in background when you are enjoying movies. An important feature since iOS 7 (to iOS 13) is the auto brushing of background programs. Once you open an app, the corresponding content is ready for you. It is OK to ban this function if you can get use to updating the content after open the app. Just delete the background app refresh:
Settings -> General -> Background App Refresh -> Close it
>> View Rumors and Features of iOS 11
3. Change online video watching to offline video playback: If you need to save iPhone battery life to a greater extent, avoid watching video online by use of Wi-Fi or 3G is the best way to go. Why? Online video playing requires GPRS to receive the images of video. It has very high demand on signaling. The higher the signal is transmitted by the phone, the more power it will consume. Besides, CPU needs unceasing decoding and converting during online video playing, which also affects the power usage greatly.
Therefore, preparing videos on your iPhone beforehand helps prevent all the problems above. You don't even have to enable your WLAN, Cellular or 3G network connections that may decrease the battery life of your iPhone. But most videos are not compatible with iOS devices, so how to make them work on your iPhone?
WinX HD Video Converter Deluxe can make all kinds of video files friendly with iPhone by converting AVI, MPEG, WMV, FLV, MOV, M2TS/MTS, AVCHD, MKV, VOB, Webm and so on to iPhone supported formats. The following guide will tell you how to save battery power during playing movies or videos: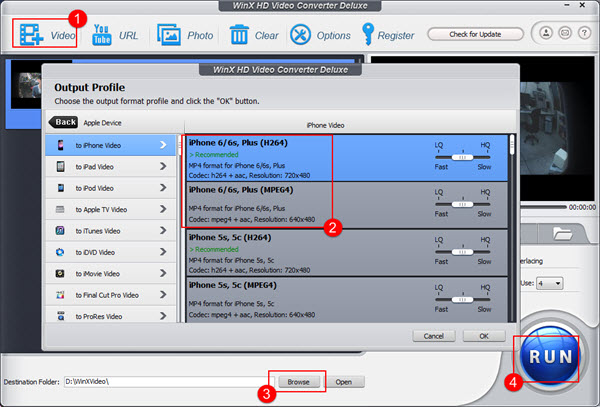 Step 1: Install the exe file after downloading WinX HD Video Converter Deluxe in either Windows or Mac edition, and open it.
Step 2: Convert SD or HD videos to iPhone with the assistance of WinX HD Video Converter Deluxe:
A. Make sure which videos existing on your Mac are to be converted. Click "+ Video" on the software UI and load the source file.
B. Under Output Profile, choose "Apple Device" -> "to iPhone Video" -> "iPhone 6, Plus (MPEG4 OR H264)".
C. Set the destination of output file by tapping "Browse" button and hit "RUN" button to start the fast video conversion. After a while, you can get the complete converted video file on your designated folder of your computer.
Step 3: Sync the video to your iPhone with WinX MediaTrans, the best iTunes alternative for transferring media files.
Step 4: Make the power-saving settings mentioned above and turn off WLAN, 3G and cellular data on your iPhone to stop all data to WLAN, including email, web browsing, and push notifications.
Step 5: Open the synced/transferred video file on your iPhone and play it anytime anywhere.
Other iPhone 6 Battery Life Extending Tricks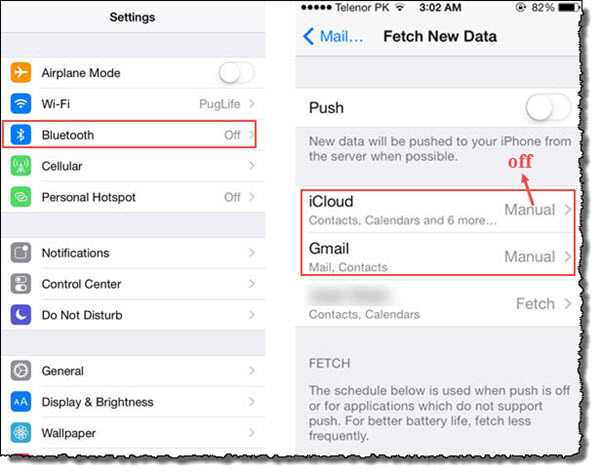 Battery technology has not kept pace with the growth of hardware and usage. We are still relying on lithium and graphite batteries and one-to-one wired charging. There are many other userful tricks for you to prolong your iPhone battery life:
1. Try to charge properly: offer the most suitable voltage for iPhone battery at the proper time. Avoid overcharge and over discharge.
2. Turn off the push notification. For any newly installed apps, choose not to send push notifications; for existing software: Settings -> Notification Center -> turn off part or all of them.
3. Prohibit sending diagnose data to both save power and protect privacy: Settings -> General -> About -> Diagnostics & Usage -> Don't Send.
4. Shut down system service: Settings -> Privacy -> Location Services -> close all services or the not frequently used ones.
5. Restrict advertising tracking: Settings -> Privacy -> Advertising -> Limit Ad Tracking (it is open by default after iOS 7).
6. Ban email push: Settings -> Mail, Contacts, Calendars -> Fetch New Data -> turn off "Push" -> Choose fetching by time or manually
7. Selectively ban iCloud services: Settings -> iCloud -> Close "keychain", "photos", "documents & data".
8. Turn off Bluetooth.
9. Lower the volume and cancel vibrating: Settings -> Sounds -> turn off "Vibrate on Ring" -> close "Lock Sounds" and "Keyboards Clicks".
You may also like to check out: How to speed up iPhone, clean up iPhone for iOS 10 upgrade