How to Rip New Horror Movie DVD to Android on Windows?
Guide on How to Rip New Horror Movie DVD to Android-based Devices on Windows PC
To many of us, who are deeply into horror movies, watching devils chasing and killing people on large screen would be one of the most thrilling experiences. But have you ever tried to rip horror movie DVD to Android tablets or smart phones on Windows and watch it closer? Holding ghosts or serial killers in your hands, I believe, would be another way to challenge the courage.
How to Rip New Horror Movie DVD to Android?
WinX DVD Ripper Platinum:
Backup and rip new horror DVDs or other DVD movies to any Android (10, 9 Pie, 9 Oreo..) Phone or Tablet from Samsung, Huawei, Sony...
Latest Horror Movie DVD
The Conjuring
DVD release date: October 22, 2013
IMDb rating: 7.6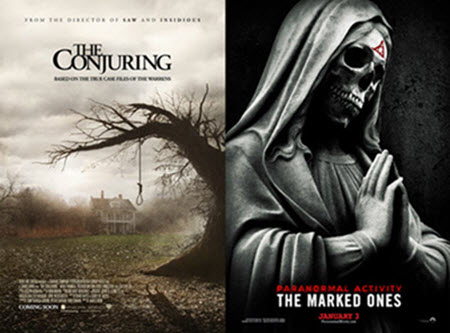 The Conjuring is directed by James Wan, an Australian movie director of Malaysian Chinese descent. He is well known for the horror movie Dead Silence and the Saw series. The conjuring has been a hit for Hollywood horror movie audiences since it was released last year. It is based on a true story. A family moves into their beautiful new house in the country. Then they begin to experience a lot of horrifying events and find a paranormal investigator to look into those things happen around them.
Paranormal Activity: The Marked Ones
DVD release date: April 8th, 2014
IMDb ratings: 5.1
The Marked Ones is a low-budget horror movie written and directed by Christopher Landon, starring Andrew Jacobs, Jorge Diaz and Gabrielle Walsh. Positioned as a spin-off of Paranormal Activity, this Halloween horror movie tells a story of a young boy, who is been marked for possession by a demon and eventually got under its control.
Oculus
DVD release date: April 11th, 2014
IMDb ratings: 6.7
This may be one of the most worthwhile horror movies in 2014. You'd better check it out on DVD this summer if you have not seen it already. Together with 3 other writers, the director Mike Flanagan contributed to the scriptwriting as well.
Starring Karen Gillan, Brenton Thwaites and Katee Sackhoff, the movie spotlights teen brother and sister Tim and Kaylie, whose lives were completely changed by their parents' death. In order to erase the guilty feeling in the heart of his brother, who witnessed the ruthless murder when he was little, Kaylie tries to convince him that the tragedy was caused by a supernatural force through the Lasser Glass, an ancient and cursed mirror.
Devil's Due
DVD release date: April 29th, 2014
IMDb ratings: 3.9
Devil's Due is co-directed by Matt Bttinelli-Olpin and Tyler Gillett, starring Zach Gilford, Steffie Grote and Allison Miller. A newlywed couple went to Santo Domingo for honeymoon. After they come home, the wife soon finds herself pregnant. Mysteriously, odd behaviors were found in the wife, which were initially seen as nerves but eventually become evident horror things. The cameras recorded the horrific moments.
Haunt
DVD release date: June 10th, 2014
IMDb ratings: 5.2
Directed by Mac Carter and also starring Liana Liberato and Jacki Weaver, the movie tells another story that happens in a haunted house. A family moves to their new house, which is very beautiful but cursed. Along with an introvert young neighbor, the family begins to explore the mystery in the house.
How to Convert Horror Movie DVD to Android
The above movies may not include all the good ones came out on DVD in the last coupon of mouths, but they are ones I believe some of you guys may be interested in. Rather than watch horror movies on computer, I prefer to use a powerful horror movie to Android DVD ripper to convert a DVD movie to MP4 or other video formats for an Android device and watch them wherever I want to.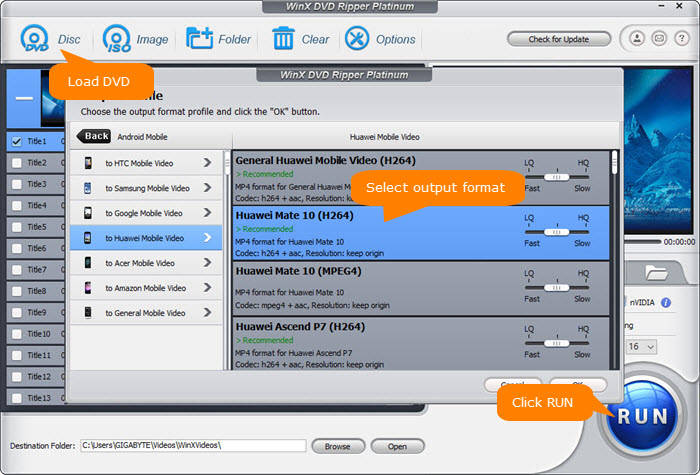 Nowadays, Android has dominated the market of operating system on tablets and smart phones. A multitude of popular devices are pre-installed with Android before they hit the market, such as Samsung Galaxy S10/Note 10, Huawei Mate 30, HTC New One/ Butterfly, Google New Nexus 7 and Amazon Kindle Fire, etc.
As everyone knows, almost every DVD released in recent years has been encrypted when it comes out in market. In order to convert horror movie DVD to Android phones or tablets on Windows, you will need a professional DVD ripper to break the copy protection and rip DVD movies to Android supported video formats. Another reason you may need a ripper is the region code attached to new horror movie DVD. For the sake of the box office on a global scale, the global market is divided into six regions and DVD released in one region can be played on DVD players purchased in the same region only. As a result, if you purchase a DVD movie from abroad, it may not be played on your DVD drives or stand-alone players.
Here I will take The Conjuring as example to show you how to rip new horror movie DVD to Android on Windows. It is only 3 steps away!
Step 1 Download a DVD Ripper
First of all, you will need to download a DVD ripper online. Among all prevailing DVD rippers, WinX DVD Ripper Platinum is one of the most powerful DVD rippers based on Windows that can faultlessly convert the latest horror movie DVD to Android.
WinX DVD Ripper Platinum excels in decryption, constantly giving solutions to all kinds of encryption or restrictions like DVD CSS, RCE, Sony ArccOS, UOPs, Disney X-project DRM and the region code mentioned above. The software keeps updating to support the latest DVD protections released by Disney, Paramount, Warner, etc. It enables you to convert the latest horror movies to Android or other devices, at a superfast speed.
Step 2 Set a Profile
Second, insert The Conjuring DVD and launch WinX DVD ripper Platinum. Then click on DVD Disc, ISO Image or Folder on the main interface to load the movie. After doing so, a profile setting window will pop up. Click on Android Pad or Android Mobile and choose one profile best suits your device. It provides lots of profiles for Android devices like HTC, Samsung, Lenovo, Acer, Asus, Google etc.
Step 3 Run the Conversion
At last, click on the big Run button at the bottom right corner to start the conversion. Import the output files of The Conjuring to your Android devices.
It is very simple, right?
More about WinX DVD ripper Platinum
If you are an advanced user and would like to customize the video and audio parameters, WinX DVD ripper Platinum can surely meet that need. You may choose codec and adjust bit rate (quality), frame rate, resolution, aspect ratio and some other parameters.
In fact, it is an all-in-one toolbox as DVD ripper, cloner and video editor for Windows. Apart from ripping horror movie DVD to Android on Windows, it can also convert DVD to almost all popular SD and HD video formats and enables you to make a backup copy of new horror movie DVD to a hard drive with original quality. Moreover, it allows you to adjust volume, add subtitles, crop the screen, and even trim the movie. Especially for horror movies, cutting the most horrifying part and upload it to YouTube, Facebook or Vimeo would be fun. By the way, the software also has built-in profiles for these 3 websites!
Another thing you may care about is its life-long free updates for paid users, which always entitles them to rip the latest horror movie DVD to Android and other devices on Windows.
Enjoy the movies now!
Still have some trouble about how to rip new horror movie DVD to Android? Please feel free to Mail Us >>
If you need to fast rip DVD to MP4, AVI, WMV, MPEG, iPhone, iPad, Android/Microsoft smartphones or tablets, please turn to WinX DVD Ripper Platinum.