How to Rip Episodes from TV Series/Sitcoms/Music TV DVDs
"I would like to rip a TV series DVD. Not the whole DVD, but each episode. As I want the quality to be exactly the same as on the DVD, I don't want to re-encode anything. I also want to keep all audio tracks and subtitles to study foreign language while watching the episodes. Well, how to rip episodes from DVD?"
Select and Rip any Episode from TV Series DVDs Easily
An episode is a part of a sequence of a body of work, akin to a chapter of movie or TV series. For most DVD rippers, they only let you rip the whole TV series into one single file. In case you want to rip only an episode or sevreal epsidoes from a TV shows DVD, use the "Copy DVD Chapter" option in WinX DVD Copy Pro. It will copy DVD based on chapters such that you can get separated episodes from the ripped MPEG2 video file.
Rip Episode from TV Series DVD in Original Quality
What's the secret of keeping the ripped TV series exactly the same as the original DVD? Well, the mode of ripping! WinX DVD Copy Pro has made a technical revolution in changing the traditional and backward decoding-encoding way into a remarkable ripping mode – copy the original DVD video/audio data directly from DVD and remux it to a MPEG-2 file.
This can produce 1:1 quality in terms of both audio and video to better meet requirements of users over the video quality.
Why use MPEG2 for Series Episode Ripping?
As for shrinking TV series DVD to get rid of unwanted episodes or chapters without resulting in any quality degradation of the series, probably only MPEG2 format can do this job well. Thumbs-up is given to MPEG2, not only a container format, but also an encoding format, for its great compatibility. Ripping chapters of DVD to MPEG2 file guarantees original DVD quality, including intact subtitles/video/audio tracks and original 5.1-channles AC3/DTS Dolby audio effect.
MPEG-2 file also has other usefulness. It can be screened and played back on PS3, Xbox, Wii and TVs from USB flash drive, and also can be further edited in Windows Media Center.
How to Copy Episodic TV series with WinX DVD Copy Pro?
Free download WinX DVD Copy Pro and run it, import your TV Series/Episodic TV/Sitcoms/Music TV/TV Show DVD which will auto appear as "Source DVD".
Step 1: browse to find a proper disk and folder in your computer to save your output episodic TV series video;
Step 2: Choose "Copy DVD Chapter" on the left of GUI of this DVD copy software;
Step 3: Choose the "main title" in the middle to get rid of ads, opening theme song, ending song, NG and tidbits, etc. unless you need them;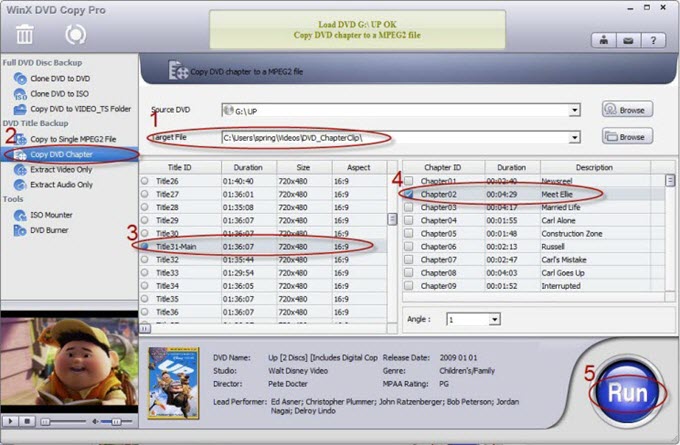 Step 4: Find and click one or more chapters related to this episode based on each chapter name under "description" adjacent to "Duration" shown on the right part. You can judge which to copy, and can rip one or more episodes from TV series DVD;
Step 5: Click "Run" to start ripping an episode from DVD, then you can get a single MPEG2 file with extension ended with ".mpg" including all chapters of the episode you needed, and you can also rename the file for your convenience.
Other Innovative Functions of WinX DVD Copy Pro:
In consider of increasingly changing needs for DVD copy and backup, WinX DVD is to continuously reinvent itself. Till now, it has been designed with some special functions for special demands of user, like "Extract Video Only" and "Extract Audio Only".
Disclaimer: Digiarty Software does not advocate ripping copy-protected DVDs for any commercial purpose and suggests referring to the DVD copyright laws in your countries before doing so.