How to Rip DVD with Forced Subtitle (Subtitle When Foreign Languages Are Spoken) Only?
Tutorial on Ripping Movie DVDs with Just Forced Subtitle (Subtitle When Foreign Languages Are Spoken)
Question 1: I'm making a copy of my Breaking Bad box set and when I get to season 3, I need to be able to copy subtitles. Can you tell me if it is possible to get the subtitles to appear like they do in the DVD?
I don't want subtitles for every spoken word of the film, just when there are other languages that are spoken where English films include the translation.
Question 2: If I rip it like this, there are no subtitles at all, I have tried selecting English on Track 1 but that seems to turn on subtitles for everything. I have tried Forced Subtitles and that has the same effect. How can I get JUST the subtitles for the non-English dialogue which is the default if I play the DVD on a DVD player?
Many ripper users send feedbacks to us about the forced subtitle setting issue, here we will impart you the information on DVD/movie subtitles and how to back up a DVD with the scene and only foreign language subtitles during the scene?
Several Kinds of DVD/Movie Subtitles
DVD/Movie Subtitles are textual versions of the dialog or scene in DVD film videos displayed at the bottom of the screen, to have viewers understand the spoken dialogue or the signs better. |Subtitle Definition
Soft Subtitle is involved in the actually DVD video, but is independent of the movie video. When ripping a DVD, it's usually titled "Track *".
Hard Subtitle, contrary to soft subtitles, attaches itself into the actual video and would always come along with the video.
Forced Subtitle appears on screen when a foreign/alien language is spoken, or showed in a sign, location, or other text, aiming to explain the meaning but can not be placed in the dubbing. When ripping a DVD, it's directly titled "Forced Subtitle".
Note: Generally, only the foreign dialogues and signs that matter the movie plot are translated in the forced subtitle.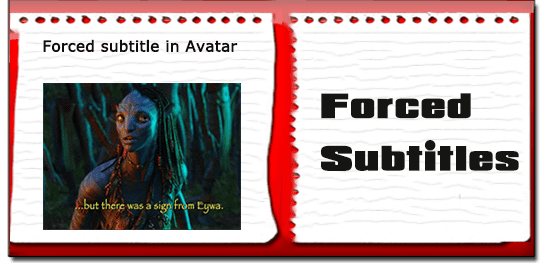 Rip DVD with Forced Subtitle Tool Recommended
WinX DVD Ripper Platinum / for Mac


No 1. fast safe DVD Ripper to backup DVD with any subtitles.


WinX DVD Ripper Platinum offers a comfortable interface to carry out DVD ripping operations as easy as possible. - Ionut (Softpedia Editor)
Rip Movie DVD with Forced Subtitle Only Tutorial
Click the above download buttom on download, install and launch the ripper platinum on your Windows or Mac OS X computer, then put your movie DVD, either purchased or borrowed/rent, into the DVD-ROM drive for preparation.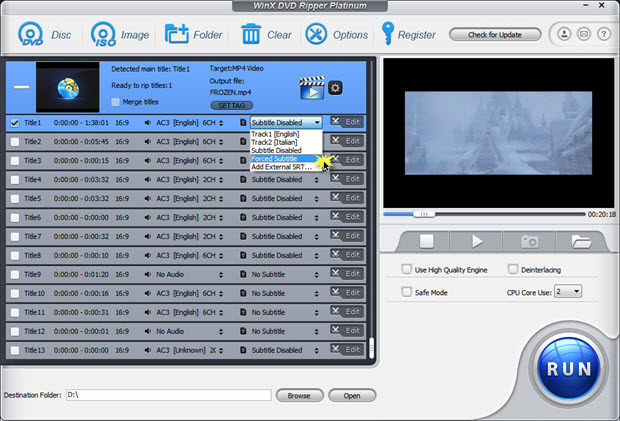 Step 1. Click "DVD Disc" to have ripper analyze and DVD content to be imported (ISO Image file and DVD folder files are also available);
Step 2. After the disc video sucessfully added, an Output Profile windows will pop up. Choose the output video format or the smart mobile device as you like. Nearly all common formats and gadgets are among the list. You can also backup the Main title or full title of the DVD disc. Done, click "OK";
Step 3. Then it comes to the ripper interface again. Generally, WinX DVD Ripper Platinum will automatically select the right title of the protected DVDs. At the right title column, open the drop-down list and choose "Forced Subtitle".
Step 4. Destination folder, ripping speed, output quality, output video audio parameters, etc. can be reset according to your needs. All things done, hit "RUN" button to set off the ripping with forced subtitle.
Disclaimer: Digiarty Software does not advocate ripping copy-protected DVDs for any commercial purpose and suggests referring to the DVD copyright laws in your countries before doing so.
If you need to fast Rip DVD with hard subtitle, soft subtitle, or add SRT subtitle to the DVD video, Rip DVD to MP4, AVI, WMV, MPEG, H.264, H.265, iPhone, iPad, PSP, Android/Microsoft smartphones or tablets, please turn to WinX DVD Ripper Platinum!