Home > Resource > Rip DVD Godzilla (2014)
How to Rip & Convert DVD Movie Godzilla (2014) with No Effort for PC/Mac
How to Rip and Convert DVD Movie Gozilla (2014) for PC/Mac?
With total worldwide grosses $524,976,069 from the released date May 16, 2014 till now, it is indisputable that Godzilla (2014) is one of the hottest blockbusters in this summer. If you are actively seeking for a solution torip DVD movie Godzilla (2014) for a backup on PC/Mac or playback on portable devices, this article will show you an efficient way to convert DVD movie Godzilla (2014) using the best DVD ripper.
Godzilla (2014)
Godzilla (2014), the 123-mins Sci-Fi, action and thriller film co-produced by Legendary Pictures and Warner Bros. Pictures, was officially released in 2D, 3D and IMAX 3D on May 16, 2014 in United States.
Plot Summary:
Remake of Japanese series of the same name, Godzilla (2014) starts from a destruction of Janjira nuclear plant in 1999. 15 years later, Ford, son of supervisor Joe Brody, is forced to return to Japan for his father is arrested during investigating truth of the incident. In Japan, Ford witnesses revival of a tremendous winged monster MUTO which awakens the female one meanwhile. In order to kill the mega threat to humanity, the U.S Army Special Forces determines to make use of a nuclear explosion, but it is proved that Godzilla, an ancient alpha predator fed off radiation, is the only hope. Ultimately, Godzilla kills MUTOs and returns to the sea.
Critic Reviews:
-The director thinks visually, which sounds redundant until you realize how many monster movies are flat, effects-dependent factory jobs.
-A summer blockbuster that's not just thrilling, but that orchestrates its thrills with such rare diligence, you want to yelp with glee.
-Godzilla is a hugely entertaining blockbuster that starts strongly and finishes with a mighty roar.
See Also: Best 2014 Summer Movie List, Timeline of Good Films in 2014
Get the Best DVD Movie Godzilla (2014) Ripper
Well, you can purchase DVDs to enjoy Godzilla (2014) if you unfortunately missed it in theater or would like to collect it into your Sci-Fi movies album. However, you should carefully preserve DVD discs because they are easily corrupted and scratched. Also, it is impossible to enjoy Godzilla (2014) on mobiles everywhere on account of incompatibility of video formats. In order to get better storage and enjoyment on the go, you can choose to rip DVD movie Godzilla (2014) for PC/Mac and portable devices with the best DVD movie Godzilla (2014) ripper.
WinX DVD Ripper Platinum is up-to-date DVD ripping software to convert any DVDs to other video formats, such as AVI, WMV, MOV, MP4 and so on. Especially, it is very powerful on ripping latest commercial DVDs released by Warner Bros, Walt Disney, Paramount etc, which mainly protected by encryption like CSS, RCE, Sony ArccOS, UOPs, Disney X-project DRM. With WinX DVD Ripper Platinum and its Mac version (WinX DVD Ripper for Mac), you can easily and quickly convert DVD movie Godzilla (2014) in high quality for PC/Mac and rip DVD to iPhone, iPad, Samsung Galaxy/Note, Google Nexus etc, for playing Godzilla (2014) wherever you go.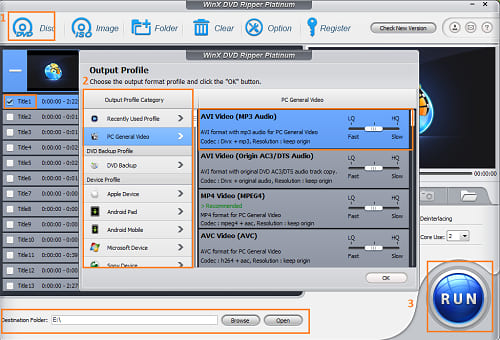 How to Rip DVD Movie Godzilla (2014)
1. Insert Godzilla (2014) DVD in DVD-ROM. Hit DVD Disc to access source DVD to load.
2. Just a couple of seconds, you can get complete titles of DVD and the Output Profile dialog box pops up. Generally, the main title will be automatically picked out. Get PC/Mac or Device Profile from output profile category and select the most suitable format you want to convert DVD movie Godzilla (2014) to.
3. Click Browse to set destination folder to save converted DVD and hit RUN button to start conversion.
Besides converting DVD movie Godzilla (2014) disc, WinX DVD Ripper Platinum is capable of 1:1 cloning DVD to ISO image/DVD folder or copying DVD main title to a single MPEG2 file and ripping ISO image, DVD folder to AVI, WMV, MOV, MP4 etc, for playback on PC/Mac/Mobiles. Moreover, the utility of High-quality Engine, De-interlacing Engine, Hyper-threading and Multi-core Use technologies enables you to export great quality with a very fast speed.
Tip: Godzilla (2014) DVD has been released on September 16, 2014 in North America. Beforing purchasing or borrowing Gozilla (2014) DVD, you can enjoy trailer video of Godzilla (2014) on YouTube and free download Godzilla (2014) trailer video with WinX YouTube Downloader, a totally free and perfect downloader to free download any HD/SD videos from YouTube.
Note: The software developer only advocates copying DVDs for personal use and suggests referring to the DVD copyright laws in your countries before doing so. Still have some trouble about how to rip DVD Gozallia (2014)? Please feel free to Email Us >>