What is Sony PlayStation Portable PSP? | WinX Wiki
What Is Sony PSP?
What is Sony PSP? The PlayStation Portable (officially abbreviated PSP) is a handheld game console manufactured and marketed by Sony Corporation. Development of the console was announced during E3 2003, and it was unveiled on May 11, 2004 at a Sony press conference before E3 2004. The system was released in Japan on December 12, 2004, in North America on March 24, 2005 (NTSC region), and in the PAL region on September 1, 2005.
The PlayStation Portable is the first handheld video game console to use an optical disc format, Universal Media Disc (UMD), as its primary storage medium. Other distinguishing features of the console include its large viewing screen, robust multi-media capabilities, and connectivity with the PlayStation 2, other PSPs, and the Internet.
The best DVD ripper can help you rip DVD to PSP, and play back DVD movies on the screen of HDTVs or PCs via the control of PSP, PS3, PS4... Just have a try!
When Did Sony Game Consoles Come Out?
The release date of each game console developed by Sony is as follows: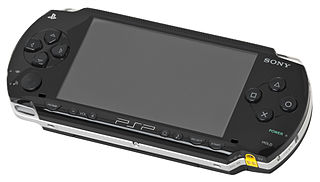 PS2: March 4, 2000;
PSP: JP - December 12, 2004; NA - March 24, 2005; PAL - September 1, 2005;
PS3: JP - November 11, 2006; US - November 17, 2006; EU/AUS - March 23, 2007;
PS4: NA - November 15, 2013; EU - November 29, 2013; JP - February 22, 2014
PS5: Nov 12, 2020
Despite of the price that is US$20 higher than the system's price in Japan and more than $100 higher than the recently launched Nintendo DS, the PSP's North American launch was a success. Moreover, PSP also enjoyed great success in the areas of the PAL region seld in UK, Australia and across Europe.
The console is "the most successful non-Nintendo handheld game system ever sold". After the release of a remodeled, slimmer, and lighter version of the PlayStation Portable, titled Slim & Lite, in early September 2007, sales quadrupled in the United Kingdom the following week and increased by nearly 200% in North America for the month of October. The Slim & Lite had a minor redesign including a new screen and inbuilt microphone, and has since been followed by the PSP Go.
PSP-2000: The PSP-2000 is the first redesign of the PlayStation Portable. At E3 2007, Sony released information about a slimmer and lighter version of the PlayStation Portable. The new PSP was announced to be 33% lighter and 19% slimmer than the original PSP system. The model numbers were changed to PSP-2000, following the previous region-based numbering scheme.
PSP-3000: In comparison to the PSP-2000, the PSP-3000 (marketed in PAL areas as "PSP Slim & Lite" and still marketed as PSP in North America and Japan) has an improved LCD screen with an increased color range, five times the contrast ratio, half the pixel response time to reduce ghosting and blurring effects, a new sub-pixel structure, a microphone, a new disc tray design, new button designs and logos, and anti-reflective technology to improve outdoor playability. It can also output all games by component or composite using the video out cable.
PSP Go: The PSP Go was revealed on May 30, 2009 in the June episode of the PlayStation Network online magazine Qore and was later officially announced on June 2, 2009 at E3 2009. The PSP Go features Bluetooth functionality, a smaller 3.8 inch screen and weighs 43% less than the original PSP. Instead of the UMD drive as found on previous models, the PSP Go has 16 GB of internal flash memory and a Memory Stick Micro port that accepts cards up to 16 GB as opposed to Memory Stick Duo.
PSP - Technical Specifications
Aside from movie and music videos available commercially on UMD, the PSP can also play video files from the Memory Stick. These files must be in MP4 or AVI format.
Music: MP3 ATRAC MP4 WAV WMA
Music can come on UMD. You can also load up your own music to play, as long as it's in one of the formats listed. You may not be able to play some of the file formats if you're using a Memory Stick Pro Duo, though; only the Memory Stick Duo is compatible with all file formats. >> Refer more to PSP on Wikipedia
PSP Related Software - Convert Any Videos or Rip DVDs for PSP
Note: Most of the PS3's capabilities are accessible with Remote Play, but playback of DVDs, Blu-ray Discs, PlayStation games, and copy-protected files stored on the PSP's hard drive are not supported.
Solution 1: Convert Any Videos for Playback on PSP
Try the Best HD Video Converter for Sony PSP:
WinX HD Video Converter can convert any incompatible 4K UHD, 1080p/720p HD and SD videos or movies to PSP compatible video formats and resolutions, like MKV to PSP MPEG4, MOV/MTS to PSP AVC. It also free downloads YouTube and other online video sources for playing back via PSP.
For those who want to watch full-length DVD movies on PSP, there is another way to go:
Solution 2: Rip Copy Protected DVDs for Playback on PSP
Try the Best DVD Ripper Software for Sony PSP:
WinX DVD Ripper Platinum can rip Disney DVDs, discs encrypted with region code, CSS, RCE, Sony ArccOS, UOPs and the like on PC and Mac. The output digital files can be transferred to and played via PSP, PS3, PS4, PS Vista, Xperia, as well as iPad, iPhone, Android and Windows devices.
Have question about converting DVDs or videos for sony PSP? Please feel free to Mail Us >>