Popular Spanish songs/Latin Pop Music Top 10 (MP3 Download)
2014-2016 Popular Spanish songs/Latin Pop Music Top 10 (MP3 Download)
2014 Spanish Songs Top 1.
Enrique Iglesias - Bailando (Español) ft. Descemer Bueno, Gente De Zona
Published on: Apr 11, 2014
View on YouTube: 224,384,396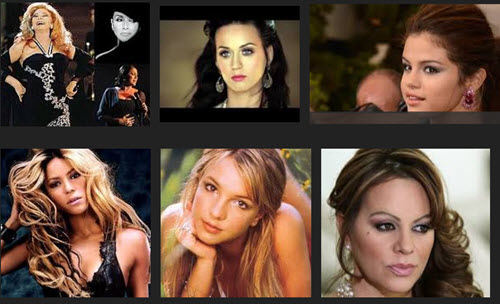 Popular Spanish Songs and Artists
Have you ever been to the Latin music world and been into Spanish songs? Or maybe I should put it this way, do you like World Cup theme songs in Spanish like Waka Waka, Wavin' Flag, or We Are One (Ole Ola)? If you do, you love Spanish songs to some extent regardless of your English-language membership. Let me first list a few of the biggest names in Latin music for you: Christina Aguilera, Rita Moreno, Marc Anthony, Jennifer Lopez, Shakira, Enrique Iglesias, etc.
Here we make a list of popular Spanish songs, including top 10 Spanish love songs, hot Latin dance music, collections of Spanish World Cup theme songs, etc. Meanwhile, there is also tutorial for hot Latin music MP3, Spanish music playlist video free download from YouTube.
"I'm making a party and I need a list of good Spanish music to play....especially to dance to...
please no slow songs."
Hot Latin Spanish Songs

Top 10 Spanish Love Songs

Spanish World Cup Songs

Top Latin Dance Music

1. Bailando - Enrique Iglesias
2. Eres Mia - Romeo Santos
3. Propuesta Indecente
4. Odio - Romeo Santos
5. 6 AM - J Balvin
6. El Perdedor - Enrique Iglesias
7. Quien Se Anima - Gerardo Ortiz
8. Adrenalina – Wisin
9. Tus Latidos - Calibre 50 Contigo
10. Soy de Rancho - El Komander

10. El Amor No Se Puede Olvidar - Pimpinel
9. Amor Confuso - Gerardo Orti
8. Amor Clandestino - Maná
7. Amor Inmortal – Chayanne
6. El Amor - El Amor
5. Amor Eterno - Cristian Castro
4. El Amor - Tito "El Bambino"
3. Amor Prohibido – Selena
2. Amor Mio, Que me Has Hecho?
1. Amor - Cristian

El Rock del Mundial – 1962
Fútbol México 70 – 1970
Mundial '82 – 1982
La copa de la vida – 1998
The Time of Our Lives – 2006
Waka Waka – 2010
Wavin' Flag - 2010
We Are One (Ole Ola) – 2014
La La La – 2014

Suavemente - Elvis Crespo
Si No Te Quisiera - Juan Magan
La Bomba - Ricky Martin
Cuento de Hadas - by Kiko Rivera
Oye Nina - Xriz
Yo Te Voy Amar- N*SYNC
No Te Veo
Danza Kuduro- Don Omar
Jealous - Chromeo
Corazon Sin Cara- Prince Royce
There are many other popular Spanish songs that are really impressive and amazing, but we cannot list them all here. Personally, I love Spanish song Rosa by La oreja de Van Gogh and Adíos by Jennifer Lopez. This is the end of our popular Spanish songs collection part. Let's move forward to the tutorial of how to free download those hot Spanish songs MP3/music video online.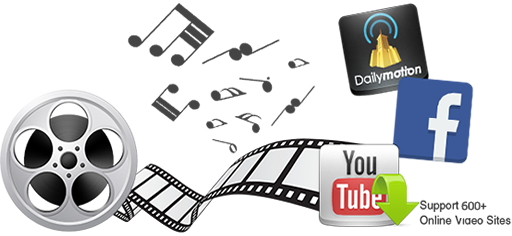 How to Free Download Popular Spanish Songs?
WinX YouTube Downloader
Free download popular Spanish songs 2014 from YouTube.

WinX HD Video Converter Deluxe
Download/Convert Top Spanish songs and Latin Dance Music.

It can save (and convert, natch) videos from the likes of YouTube, and output presets for every portable device from Android to Windows Phone.
- Rick (CNET Editor)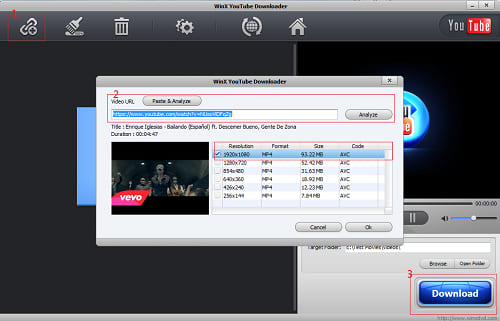 How to Download Spanish Songs from YouTube
Little tricks on how to download Latin music MP3/video online are offered everywhere and here we aim to show you the easiest and fastest way. To download your loved Spanish music video from YouTube, there is a free access by using free YouTube download software like WinX YouTube Downloader, which can download Spanish music video (up to 4096x2160 resolution) at a 5-8x real-time download speed. In the meantime, original video audio quality will be maintained as well.
To download YouTube popular Spanish songs to phones and tablets for watching/listening at anytime, WinX HD Video Converter Deluxe will be better, which function as both YouTube video downloader and Ultra HD video converter.
Both of the two YouTube downloaders are easy to use, but for your convenience, I will show you the whole Spanish songs YouTube download process with specific steps. Let's start with downloading the free WinX YouTube Downloader.
1. Go to YouTube website, click to play a Spanish music video, and copy the video URL.
2. Choose "+" on the main interface and then "Paste and Analyze" the URL.
3. Select a target video format and resolution.
4. Hit the button Download and start to download hot Spanish songs from YouTube.
Still have trouble about how to free download popular Spanish songs 2014 from YouTube? Please feel free to Email Us>>.