How to Play 4K 1080p Videos on 5K Display of iMac (Big Sur Included) with a 5K Video Converter?
5K iMac Video Player/Converter - Play Any HD Movies on 5K Retina iMac Display, Incl. 4K & 1080p
What is 5K Resolution? - 5K resolution is the brand-new conception other than previously known Ultra HD 4K and 8K resolutions. In camera industry, 5k will provide us the resolution to keep our footage relevantly no matter how digital and camera technologies will develop. In hardware industry, 5K display is almost firstly proposed and realized by Apple Inc. in 27-inch new iMac screen with 5,120-by-2,880 resolution packing an unheard-of 14.7 million pixels. The following is the recap of pixels corresponding to different HD and UHD resolutions:
2K resolution: 2048 x 1536, 2048 x 1556, 2048 x 1152, 2048 x 872
3K resolution: 2880 x 1620
4K resolution: 3840 x 2160 (16:9, or 1.78:1), 4096 x 3072 (YouTube and Vimeo streaming), 4096x2160 (19:10 or 1.9:1)
5K resolution: 5120 x 2880
6K resolution: 6144 x 3160
8K resolution: 7680 x 4320 (16:9)
It is strongly believed that 4K, 5K and 8K displays will soon have a strong grip on the market after the popularity of ultra HD TV and new iMac. On the other side, ultra HD video is believed to take the place of HD video and Blu-ray video. >> UHD vs 1080p HD
How to Play SD/HD/UHD Video on 5K iMac?
WinX HD Video Converter for Mac
Best 5K Video Converter for Mac to convert video to 5K iMac
WinX HD Video Converter Deluxe is a simple-to-use program which comes with advanced features for encoding video files. - Editor's Review from Softpedia
What Videos Can iMac 5K Display/Monitor/Screen Support?
"Just when you thought it was safe to get comfortable with the look and language of 4K, Apple comes along and adds what the company is calling a 5K display into the premium 27-inch iMac all-in-one desktop. "
The Retina 5K display has combined many high-end techs, including AMD Radeon R9 M290X graphics card, the redesigned timing controller (TCON) for handling he bandwidth required by so many pixels, reconfigured photo alignment processes and organic passivation architecture to combine seamlessly without cross-talk muddling the detail or losing contrast.
What would it be like if we play our existing videos on the 27-inch new 5K iMac?
Play 5K or videos of higher solutions on 5K iMac: Of course the new iMac can play perfectly the UHD videos that are shot by HD cameras, and that are purchased or downloaded online. However, such video sources are comparatively rare and hard to find.
Play 4K videos on 5K iMac: Just like a perfect match, iMac plays 4K UHD videos well enough. The Retina 5K iMac display is a screen with resolution sufficient to allow us to run 4K video at full size, at full resolution, with room to spare.
"To test the display, I loaded up the new iMac with several 4K nature videos. The tiniest stars in a night sky rendered themselves as pinpricks of light; nooks and crannies in stone and wood showed up in minute detail. I also streamed House of Cards in 4K, and seeing Kevin Spacey's every pore and follicle was enough that meeting the actor in person might feel like a letdown. Whether viewing videos or still images, colors are bright and vibrant, and darker tones are rich, with very deep blacks." – Pcmag
Play 1080p videos on 5K iMac: It is also excellent to play a 1080p HD video that is common in our daily life, such as movies. Enabled by amazingly large Dots Per Inch (DPI), the 5K iMac processes a 1080p video without noticeable pixel block.
But in the same principle of other Mac (QuickTime) supported video formats, the new iMac only supports a limited number of video files like MOV, MP4, M4V, MPEG and AVCHD. It indicates that you have to convert many mainstream and niche videos to be 5K iMac compatible.
Convert Videos for iMac with Retina 5K Display with 5K Video Converter
WinX HD Video Converter for Mac, as one of the best 3 video converters for Mac, is definitely your No.1 choice for compressing, converting or transcoding videos for the new 5K iMac, mainly working in the following ways:
1. Convert SD/HD/UHD videos on 5K iMac: This 5K Mac video converter, compatible with Mac OS X 10.6 and above, including the latest macOS Big Sur, can run faultlessly on the new iMac with Retina 5K display for converting multi-track MKV, AVCHD, TS, AVI, MOD, TOD, Blu-ray video (MTS, M2TS), MXF and so on to MP4, MOV, x264, x265, Web, 3GP and so on accepted by different media players or video editors.
2. Make any videos compatible with 5K iMac: Any of your videos can be converted and made friendly with your iMac and other Mac general videos, e.g.: MP4, MOV, M4V, as well as any other Apple devices. With totally 420+ built-in profiles, it can convert videos to be playable on iPhone (6/6s, Plus), iPad (Air 2, mini 4, Pro), Apple TV (4), iTunes, Android tablets, Samsung Galaxy Note , HTC One M8, Google New Nexus 7, Kindle Fire, etc directly.
If you also have a Windows OS PC, you can convert videos to be iMac acceptable on the PC by use of WinX HD Video Converter Deluxe, the best 5K video converter for PC .
Here we take converting MKV video to 5K iMac accepted MOV video as an example:
Similar to converting 4K UHD videos, to get it started, please firstly download, install and open WinX HD Video Converter for Mac on your iMac.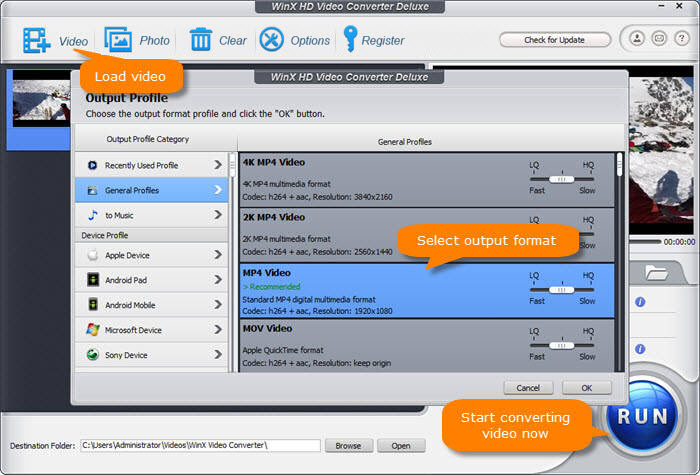 Step 1. Click "+ " button to import the source video(s) either from your hard drive or YouTube.
Step 2. Mac General Video -> MOV Video (or others) -> OK.
Step 3. Make any of other settings as you want, such as adding subtitles, trimming video segment, cropping video size, adding watermark and so on. You can also adjust the video audio parameters and change the destination folder for saving the output video file.
Step 4. Click RUN to make it start converting the MKV video to MOV video that can be played on the 27-inch iMac with 5K display.
The Mac 5K Video Converter can also record screen/videos from iMac, download online YouTube videos, make photo slideshow, extract background music from video files and more.
Still have problem about how to play video on 5K iMac? Please feel free to Email Us >>
5K video converter for Mac
The 5K video converter for Mac is an all-in-one video converting software for iMac with 5K retina display and other Mac. It converts MPEG4,AVI, M2TS, MKV, WMV, MOV, H.264, H.265, FLV, and any other video formats and supports Apple iPhone 7/SE/6s, iPad Pro/Air/mini, iPod Touch, iTunes, Samsung Galaxy S6, Note 5, Google New Nexus 7, Nexus 6, Nexus 9, Kindle Fire HDX, Chromecast, PS4, and many other devices.