How to Play AVCHD/MTS Video on Windows (10) PC & macOS
AVCHD video file (.mts/.m2ts extension) is derived from the HD camcorder recording, which endows you the enjoyment of up to 1080p full-HD visual image quality. And if you are eager to play AVCHD video, just follow up with this page and you will learn how to play AVCHD videos (play MTS files) on your Windows PC, Mac as well as other popular devices.
When playing AVCHD video, you will experience a full 1920 x 1080 resolution effect which makes raindrops on roses and whiskers on kitten distinguishable. Meanwhile, when play AVCHD/MTS video on computer, you will also be delighted by its DVD-like navigation menus and chapters, even custom subtitles and audio tracks. That is to say, while watching AVCHD/MTS video, you can freely jump over the part you seen before and you can select or disable the subtitle at will, or listen to the exotic movie with the native language. Part 1: How to Play AVCHD/MTS Video on Windows PC and macOS?
Unlike other general video formats, such as AVI, MP4, MOV, WMV, FLV, etc, which are accepted by major video players, it has nit-picking rules for AVCHD/MTS video playback tools. On whichever platform to play AVCHD video, you definitely need a powerful AVCHD video player like 5KPlayer.
1. AVCHD / MTS videos player for PC
It is possible to play AVCHD video with Windows Media Player (the most popular media player for Windows PC by far). However, since based on Dshow (DirectShow) Multimedia Framework, WMP supports to play AVCHD on Windows yet needs additional codec's installed (download the codec here). After installation, the additional codec ties MTS/M2TS files (AVCHD files) into Windows Media Player, and then, allows it to be compatible with this file type. The good news is that Windows 7 will have native support for AVCHD / MTS videos, but this luck seems not spread to Windows XP and Vista users.
Tips: You can use 5KPlayer to directly play AVCHD videos smoothly on all popular Windows and Mac operating systems including Windows 10 and macOS 10.10, without installing codec.
2. AVCHD / MTS file player for Mac
Presently, the default media player from Apple (QuickTime) cannot play AVCHD natively. To play AVCHD on macOS, additional (free) software is required, such as the above mentioned 5KPlayer. It is a free and cross-platform multimedia player. It is quite easy to play AVCHD video. You just need to launch it, drag the target AVCHD / MTS video into the display window. That is it. Or you can click "Video" button to load AVCHD video for playback instantly.
3. Play AVCHD / MTS video files on portable devices
Playing AVCHD / MTS on your desktop or laptop is not the only choice for AVCHD video enjoyment. You can also enjoy them on your portable devices, like Apple iPhone, iPad, iPod, HTC, Sony Xperia, Microsoft , etc. Take iPhone 6 as an example. Thanks to the Retina display, every picture and movement from AVCHD video you see on iPhone 6 looks amazing. Images in movies are stunning at almost any angle. That's because the Retina display's pixel density is so high, your eye is unable to distinguish individual pixels. Simply with AVCHD video converter, you are able to play AVCHD on iPhone, play AVCHD on iPad, iPod touch, Android, Microsoft, etc.
AVCHD has been designed to be compatible with Blu-ray disc format and can be used for authoring of high definition video on DVD media, therefore, burning onto DVD disc in AVCHD format, then play on Blu-ray Disc players or on a Playstation 3 Gaming Console another favorable way to play AVCHD video.
This powerful video software enables you to convert video/audio format, edit video, free download video/music from YouTube and 1000+ sites, convert DVD to MP4 and more, record computer/iOS screen, etc.
For Windows and Mac only. If you are a mobile user, please click here.
Play AVCHD/MTS Video Directly on Your Computer or Not
Sometimes, you are not suggested to play AVCHD video natively upon your computer.
1. Compared to HDV, AVCHD requires 2-4x the processing power for real-time playback, placing a greater burden on the computer's CPU and graphics card. Improvements in multi-core computing and graphics processor acceleration are also hardly to bring AVCHD playable to mainstream desktops and laptops. Under such a circumstance, convert AVCHD video to friendly video formats will expand your computer's life-span.
2. If your computer is not armed with high-end equipment and its screen size is smaller than 1920x1080, it is hard to play 1080p AVCHD video smoothly. So you will not be allowed to play high resolution AVCHD / MTS video until resize it to match up with your computer displayer. WinX HD Video Converter Deluxe can do you this favor by its resize/shrink feature.
3. All AVCHD camcorders except for AVCHD Lite models use recording 1080 Interlaced Video.When watching interlaced video on some software video players (since they don't always have built-in De-interlacing engine like flat-panel televisions), they simply blend two fields of each interlaced frame together, causing combing; when such video is scaled down it may exhibit ghosting instead of combing, in other word, the image you see from AVCHD video will not be true to the original.
Good news: 5KPlayer allows you to select one of the deinterlacing filters (Yadif, Blend, Inear) to get progressive scanning video when playing interlaced AVCHD video.
If you don't want to play AVCHD videos on your computer directly, some powerful AVCHD converter software like WinX HD Video Converter Deluxe will help you. After you convert AVCHD video to AVI, MPEG-4 and other general video formats, you can not only preserve original high quality visual effect, but also release your computer's CPU and graphics card great burden. Most of all, with Advanced De-interlacing Engine built-in, WinX AVCHD Video Converter Deluxe supports converting AVCHD video from interlacing to progressive scanning. It will bring you more vivid and smooth image. Moreover, its Shrink Function will resize AVCHD video to perfectly match up your computer screen for achieve ideal visual effect.
Part 2: Advantages of Converting AVCHD Videos
Here are some advantages of converting AVCHD videos using WinX HD Video Converter Deluxe.
1. Powerful DVD Burner, convert AVCHD to DVD for playing on Blu-ray Player, PS3.
2. Advanced built-in De-interlacing Engine, helps you convert AVCHD video from interlacing to progressive scanning to achieve better image quality.
3. Enables you play AVCHD/MTS on iPhone, iPad, iPod, PSP, Zune, mobile phones/tablets, with the same shocking high-def picture and lossless audio effect.
4. Converting AVCHD video with Multi-track technology, you can play and watch AVCHD video like enjoy DVD movies with free selectable Audio/Language track.
5. YouTube Video Downloader helps free download YouTube videos, movies, TV shows, songs ,etc. And it also helps you convert AVCHD video and upload AVCHD to YouTube.
6. Easy-to-use AVCHD editing ability, like cropping, trimming, splitting, resizing and shrinking, which saves your money and time to find other AVCHD video editing tools.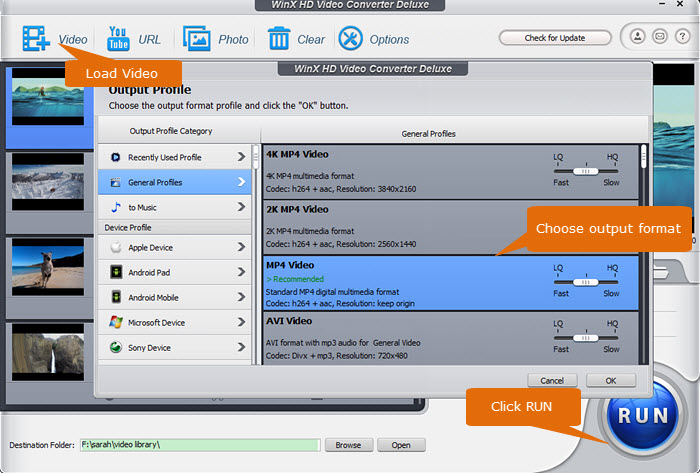 WinX HD Video Converter Deluxe
Best video/music downloader & converter, video editor, DVD converter, video/webcam recorder for Windows (10) and Mac. Ultrafast video processing speed with Nvidia/Intel/AMD hardware acceleration.
For PC and Mac only. Go to mobile page.