How to Play 4K Resolution Video on iPhone (11/Pro/Max) iPad (Air/mini/Pro) or Other Apple iOS 13 Devices?
Can 4K UHD Videos Be Played on iPhone 11/Pro/Max/8/7 or 2019 10.2 " new iPad, iPad Air 3, iPad Pro, iPad Mini 5?
Updated: Sep 12, 2019
- 4K is more than great to me. I have a 4k camera and have only ever been able to play back through my 4K TV, which is a faff. Is there any way to play 4K UHD videos on the next Apple flagship iPhone (iPhone 11/Pro/Max incl.) that is expected to come in the fall of 2019? I had tried many different video player apps on my iPad Air but none of them worked perfectly.
Since iPhone 6/6S, iPhone allows users to shoot a whole 4K video (and prior to it, Samsung Note 3, Galaxy S5 and Sony Xperia Z2 all have supported 4K video recording). But few smartphones have set foot in real 4K resolution video playing. Can the Retina HD display of Apple iPhone SE, iPad Air 3 or 9.7-inch iPad Pro hold or play 4K videos? The answer is, disappointedly, that it should, but not truly can although Apple's A8 chip is ready for 4K video playback.
Why 4K UHD Video Cannot Really Be Played on iPhone iPad?
Before you play 4K videos on iPhone 7/8/X/XS/11/Pro/Max or iPad, you should at first realize the following cruel facts:
iPhone 11 Pro Max: 2688-by-1242-pixel resolution at 458 ppi
iPhone 11: 1792-by-828-pixel resolution at 326 ppi
iPhone XR: 1792-by-828-pixel resolution at 326 ppi
iPhone X: 2436-by-1125-pixel resolution at 458 ppi
iPhone 8 Plus: 1920-by-1080-pixel resolution at 401 ppi
iPhone 7: 1334-by-750-pixel resolution at 326 ppi
iPhone 6s: 1334-by-750 pixel resolution at 326 ppi
iPhone SE: 1136 x 640 pixel resolution (4 inch)
iPhone 6 Plus screen resolution: 1920 x 1080
iPad 7 screen resolution: 2160-by-1620-pixel resolution at 264 pixels per inch (ppi)
iPad Air 3 screen resolution: 2224-by-1668 resolution at 264 pixels per inch (ppi)
4K resolution: 3840×2160 (16:9) or 4096x2160 (17:9)
But you can convert / compress 4K videos for playing on iPhone (11/Pro/Max included), iPad Air (3), iPad mini 5 or other iOS 13 devices without obvious quality downgrade. The article will show you work to do before you can play 4K videos on iPhone iPad.
The software useful for you: 4K UHD Video Converter, HD Video Converter for Mac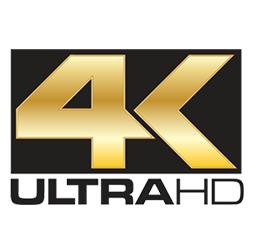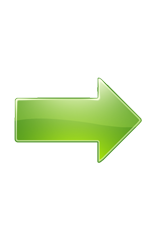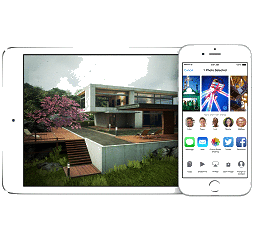 How to Play 4K Video on iPhone iPad?
WinX HD Video Converter Deluxe/Converter for Mac


Fastest tool to convert/compress 4K video for playing on iPhone iPad without obvious quality downgrade.


WinX HD Video Converter Deluxe is a simple-to-use program which comes with advanced features for encoding video files. - Editor's Review from Softpedia
It means that a 4K UHD video cannot be directed on any iOS device before Apple realizes a display - possibly as high as 3840×2160 to support playing 4K videos, although we can already play 4K movies on PC/Mac, play 4K UHD videos on Mac OS X/MacOS Catalina (10.15), or even play Video on 5K iMac. When 4k screens are introduced into the iPhone or iPad, it would surely be a selling point for most Apple fans.
Why Is It Necessary to Convert 4K Video to iPhone iPad in 1080P Maybe?
In the first place, 4K video takes way much space in addition to the high requirement on resolution. Sadly, the first 4K movie we can download is 160GB. True 4K film needs more data storage, at least 100 gigabytes. It would take much time to download a 4K video from YouTube or other video websites and not be able to be played smoothly on iPhone, iPad Air or Android devices and we have image stabilization to concern. Furthermore, with those microscopic pixels you wouldn't be able to tell 4K apart from 1080p screen due to the pixel density.
But optimistically at present, 4K videos can be played on iPhone or iPad Air once being compressed and converted to iPhone supported video formats, in 1080p, at 4:3 or 16:9. After shrinking, the 4K video will have better 1080p or the ability to crop or digitally zoom into a 1080p section.
HOT Search: HD video converter, Play HEVC on iPhone 8, Download 4K Movies, Download Play 4K Video, Fix 'iPhone Won't Play Videos' Problem, 8K Resolution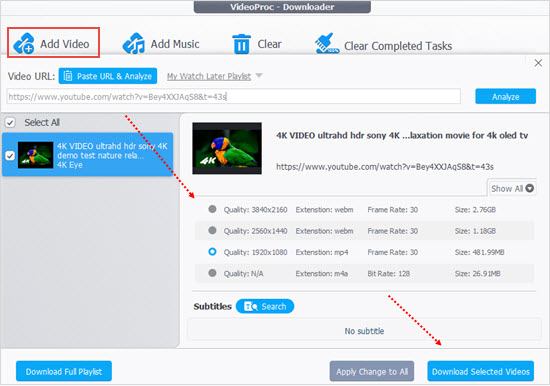 Step-by-step Guide to Play 4K video on iPad iPhone
There are many guides and tips online to help us playing 4K videos on PC, Mac, Android or TV, and we are to show you how to convert 4K videos for iPhone and iPad successfully by WinX 4K UHD Video Converter, which is a big-league HD/UHD video converter program capable of converting 4K/8K videos, 1080p videos, MKV, M2TS/MTS/TS/AVCHD, MOV, WMV and any other videos to iPhone, iPad, Android, WP8, TV, PC, USB, Chromecast or game consoles accepted formats at ultra-fast speed by using hardware accelerated video encoding/decoding technology.
Step 1: Prepare a 4K ultra HD video. Usually, a 4K video can be obtained by the following ways:
- Shot by HD camcorders;
- Shot by iPhone 6/6S/7/8/X/XS/11/Pro and some other leading smartphones;
- Downloaded from YouTube, etc. (WinX HD Video Converter Deluxe can help free download 4K/8K videos from YouTube.)
- Purchased online.
Step 2. Download WinX 4K UHD Video Converter (or 4K UHD Video Converter for Mac), install and open it.
Step 3. Click "+Video" on the top-left to add the source 4K video the software. Alternatively, you can directly download a 4K video from YouTube by clicking "YouTube URL" button, as is shown in the graph.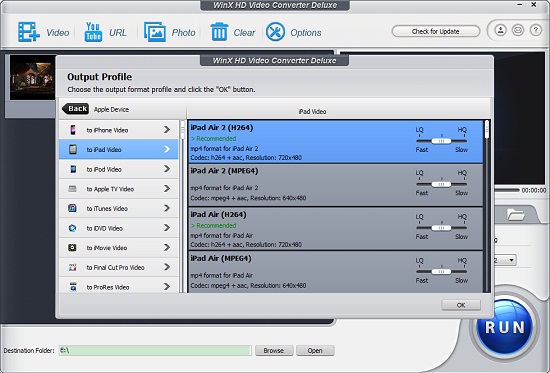 Step 4. Under Output Profile, choose "Apple Device", "to iPad Video" and select iPad Air 2 as the target result that will be in MP4 or H.264 video file playable on your iPad Air 2. You can also choose other output formats or device profiles for different uses.
Step 5: After other settings are confirmed, stroke "RUN" and start on a new leg of converting the 4K video converted to iPad Air video.
Step 6: Transfer the converted or downloaded 4K UHD videos from PC/Mac to iPhone or iPad with WinX MediaTrans, the best iTunes alternative.
The 4K resolution converter, WinX HD VideoConverter Deluxe, is also helpful in downloading YouTube videos, converting any videos, making photo slideshows and editing videos. Embracing 370+ video audio codecs and 420+ preset profiles, it can deal with AVI, WMV, MP4, VOB, MPEG, MOV, 3GP, Google TV, WebM, ASF, TS, MOD, TOD, MKV and so on, while supporting the latest portable devices, including iPhone 11/Pro/Max, iPad mini, Samsung Galaxy Note 10, Galaxy S10.
Check: How to Download YouTube 4k Video for Free – 4k Video Downloading Tutorial
Still have problem about playing 4K video on iPhone/iPad/Android? Please feel free to Email Us >>
How to Play 4K UHD Videos on Windows or Mac Computer?
5KPlayer stands out in free 4K video playback, for the following reasons:

1. Realize playing 4K videos with AirPlay across different devices, from iPhone iPad to computer and Apple TV with bigger screens;
2. Has HEVC decoder to support the Main 10 profiles at 4K at 120 fps;
3. Compatible with any video/audio codec on Windows 10/MacOS Sierra;
4. With built-in online video downloader, it downloads and plays (4K UHD) videos at one click.
Note: It is a 100% free computer program, but not an iOS app.