Best Way to Play 4K Ultra HD Videos on Mac OS X 10.9.3 or Later (macOS Big Sur)
Previously, many 4K displays cannot work properly on Mac OS X. It is hard to reach the original resolution 3840x2160. Even if we set it to the original forcedly, the text, image and video will be barely distinguishable. But that problem has gone away as OS X 10.9.3 has improved 4K display support on the late 2013 Mac Pro and 15-inch MacBook Pro with Retina display. It improves the size and readability of text and other on-screen elements. Thanks to this update, playing 4K UHD videos on Mac becomes possible.
4K Ultra HD Video
This tool enables you to easily convert and compress 4K/8K videos to SD/HD videos for smooth playback on Mac OS X 10.9.3.
4K Ultra HD (also known as 4K UHD) is a resolution of 3840 pixels x 2160 lines (8.3 megapixels, aspect ratio 16:9) mainly for Ultra HD television, or a resolution of 4096 pixels x 2160 lines (4,000 pixels, 8.8 megapixels, aspect ratio 17:9) mainly for digital cinema. At 4K resolution, every single details and close-ups on the image can be seen. Nowadays, 4K videos are adopted by UHDTV and YouTube. Since OS X 10.9.3 can support for 4K displays, is it possible to play 4K Ultra HD videos on macOS?
Ways to Play 4K UHD Videos on Mac (macOS Big Sur)
In this post, two methods will be shared with you to play 4K ultra high definition videos on OS X 10.9.3.
Solution 1: Use 4K displays and Ultra HD TVs with Mac computers
In Apple's support page, you can find detailed supported displays, configurations and adjusting tips to make 4K displays work well with MacBook Pro (Retina, Late2013) or Mac Pro (Late 2013) based on OS X 10.9.3 or later, like Mac OS X 10.10 Yosemite.
According to the official statement, OS X 10.9.3 is only for Sharp PN-K321, ASUS PQ 321Q, Dell UP2414Q, Dell UP3214Q and Panasonic TC-L65WT600. Viewing experience couldn't be better with 4K resolution. But it is really costly for ordinary people and unnecessary for non-professionals. Moreover, some 4K videos (downloaded from online video-sharing center, YouTube maybe, or generated by 4K-capable digital cameras or camcorders) could be incompatible with Mac. In that case, the second solution could be the best way to play 4K UHD videos on Mac OS X 10.9.3.
Solution 2: Convert and compress 4K Ultra HD videos
The advantages of converting and compressing 4K videos are obvious, like saving considerable storage space, better compatibility with popular devices (iPhone, iPad, etc.), media players, and video editing software(i.e., iMovie, iDVD). It's a simple and cost-effective solution. With a professional 4K video converter for Mac, the 4K UHD video quality will be retained in full measure. Through side-by-side comparison (function, output/input formats, system requirements, customer service, user reviews involved), WinX HD Video Converter for Mac is the optimal choice for 4k UHD video conversion on Mac OS X 10.9.3. And it is also a good 8K video converter compatible with Mac OS.
WinX HD Video Converter for Mac is a handy and versatile Mac video converter for 4K UHD videos, 8K full untra HD videos, 1080p HD videos, HDTV/HD-camcorder videos, Blu-ray videos and SD videos like MOV, M4V, QT, MPEG, AVI, WMV, etc. No matter you want to convert 4k/8k videos to Mac supported formats or compress to popular devices friendly formats, you can finish it in a simple way. Meanwhile, this tool can finish 4K conversion/compression at super fast speed due to the newly added Hardware Acceleration Technology and the support for multiple CPU cores. For YouTube fans, it's particularly easy to download 4K UHD and 8K 4320P videos from YouTube and convert to common media formats at one go. >> Check 4K Video File Format
How to Convert and Compress 4K UHD Videos?
Above all, you should download this 4K video converter for Mac on your Mac computer, and then install and launch it.
Then, let's move to the following steps.
Step 1. Insert the 4K UHD video you want to play on Mac OS X 10.9.3 or above.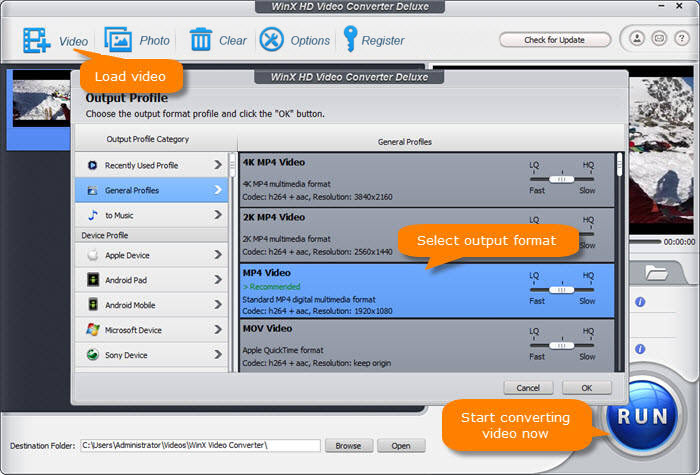 Step 2. Select output profile.
To play 4k videos on Mac, you can choose one from the category of Mac General Video.
Step 3. Hit "RUN" to begin converting and compressing 4K UHD videos.
As the output profile shows, users are also allowed to convert 4K UHD videos to Apple devices, Android pad, Sony, Microsoft and so much more, besides making 4K videos playable on macOS.
If you still have question on playing 4K UHD Videos on Mac, please feel free to Mail Us >>