What Are the Best YouTube Upload Video Formats
This page provides the answers of the best YouTube upload video formats, namely, the most suitable file extensions, resolution, file size and video formats supported by YouTube, the most famous online video sharing website.
Note: YouTube have updated its supported formats list to accept HEVC/H.265 files. HEVC can reduce the decoding overhead for easier end user playback, and also can reduce the amount of bandwidth and network traffic. Therefore it is the best encoding method and file format recommended for YouTube uploading, especially when your video file is large in file size or high in resolution (such as 4K).
Convert any Video to YouTube Supported Formats
WinX HD Video Converter Deluxe - 100% safe and clean software to fast convert ANY video to best video format for YouTube; cut/compress video; download & convert YouTube video for iPhone iPad Android at one go.
YouTube Accepted/Supported Video File Formats
What are YouTube friendly video types? The formats of videos downloaded from YouTube are MP4, flv, WebM, etc. Then what video/vlog formats are supported and accepted by YouTube for uploading and editing?
YouTube supported video formats and file extensions: 3GP (.3gp, .3g2, .3gpp), MPEG-4 (.mp4), AVI (.avi), MOV (.mov), FLV (.flv), MPEGS (.mpg), WebM (.webm), WMV (.wmv)
YouTube supported video codecs: CineForm (GoPro), DNxHR (UHDTV), HEVC, ProRes (Apple)
From what have been listed above, we may roughly draw the conclusion that YouTube embraces a wide range of video file formats. However, there are many other factors we have to take into consideration, say, file size, video quality loss and compatibility with players.
To sum up, MP4 overlaps all the advantages with small file size, high compression rate (for high quality) and popularity. MP4 includes two video codecs, namely, MPEG4 and H.264, which are both widely supported, together with AAC (2 Channel - 8 Channel) and MP3 as audio Codec. So it is the most recommended YouTube upload video format.
Requirements of Uploading Music/Video to YouTube
Besides upload video formats, YouTube also has very strict requirements for music, video and movie uploading, in terms of file size, duration, resolution, codec, frame rate and bitrate.
Frame rate: Keeping original video frame rate is preferred. And 25-30 fps is recommended.
Resolution: 4:3 (640 x 480) or 16:9 (1280 x 720). When the video is uploaded to the site, YouTube will make it 16:9 or add vertical black bars (for 4:3). So, please remember not to add horizontal black bars before uploading a video. Check How to Change 4:3 to 16:9 >>
Bitrate: Bitrate is different from screen resolution and is highly related to video codec. Actually, it is less important than other factors to consider before YouTube uploading. YouTube experimented with Dynamic Adaptive Streaming over HTTP (MPEG-DASH), which is an adaptive bit-rate HTTP-based streaming solution optimizing the bitrate and quality for the available network. Check Complete YouTube Upload Tips >>
Duration: YouTube once limited the length of a video file to 15 minutes. But now user can upload a video longer than 15 minutes.
File size: Video file size is limited to 2GB for YouTube uploading. But size larger than 20GB is allowed by using an up-to-date browser. And the maximum is 128GB. Check Best YouTube Size for Uploading >>
Deinterlacing: Although videos either in progressive scanning or interlaced scanning mode can be uploaded, YouTube suggests turning interlaced videos to deinterlaced before uploading for the best video quality. Therefore, progressive scanning is needed for video uploading. Check How to Change Interlaced Video to Deinterlaced Video>>
There are true examples in downloading YouTube videos:
MP4 720p: 4.0 Mbit/s (variable bitrate with peaks of 5.0 Mbps)
MP4 1080p: 8.0 Mbit/s (variable bitrate with peaks of 10.0 Mbps)
FLV HQ: 1.5 Mbit/s (variable bitrate with peaks of 3.0 Mbps)
What if you upload a video that doesn't comply with regulations to YouTube? Usually, your video will be auto compressed to YouTube accepted specifications. For example, you record a 8K video with Samsung Galaxy S20 and upload it to YouTube, you probably get your video in 1080p. Of course, it doesn't exclude that your network is poor enough, taking forever to process your source 8K video.
Why is YouTube So Popular?
YouTube (owned by Google) is the most popular online video sharing site at present with over 1 billion (1,000,000,000) visitors per month in average. It stays glued to the top spot on the online video uploading sites worldwide. Why is YouTube so hot and more popular than other similar to YouTube sites like Vimeo, Dailymotion, Netflix, Hulu and Break?
In the first place, video itself is a straightforward way to express something. YouTube goes viral because it was at the right place (MySpace) the right time (at the time when video services came into style) with interesting content (covering all kinds of categories). Besides, it is easy to use and understand, and is helpful for marketing purpose.
Best YouTube Video Converter for Video Uploading: Convert Video to Best YouTube Video Format
WinX HD Video Converter Deluxe is the most recommended and used video converter and editor for YouTube video uploading on Windows PC. It saves trouble of YouTube users in video uploading so that they do not have to worry about the video format, codec, resolution, aspect ratio and frame rate issues, since this HD video converter has built in profiles of YouTube upload video formats.
It helps convert Sony/Canon/JVC HD camcorder or xdcam recorded videos, Blu-ray videos, DVD videos and any other videos, such as MKV, M2TS, AVCHD, MPEG, VOB, MOD, TOD, 3GP, ASF to the most suitable YouTube videos (MP4/FLV) and Codec (HEVC/H.265). The developer has selected the best video formats and created the ready-made profiles for anyone in need of uploading videos to YouTube, Vimeo and other similar to YouTube video sites.
Guide: please scroll down the almost lowest part to find the "Web Video Profile" and click "YouTube Video" directly. Or, you can choose HEVC (MP4) under general video profile as the output.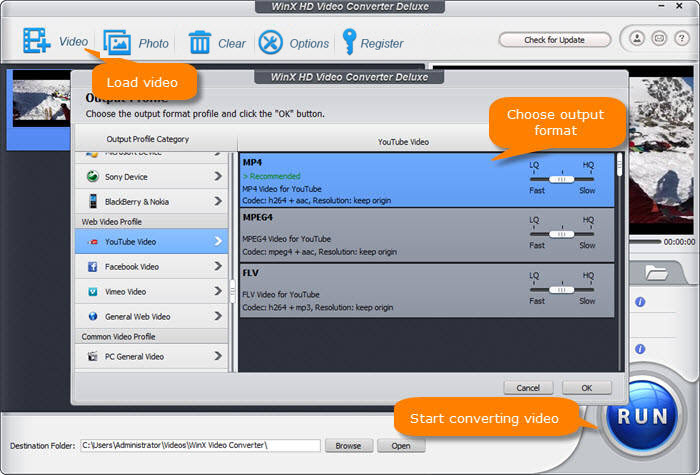 Related reading: Compress Videos for YouTube Upload While Keeping Good Quality >>
WinX HD Video Converter Deluxe can also download YouTube video and convert it directly.
Attention:
* We do not advocate illegal use of YouTube videos and suggest you respect the copy right of the contributors.
* Still have question on the best video formats supported by YouTube? Just feel free to Mail Us >>
Besides working as the World's No.1 fast (HD) video converter thanks to the support for the most advanced Intel QSV, MMX-SSE, Nvidia CUDA/NVENC, AMD, Hyper-threading and AMD 3DNow! technologies, WinX HD Video Converter Deluxe can also act as SD/HD/4K/8K video downloader, 3D video downloader, video editor, and recorder, just free download it to have a try now!