Requirements of Uploading Music/Video to YouTube
Besides upload video formats, YouTube also has very strict requirements for music, video and movie uploading, in terms of file size, duration, resolution, codec, frame rate and bitrate.
• Frame rate: Keeping original video frame rate is preferred. And 25-30 fps is recommended.
• Resolution: 4:3 (640 x 480) or 16:9 (1280 x 720). When the video is uploaded to the site, YouTube will make it 16:9 or add vertical black bars (for 4:3). So, please remember not to add horizontal black bars before uploading a video. Check How to Change 4:3 to 16:9 >>
• Bitrate: Bitrate is different from screen resolution and is highly related to video codec. Actually, it is less important than other factors to consider before YouTube uploading. YouTube experimented with Dynamic Adaptive Streaming over HTTP (MPEG-DASH), which is an adaptive bit-rate HTTP-based streaming solution optimizing the bitrate and quality for the available network. Check Complete YouTube Upload Tips >>
• Duration: YouTube once limited the length of a video file to 15 minutes. But now user can upload a video longer than 15 minutes.
• File size: Video file size is limited to 2GB for YouTube uploading. But size larger than 20GB is allowed by using an up-to-date browser. And the maximum is 128GB.
Check Best YouTube Size for Uploading >>
Deinterlacing: Although videos either in progressive scanning or interlaced scanning mode can be uploaded, YouTube suggests turning interlaced videos to deinterlaced before uploading for the best video quality. Therefore, progressive scanning is needed for video uploading. Check How to Change Interlaced Video to Deinterlaced Video >>
There are true examples in downloading YouTube videos:
MP4 720p: 4.0 Mbit/s (variable bitrate with peaks of 5.0 Mbps)
MP4 1080p: 8.0 Mbit/s (variable bitrate with peaks of 10.0 Mbps)
FLV HQ: 1.5 Mbit/s (variable bitrate with peaks of 3.0 Mbps)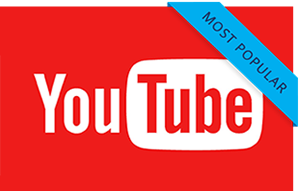 Why is YouTube So Popular?
YouTube (owned by Google) is the most popular online video sharing site at present with over 1 billion (1,000,000,000) visitors per month in average. It stays glued to the top spot on the online video uploading sites worldwide. Why is YouTube so hot and more popular than other similar to YouTube sites like Vimeo, Dailymotion, NetFlix, Hulu and Break?
In the first place, video itself is a straightforward way to express something. YouTube goes viral because it was at the right place (MySpace) the right time (at the time when video services came into style) with interesting content (covering all kinds of categories). Besides, it is easy to use and understand, and is helpful for marketing purpose.