YouTube Top 10 Most Hated Songs from WatchMojo
Top Annoying Songs of All Time from Google Search Rank 1
2014 Year's Most Annoying Songs from Billboard
1 Baby (2010) - Justin Bieber
2 Friday (2011) - Rebecca Black
3 My Humps (2005) - The Black Eyed Peas
4 Cotton Eye Joe (1994) - Rednex
5 Crank That (2007) - Soulja Boy Tell 'Em
6 The Ketchup Song (2002) - Las Ketchup
7 Stupid Hoe (2011) - Nicki Minaj
8 Axel F (2005) - Crazy Frog
9 Party in the U.S.A (2009) - Miley Cyrus
10 Hamsterdance (2000) - Hampton the Hamster

1. Friday - Rebecca Black
2. Gangnam Style - PSY
3. Crazy Frog - Axel F
4. My Humps - The Black Eyed Peas
5. You're Beautiful - James Blunt
6. Harlem Shake - Baauer
7. That's Not My Name - The Ting Tings
8. Baby - Justin Bieber
9. I'm a Gummy Bear (The Gummy Bear Song) - Gummibar
10.Whip My Hair - Willow Smith
1. Happy - Pharrell 23.08%
2. All About That Bass - Meghan Trainor 15.75%
3. Let It Go - Idina Menzel  15.41%   
4. Shake It Off - Taylor Swift  13.67%
5. Rude - Magic!  8.19%
6. Fancy - Iggy Azalea ft. Charli XCX  6.37%
7. Turn Down for What -DJ Snake & Lil Jon  5.59%
8. Bang Bang - Ariana Grande, Jessie J & Nicki Minaj 3.82%
9. Everything Is Awesome! - Tegan & Sara  3.15%
10. Am I Wrong? - Nico & Vinz  2.93%
Since the list 1 from YouTube video was published in 2014, the current list adds some new hated songs like We Can't Stop of Miley Cyrus, Blurred Lines of Robin Thicke, Never Say Never - another Justin Bieber song again. Check out the original voting page from WatchMojo.com for reference or casting your vote. And the list 2 is the outcome brought from a shopping discount site's survey by Whatculture, you may find out that several songs are involved in those two lists. Ah, does that mean they are really so annoying or hated songs? Only you can give the answer.
How to Get The Most Annoying Songs Free Download?
Firstly, free download WinX Online Video Downloader on your Windows PC, including Windows 10 PC. Then double click the .exe package to install it under the guidance. Done, launch it to free download hated/annoying songs like this: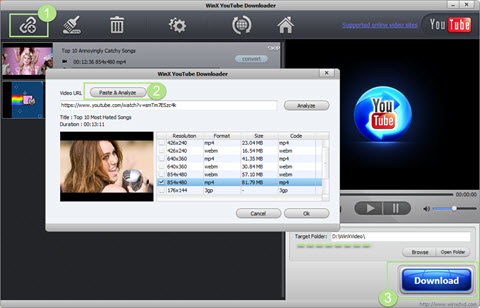 Click "+ Link" Icon to Add Song Video
Click "+ Link" on the top tool bar to go to the WinX YouTube Downloader box.
Analyze The Most Annoying Songs URL
Here you must go to online sites to search for the most annoying songs video, copy its URL (begin with https://...) firstly, and then click "Paste & Analyze" icon to load the video information, including video title, duration, resolution, format, size and code. Check a proper video output and click "OK". As shown in the screenshot, this software supports downloading more than one video at a time.
Free Download The Most Annoying Songs
Hit the big blue "Download" button to download the most annoying songs video(s) to the default target folder, which can be reset by clicking "Browse".
Tip: Still have trouble on how to free download the most annoying songs, just feel free to Mail us .