How to Make Wedding Slideshow with Music by the Best Free Slideshow Maker/Software
Use the Best Free Slideshow Maker/Software to Make Wedding Slideshow with Music
Free making wedding slideshow with music bring about a wedding ceremony with taste!
Wedding ceremony is quite essential to you and your lover because it's a brand new start for you to exist with the person you've chosen to spend the rest of your life. During the ceremony you and your lover will say wedding vows at the altar, exchange wedding rings and then be pronounced to be husband and wife. But to the attending members - your beloved family and friends, maybe it's just a another monotonous gathering, no better than staring at their LCD screens. Want to bring about some shining point? Well, it's a good choice to make wedding slideshow with music, showcasing your wedding photos or memorable pictures during the wedding reception or ceremony, which can boost the atmosphere to a large degree, preventing your wedding party from being a cheesy affair.
How to Make Wedding Slideshow with Music by WinX HD Video Converter Deluxe
But how? Still have no idea but pay to servicers to help you? Not exactly. There's a professional wedding slideshow maker can help you out - WinX HD Video Converter Deluxe. Embedded with a free slideshow maker with music-adding feature, it enables you to make wedding slideshow by turning your piles of wedding photos or memorable pictures into a wedding video with elegant music as common video formats like MP4, MPEG, AVI, MWV, M4V, FLV, playable on Apple series (iPhone 8/X, New iPad Mini/iPad Air/Pro), Android phones and tablets (Samsung Galaxy S8/Note 8), Windows phones, PS4 and PSP, available for unloading to YouTube and Facebook.
* Learn to make photo slideshow video..
* Learn to make Christmas thanskgiving videos to kids...
You should download WinX HD Video Converter Deluxe first, install it on your PC and then launch it for the following wedding slideshow making:
Step 1 - Import the Photo Folder
Gather all of the wedding photos or memorable pictures you want to show around in a folder in order, and click "Photo" icon to upload the whole folder;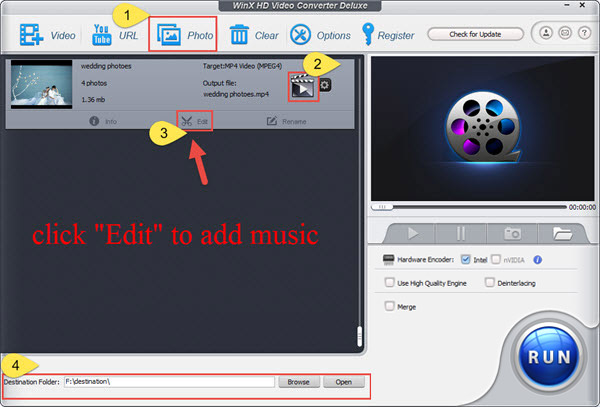 Step 2 - Select Output Format/Profile
As is mentioned above, this wedding slideshow software can make a series of pictures out of a stunning video slideshow in many mainstream video formats for playback on iPhone, iPad, Android, etc. Therefore, just select what you want;
Step 3 - Add Background Music
Hit the "Edit" button to a music-adding interface, click "Add Music" to add the background music as you like. You can also add and delete photo folder here, set the order of pictures according to photo location, creation date or file name, set interval time between pictures;
Step 4 - Choose the Destination Folder
Select destination folder to save your photo slideshow with music for a better storage and finding.
Step 5 - Hit "RUN" Button to Start Creating Wedding Slideshow with Music
The last job is to click "RUN" button to begin the wedding slideshow with music making.
What's More about This Free Slideshow Maker with Music
1. The conversion speed and quality of wedding slideshow with music: the built-in High Quality Engine and "Yadif Double Frames" De-interlacing Engine maximally optimize the wedding slideshow's quality , and the feature to support multi-core CPU enables you to take full advantage of up to 8 Cores to maximally increase the photo to video converting speed;
2. There's no quantitative restrictions of both photo and music, so you can add any photo and new wedding songs as you like;
3. In order to guarantee a high-quality wedding slideshow with music and an uninterrupted conversion, you'd better check the "Use High Quality Engine", "De-interlacing" and "Safe Mode" options.
4. You can not only make wedding slideshow, you can also use this free slideshow maker with music to fit other special occasions like birthday, graduation and anniversary, or you can upload the slideshow video to YouTube or Facebook for sharing. >> Facebook and YouTube Upload Video Formats