Free Download Kobe Bryant Dear Basketball from go90 and More
How do you free download Kobe Bryant's Dear Basketball - Best Animated Short Film in 2018 the 90th Academy Awards from streaming sites? I just get it done with a safe and free downloader.
By Sunshying Waung on July 6, 2018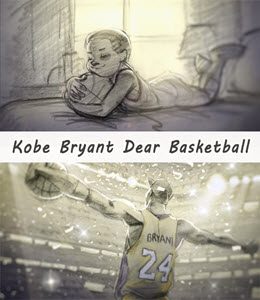 Mamba has never been out! From farewell announcement in April 2016 to two jerseys' retirement in December 2017, we take every moment of Kobe Bryant in public as treasure. And this time, the ex-Lakers star returned with another big win in Oscar. Yes, it's not storytelling. Our basketball legend, receiving many honors on court e.g. 5-time NBA champion, 2-time Summer Olympics gold medal, 6-time NBA Finals/All-star MVP, NBA Slam Dunk Contest champion, and 2nd most points in a game (81), took in Best Short Animated Film at 2018 Academy Award by "Dear Basketball" in March.
Nearly all of the basketball fans are familiar with Dear Basketball movie from Kobe. Because the content in this short film is written by himself in 2015, declaring his upcoming retirement in late 2015-16 season. Dear Basketball poem was drawn to life and moved onto screen in 2017. From the video jumping back and forth between a child and an NBA superstar Kobe, we can feel his aspirations, devotion and persistence for basketball. Just like the retirement poem said, no matter what he would do next after finishing his sports career, he will always love basketball just like he did from the very beginning.