Home > YouTube Tips > Is It Legal to Download YouTube Videos
[Solved] Is It Legal or Illegal to Download YouTube Videos?
It answers if it is legal or illegal to download YouTube videos.
"I want to download a few videos and put them on my tablet. So, I can watch them anywhere. I have no intention of distributing them, or sharing them with others. It's just for my own, personal use. Anyway, is it legal to download YouTube videos?" - From Yahoo Answers
It's explicitly permitted to share or embed YouTube videos on internet but the question "Is it legal to download YouTube videos?" always makes people confused. Some of you know precisely the illegality to download YouTube videos for copying, reproducing, selling or other commercial uses, while no one is sure if it violates laws to download videos from YouTube for personal use. And in this article, the confusing question "Is downloading YouTube videos legal?" will be settled.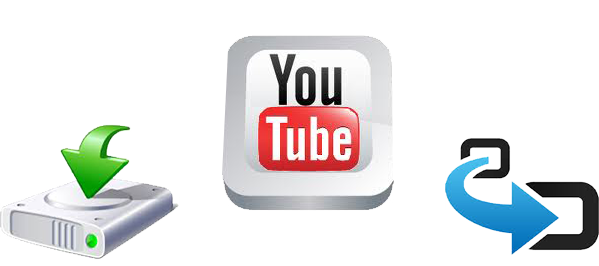 Download YouTube Videos Legally and Safely?
WinX YouTube Downloader – a highly-acclaimed online video downloader specially designed for downloading videos in 360P SD, 720P/1080P HD, 4K, 8K or 3D from YouTube, Dailymotion, Vimeo, Metacafe and alike sites (300+) in a flash.
[100% Clean and Safe!]

Is It Legal to Download YouTube Videos?
The words from YouTube "Terms of Service" tell: "You should not download any Content unless you see a 'download' or similar link displayed by YouTube on the Service for that Content." The content here refers to videos which are subject to copyright and other intellectual property rights under the law. In other words, it breaks YouTube rules when downloading copy-protected videos. In addition, recently, YouTube has sent a threatening message to TubeNinja, an online video downloader service to stop the activities for it violates ToS of both the site and API.
Now, you almost deem that it is illegal to download YouTube videos because you can hardly find out a video with a download button or link. Don't just jump to conclusion. YouTube grants something called "Fair Use" leading you to download and use copy-righted videos without getting permission from copyright owners in some cases. Also, you're quite safe to take advantage of a download service without adopting YouTube API.
1. If you download and reuse YouTube videos as material for research, criticism, commentary, teaching or news reporting, your use is fair use.
2. Give credit to copyright owners to transfer the protected YouTube video into fair use.
3. Some creative video makers need to download YouTube videos and add original materials to form a new video, for example parody of hit songs, films for entertainment or non-profit only. It can be taken as fair use.
4. In addition, you'd better post the statement "no copyright infringement intended" when you use YouTube videos.
5. Certainly, it is legal to download YouTube videos which belong to you, for example the show recorded from a TV, music video purchased from iTunes, or movie video ripped from DVD. (Rip a DVD to YouTube | Convert YouTube to iTunes)
Even though YouTube cannot track and ban you if you download any videos from YouTube using a third-party video download program without signing in your account, it's better get YouTube videos under Fair Use circumstances.
How to Legally Download YouTube Videos for Free?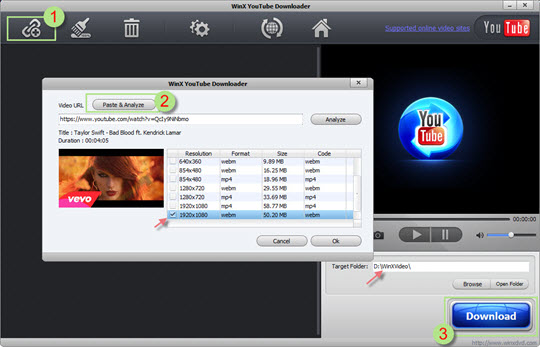 If you want to download and reuse YouTube videos legally, YouTube video downloader is in need. WinX YouTube Downloader, a perfectly clean and safe freeware capable of downloading desired videos, like music, movie trailers, sports and more, in SD/HD/4K/8K/3D from YouTube, Vimeo, Dailymotion, Metacafe, Instagram, Facebook etc, with original video/audio quality in a flash (5-8x real time download speed thanks to Multi-thread and Multicast Tech). Independent from YouTube API, WinX YouTube Downloader is armed with multimedia sniffer technology based on player with no infringement of YouTube ToS.

Download and install WinX YouTube Downloader on your computer. This best online video downloader fully supports Windows 10/8/7/Vista/XP (32 & 64 bit). Next, follow the tutorial to download YouTube video legally for fair use.
1. Launch WinX YouTube Downloader and click + link-shaped button on navigation bar.
2. Search the video you want to download from YouTube, copy and paste its URL to address bar of pop-up windows. Click Analzye button. After the video versions vary from resolution, format, size and code are listed, select one version and click OK.
3. Click Browse button to set target folder and hit Download button to start downloading YouTube video legally for fair use.
Warning: The software developer does not advocate downloading copyrighted content from YouTube for unfair and commercial use.
▪ Free download online videos from YouTube and similar sites (up to 300 online video-sharing sites) in 360P SD, 720P/1080P HD, 2160P 4K, 4320P 8K and 3D at a sharp speed.
▪ Convert downloaded online videos to iPhone, iPad, Android, Windows Phone, Surface Pro, Xbox, PS3/4 etc, for playback on the move or trim/crop/merge videos for reusing.
▪ Extract songs/soundtracks (MP3, WAV, AAC, FLAC and more) from music videos/movies and reuse it as BGM or tracks for original photo slideshow video.