2017 iPhone 8 vs Samsung Galaxy S8 on Specs, Design, Feature, Hardware
iPhone 8 vs Galaxy S8. What's their difference? Which one to choose?
2017 two new stunner phones Apple iPhone 8 and Samsung Galaxy S8 full comparison is included in this post. iPhone 8 is drawing very near and may be released this June. Compared with Samsung 2017 new flag phone Galaxy S8, will iPhone 8 have more impressive features? iPhone 8 vs Galaxy S8, which is the best phone in 2017? Let's see their detailed specifications, design and stunning features.
iPhone Storage is Full? Better Way to Sync Music to iPhone Without iTunes?
WinX MediaTrans – Ultimate iTunes alternative enables you to sync music to/from iPhone without data loss, export iPhone photos/videos to PC to free storage, transfer iTunes movies, music and audio books with DRM release at fastest speed. Auto convert video to MP4, convert audio to AAC/MP3 when transferred to iPhone iPad iPod. 100% clean and safe. Support two-way transfer.
2017 Apple iPhone 8 Specifications (Estimated)
Release date: June 2017 (estimated)
Dimension: 5.8-inch, 5.5-inch, 5-inch, and 4.7-inch
Display: Curved, edge-to-edge OLED display with True Tone technology. 2436x1125, 528ppi
Camera: 7MP (Front), Duel-lens camera 16MP (Rear)
Memory: 3GB RAM, 64GB/256GB ROM
OS: iOS 11
Battery: 2700mAh
Water & Dust Resistant: IP68
Intelligence: Siri
Charging: Wireless charging
Color: Rose Gold, Gold, Silver, Jet Black, Black, new Deep Blue
Price: $800-$1000
2017 Samsung Galaxy S8 Detailed Specs
Release date: April 2017
Dimension: 148.9 x 68.1 x 8.0 mm, 155g
Display: 5.8" Quad HD+ Super AMOLED, 2960x1440, 570ppi
Camera: 8MP (Front), Dual Pixel 12MP (Rear)
Memory: 4GB RAM, 64GB ROM
OS: Android 7.0
Battery: 3000mAh
Water & Dust Resistant: IP68
Intelligence: Bixby
Charging: Fast Charging on wired and wireless. Wireless Charging compatible with WPC and PMA
Color: Midnight Black, Orchid Gray, Coral Blue, Arctic Silver, Maple Gold
Price: $749.99
iPhone 8 vs Galaxy S8 – Design and Feature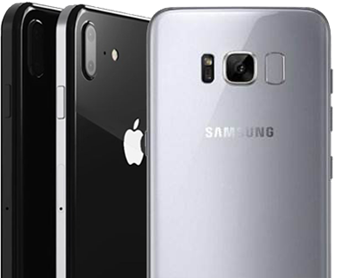 iPhone 8 is rumored to have a curved OLED display, bezel-less and all-glass body. It may also remove the home button with an added new function area. OLED display is better than LCD display and the released Samsung Galaxy S8 has already equipped a Quad HD+ Super AMOLED display. This time we hope Apple will really apply OLED display to iPhone 8. Without home button, but with a function area in iPhone 8, customers may not get used to the new changes at the first moment, but also can expect some surprises of new changes. As for camera, it's said that iPhone 8 will have a 3D front camera and have a vertically dual-lens rear camera. Whether the camera pixels can excel Samsung Galaxy S8, higher than 12MP, we'll still wait and see.
It's also rumored that Apple will replace the Lightning port in the iPhone with a USB-C port, bringing it in line with the MacBook and the MacBook Pro. USB Type-C Power Delivery technology can make iPhone charge more quickly. Since fast charging is already available in the 12.9-inch iPad Pro, we also expect it in new iPhone 8. At this point, Samsung Galaxy S8 already has a fast charging feature. iPhone 8 and Galaxy S8 both support wireless charging and water resistance.
iPhone 8 vs Galaxy S8 – Hardware
Talking about hardware equipment, iPhone 8 is expected to run faster with A11 processor, new iOS 11, 3GB RAM. iPhone 7 and 7 Plus come with 32GB, 128GB and 256GB. This time for iPhone 8, Apple may abandon 32GB model and come with 64GB and 256GB configurations. Battery life may be further improved with use of a more energy efficient OLED panel, but OLED display utilization is a rumor, so longer battery life is still not sure. iPhone 8 may also feature an enhanced Siri functionality with a comprehensive improvement to the personal assistant's ability to respond to contextual requests and dialogues. If iOS 11 is announced with an improved Siri, we do believe it will also be available in iPhone 8.
Samsung Galaxy S8 equips a 4GB RAM and 64GB ROM (can be extended to 256GB with MicroSD card). With the preloaded new Bixby AI assistant in Galaxy S8, you can also interact with phone using voice by long pressing the home button.
iPhone 8 vs Samsung Galaxy S8 – Summary
We can't tell which one is exactly better. Look through iPhone 8 and Galaxy S8 specs, features and hardware, we can see the two top phones for 2017 Galaxy S8 and iPhone 8 both have attractive design, high quality display, fast operation, decent battery life and fantastic camera. Choose iPhone 8 or Galaxy S8? Decide according to your own favors.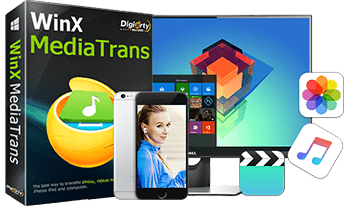 Transfer Photos, Music, Videos, iBooks, Ringtones from/to iPhone (8) with WinX MediaTrans
iPhone 8 storage is full? Want to export iPhone photos, music, movies from iPhone to PC? – WinX MediaTrans helps.
iTunes erases iPhone data? Any way to sync music, photos, videos, iBooks from PC to iPhone with no data loss? – WinX MediaTrans come.
DRM restricts playback? Help free iTunes music, movies and audio books from protections for playback on Android? Try WinX MediaTrans.