iPhone X/8 Price | How Much Does an iPhone 8/X Cost?
[Last Updated: September 13, 2017] iPhone Price Guide | iPhone 8 , 8 Plus, X Price in USA, UK, etc.
iPhone 8 was announced on Tuesday, September 12, 2017, along with a Plus version and iPhone X. New iPhones came with many fantastic features, such as wireless charging, Face ID (only available in iPhone X), wide-angle and telephoto cameras (only in Plus and X models), all-screen OLED (only in iPhone X), HEVC support, etc. On the one hand, people are excited about those innovative iPhone 8 features. On the other hand, they're afraid that they will have to pay for high price. So, how much will iPhone 8, iPhone 8 Plus and iPhone X cost?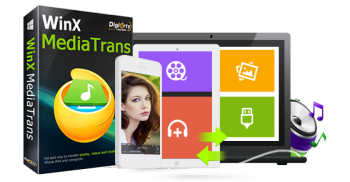 You may need WinX MediaTrans after buying an iPhone 8/X
This popular tool helps a lot if you need to transfer data to new iPhone 8/X from old iPhone, Android or other devices, transfer files between iPhone 8/X and computer, remove DRM from iTunes purchased music, movies and audio books, make ringtone for iPhone 8/X, make iPhone 8/X as a flash drive to save all kinds of files, etc. It is one of the most popular alternatives to iTunes and iCloud.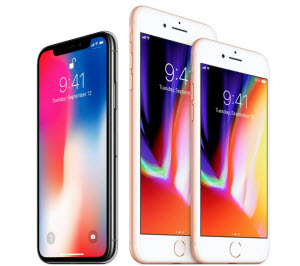 Previous Prediction of iPhone 8 Price
Before official announcement, there were many rumors about the price of iPhone 8 and its Plus version. Based on a research note from Simona Jankowski of Goldman Sachs distributed on May 12, the price of iPhone 8 would be higher than any iPhone models to date, and would break the $1000 price barrier for the first time. It predicted that iPhone 8 would start at 128GB selling for $999 (£795) and a 256GB version would cost $1099. Below is the source note:
Relative to the 128 GB iPhone 7 Plus, we estimate the new features and higher commodity prices to increase the bill of materials by over $70, which we expect Apple to offset via a $130 price increase, resulting in a starting price of $999 for the 128 GB capacity and $1,099 for the 256 GB capacity (we don't expect the iPhone 8 to come in 32 GB).
However, it turns out that rumors are false. Check the section below to get the true price of iPhone 8, 8 Plus, and iPhone X.
iPhone 8/X Price and iPhone Price History
In the light of that some people are interested in the prices of iPhones released in the recent years, we round up prices of iPhone 6-7 as well as those of new iPhones in the chart below. Note that all the prices here are the original full prices without contract.
Prices of iPhone (X/8-6)
iPhone X
iPhone 8 Plus
iPhone 8
iPhone 7 Plus
iPhone 7
iPhone SE
iPhone 6S Plus
iPhone 6S
iPhone 6 Plus
iPhone 6
64GB: $999
256GB: $1149
64GB: $799
256GB: $949
64GB: $699
256GB: $849

32GB: $769
128GB: $869
256BG: $969
32GB: $649
128GB: $749
256GB: $849
16GB: $399
32GB: $399
64GB: $499
128GB: $499
16GB: $749
32GB: $649
64GB: $849
128GB: $949
16GB: $649
32GB: $549
64GB: $749
128GB: $849
16GB: $749
64GB: $849
128GB: $949
16GB: $649
64GB: $749
128GB: $849
Now, it's time to save money if you plan to buy an iPhone 8 starting $699 (£699 in the UK, and AU$1,079 in Australia.) or an iPhone X starting at $999 (£999 in the UK, and AU$1,579 in Australia). Once released, you can buy one from Apple online or retail store, carrier stores, or other retailers, such as AT&T, T-Mobile, Verizon, Sprint, Target, and Best Buy.
Is It Worth to Buy an iPhone X with Around $1000?
At first it seems too expensive, but this price is reasonable when taking its brand-new design and new features into considerations. Read on to figure out the reasons of iPhone X price hikes.
* OLED display. Such kind of display will spend roughly twice as much as the LCD display used in the iPhone 7 and other current Apple phones. OLED screen adds $35 to the full price of iPhone X.
* 3D sensing. 3D sensing is applied to iPhone X camera, for being used in augmented reality applications. 3D sensing makes facial recognition available in iPhone X. This revolutionary new feature adds $20 to the overall cost.
Other wonderful features contributing to pricy iPhone X are capacity starting at 64GB, removal of bezel and home button, biometric authentication, wireless charging, and A11 processor. As a matter of fact, the starting price of high-end iPhone X is just $30 higher than iPhone 7 Plus with 256GB storage. So, iPhone X deserves $1000.
Don't forget to free download a file manager for your iPhone 8/8P/X
WinX MediaTrans is an all-in-one iOS file manager with straightforward and clean interface. It is designed to transfer files between iPhone (X, 8, 7, 6s, etc.)/iPad/iPod and computer, backup data, remove DRM, convert video/audio to iPhone supported format, etc. This is a lightweight yet full-featured tool for iOS users. Try now >>