Video Processing: How to Fast Resize Video File in MP4, AVI, MOV, and Others with Optimal Quality
Supporting unique level-3 hardware acceleration, the video resizer below enables you to fast change video frame width and height, and resize large videos to smaller size with ideal quality.
"When I take a video from my Canon camera, how can I resize so I can send it with my email? I tried VirtualDub, but when I resize it, it goes from 60mb to 400mb. Any other better software out there?"
"I've got an AVI file that has a frame size of 856*480 and what I want to do is resize it to 704*396."
"Resize" in this article refers to changing the frame size (also named display size) or the file size of a video. The videos we need to resize could be those we download online, acquire from friends, capture with iPhone, Android mobile, DSLR camera, GoPro action camera, DJI drone or other devices, etc.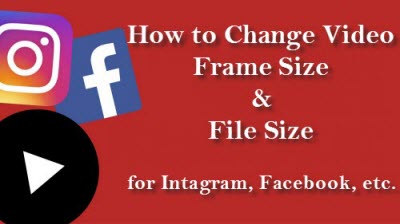 Why we need to tweak video size? We round up several common reasons below:
▪ Shrink the video file size for sending them with email, WhatsApp or other social networking software;
▪ Change video file size, aspect ratio, or file length to meet the criteria of Instagram, YouTube, Facebook, Twitter and others;
▪ Rescale the video dimension to fit our display screen and get perfect viewing experience;
▪ Resize videos to smaller files to free up space of our computer hard drive, portable storage devices or cloud storage.
There're many tools, desktop-based or online, come with video resizing function, for example VirtualDub, VLC, iMovie, and HandBrake. However, those programs seem to be poor at changing video size. Some are said to work slowly, make the resulting files much larger than before, no audio, or other issues. Previously PC users could make use of Windows Movie Maker to reduce video file size, but now it is no longer available for download. If you're searching for a fast and easy way to change your video display size and file size, you're highly recommended to try hardware-accelerated WinX HD Video Converter Deluxe. It is really powerful, simple and clean.
WinX HD Video Converter Deluxe is primarily designed to convert videos among virtually all video formats. However, there're some bonus features empowering users to change file size and frame size of videos.

Available to resize videos in almost any format, for example, MP4, H.264/AVC, H.265/HEVC, AVI, MOV, MKV, VP8, VP9, AVCHD, M2TS, MOD, WMV, FLV, MXF, DAV, VOB, MPEG, and WebM.


Support video resolution up to 8K. So, feel free to import SD, HD, 4K UHD, 8K video footages for resizing.


410+ ready-made output profiles are selectable to make resized videos fit Instagram, YouTube, iPhone X, Android, Xbox, PS4, etc. To sum up, it will address virtually all user needs from uploading online to playback on fashionable devices.


With hardware processing integrated into hardware encoder and decoder, it processes video resizing at super fast speed while keeping good quality. This tool is the only video converter supporting Intel QSV and NVIDIA CUDA/NVENC powered level-3 hardware acceleration.
How to Resize Video on Windows/Mac with WinX HD Video Converter Deluxe/for Mac
Resizing a video really should be performed on a computer, not a tablet or a smartphone. WinX HD Video Converter Deluxe is a reliable desktop video resizer compatible with Windows (10, 8, 7, etc.) and Mac (10.13, 10.12, 10.11, etc.).
Step 1. Import the video(s) you want to resize.
Open WinX's video resizer which can be downloaded through the buttons above. Click +Video button at the top left corner to browse and select the video files you want to resize. Alternatively, simply drag and drop them into the main screen.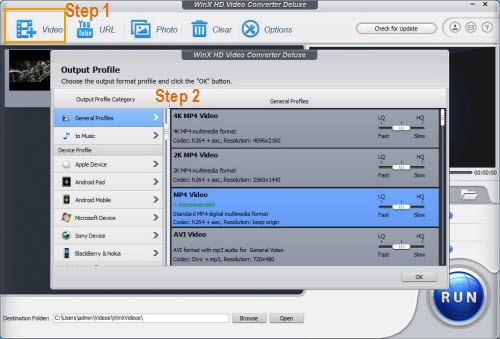 Step 2. Choose output profile.
Once source files loaded, you'll be directed to Output Profile window where 410+ optimized presets are available to select based on your own needs. They are tagged under those categories:
▪ General Profiles
▪ To Music
▪ Device Profile: Apple Device, Android Pad, Android Mobile, Microsoft Device, Sony Device, BlackBerry & Nokia
▪ Web Video Profile: YouTube Video, Facebook Video, Vimeo Video, General Web Video
▪ Common Video Profile: Pc General Video, Mac General Video, DVD Profile, HD Video
Different output profile will deliver different video size, because of different codec and other parameters configured. For example, the results will be quite different when we choose HEVC Video (hevc/h.265 + aac) and MP4 Video (h264 + aac) under General Profiles. The file size of HEVC-encoded video will be much smaller than that of H.264-encoded video. This is because HEVC/H.265 offers about double the data compression ratio at the same level of video quality as compared to H.264. So, if you want to reduce file size without losing quality, encode your videos to HEVC. Note: Make sure your target device or program supports HEVC before encoding. >> Check detailed differences between H.265 and H.264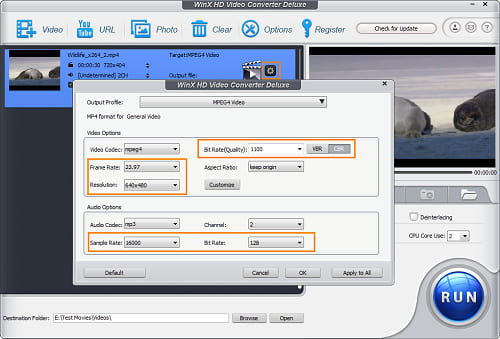 Step 3. Resize videos by modifying video audio parameters.
Click the gear icon and you'll get access to a smaller panel to adjust video audio parameters, such as frame rate, bit rate, resolution, aspect ratio, and sample rate. The higher the values, the bigger the file size, otherwise the smaller. You should be aware of that improper settings may cause awful video quality. If you aren't familiar with these obscure terms, it's safe to leave them on because they are already optimized by professional developer team. Here, we offer some tips for your reference.
1. If the output will be mainly played on smaller screens, choose a lower resolution from drop-down menu of Resolution or click Customize to type in desired width and height pixels manually. Resolution is one of the main factors affecting video size, but lowering it properly won't affect the quality greatly. Choosing a resolution larger than the original isn't recommended, because upscaling will reduce the quality and increase the final file size.
2. As for the frame rate, you'd better keep it as same as it was recorded in, even if the original is 60FPS or higher. Lowering the frame rate will influence the smoothness of your video.
3. The requirements for uploading videos to several popular social networking sites:
Site

Aspect ratio

Resolution

Length

File size

Intagram

Landscape (1.91:1)
Square (1:1)
Vertical (4:5)

Minimum: 600 x 315 pixels (1.91:1 landscape) / 600 x 600 pixels (1:1 square) / 600 x 750 pixels (4:5 vertical)
Maximum: a width of 1080 pixels

Minimum: 3 seconds
Maximum: 60 seconds

Maximum: 4GB

YouTube

Recommended:
2160p: 3840x2160 || 1440p: 2560x1440
1080p: 1920x1080 || 720p: 1280x720
480p: 854x480 || 360p: 640x360 || 240p: 426x240

By default: up to 15 minutes.
(Increasing limit is allowed. Maximum: 12 hours)

Up-to-date browser can upload files larger than 20GB.
Maximum: 128GB

Facebook

Landscape (16:9)
Vertical 9:16

Minimum width is 600 pixels (length depends on aspect ratio) for Landscape and Portrait.

Maximum: 120 minutes

Maximum: 4 GB

Twitter

1:2.39 - 2.39:1 range (inclusive)

Minimum: 32 x 32
Maximum: 1920 x 1200 (and 1200 x 1900)

Maximum: 2 minutes and 20 seconds

Maximum: 512 MB
Step 4. Resize videos through trimming, cropping, expanding, etc.
Click on the Edit icon and then you will see a preview window and several options under it. "Crop & Expand" option allows you to change the frame width and height of the videos. "Trim" helps you to cut off unwanted segments to reduce file length, thereby delivering smaller file size.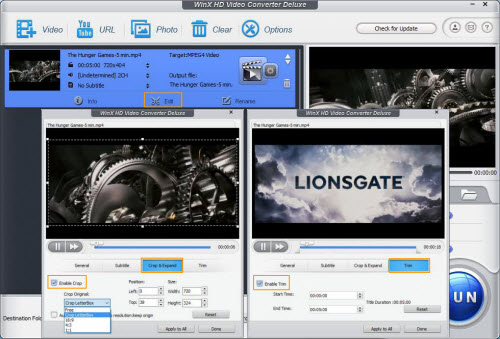 How to crop:
Choose Crop & Expand tab and select Enable Crop. Then, you have three ways to change the canvas size. Any changes will be displayed in the preview window in real-time.
1. Drag the border in the preview window until you get desired state.
2. Choose an option from the pull-down menu of Crop Original and the border will be changed accordingly.
3. Press the up or down arrows of Left, Width, Top, and Height, or manually enter exact values into these boxes.
How to trim:
Click Trim tab, tick the box of Enable Trim, and then you can split off unwanted footage through the ways below.
1. Drag the slide bars under preview window.
2. Press the up and down arrows of Start Time and End Time.
3. Type in the exact start time and end time.
Step 5. Start resizing videos.
Hit RUN button, this video resizer will begin processing your videos one by one. With level-3 hardware acceleration, Hyper-threading technology, High Quality Engine and other cutting-edge techniques, it will export resized videos with optimal quality and file size quickly. To make use of hardware accelerator, make sure Intel or nVIDIA option located under the preview window of main screen is checked.
This solution outweighs other video resizers in many aspects. Compared with resizing video files online, the advantages of this method are: no maximum size limit on source videos, no internet required, no need to upload online, no risk of privacy exposure, super fast resizing speed, broad file format compatibility, etc.
In addition to changing video size, WinX HD Video Converter Deluxe can also convert video from A to B, download videos/audios online, make photo slideshow videos, etc.