Next we will show you how to reduce MP4 file size with WinX video compressor on Windows 10 PC in three different kinds of ways. You can try them out one by one, or just choose one of them based on your need.
1. Resize MP4 File without Quality Loss by Transcoding
The best way we recommend to reduce a MP4 file is to re-encode the video. Most MP4 videos are encoded in H.264, which used to be the coding method with highest compression ratio. But things have changed since HEVC (H.265) is created, which is the successor of H.264, coming with smarter encoding algorithm. Convert MP4 H.264 to MP4 HEVC and you can get a 50% or much smaller file without any loss of quality.
How to Convert MP4 to HEVC to Reduce File Size?
Step 1: Download WinX HD Video Converter Deluxe, launch the software and click "+Video" to load your video MP4 file.
Step 2: There pops up the "Output Profile" window, go to "General Profile", scroll down to find HEVC Video (MP4 file format with hevc h.265 video).
Step 3: Then "OK", set an output folder and RUN to begin transcoding 4K MP4 H.264 to 4K MP4 HEVC.
• Detailed guide on how to convert MP4 H.264 to MP4 HEVC >>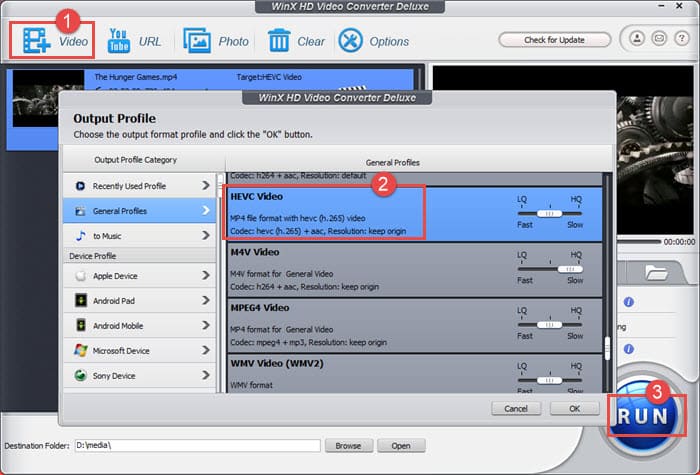 Results of MP4 video resizing by changing codec
Original file codec: H.264, File size: 81.6 MB
Video transcoded into: HEVC, File size: 3.74 MB

2. Resize MP4 Video File by Adjusting Video Frame Rate
Normally, movie videos are shot and displayed at 24 fps or 30 fps. Higher frame rate does make video with a lot of motion look more natural and realistic. But for those films that are not full of action scenes, changing frame rate from 60 fps or 120 fps would not affect video quality much. In the meantime, it can reduce file size. Remember that don't lower the frame rate of sports videos, video game footages, or you will see the video stuttering badly.
How to Adjust Frame Rate from 60fps to 3fps to Reduce MP4 File Size?
Step 1: Again, open the software, click "+Video" to load your MP4 file.
Step 2: Since we don't need to transcode the video, choose "MP4 Video (recommended) in "General Profiles" to maintain the original codec. Then back to the main interface. This time click the gear icon to get in video parameters center.
Step 3: Go to "Frame Rate" under "Video Options", and select 30 from the drop-down list.
Step 4: RUN to start compressing MP4 file.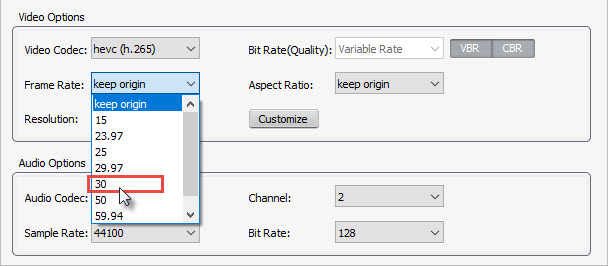 Results of MP4 video resizing by changing frame rate
Original video frame rate: 60 fps, File size: 77.7 MB
Video frame rate changed to: 30 fps, File size: 46.3 MB

3. Resize MP4 Video File by Changing Video Resolution
Ultra high definition is absolutely one of the guarantees for high video quality. That's why 4K becomes popular. But having a 4K video source is far from enough to really enjoy 3840x2160 UHD visual effects. When you play a 4K video on 1080p TV or any other monitors, you actually just watch a 1080p-effect video. In this case, you can choose to downscale from 4K to 1080p to save your space.
How to Downscale 4K to 1080p to Reduce MP4 File Size
Step 1: Launch the MP4 video comperssor and import your MP4 file by clicking "+Video".
Step 2: Go to the video audio parameter center directly by clicking the gear icon.
Step 3: Find "Resolution" under "Video Options" and select 1920x1080from the drop-down menu. Then RUN.
• Detailed guide on how to change video resolution >>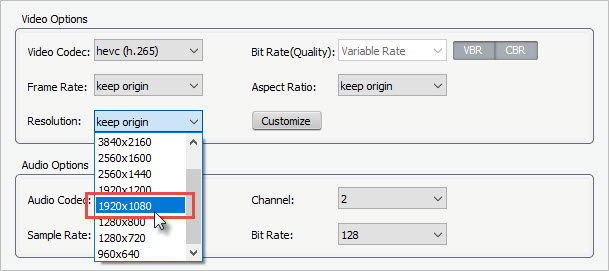 Results of MP4 video resizing by changing frame rate
Original video resolution: 4K 2160p, File size: 77.7 MB
Change video resolution to: FHD 1080p, File size: 21.2 MB