Download Tumblr Music Using Clean Freeware
Easy Level: ★★★★★
Why download Tumblr music with software is better than add-on: There are piles of music sources online of pop songs, original music, not just Tumblr blog. Generally, software features download music from top-rated MP3 music sites like YouTube, Vevo, Dailymotion, Soundcloud and more. Here we recommend you a piece of 100% clean and secure music (video/audio) download software - WinX YouTube Downloader for over 300 sites music downloading.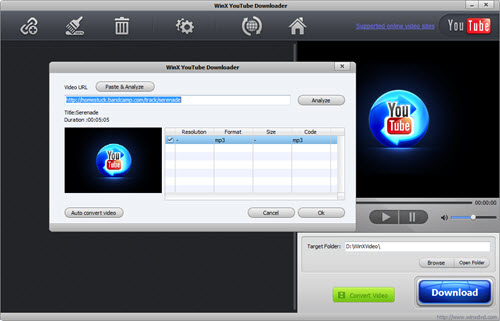 Using WinX YouTube Downloader to downlod Tumblr music is super simple. Just follow the 3 steps below:
Step 1: Click "+URL" button on the top toolbar to turn into (Tumblr) music downloader interface.
Step 2: Copy Tumblr music link, and Click "Paste & Analyze" on the software interface to analyze the music information about title, duration, resolution, format, size and code. Check one MP3 video and click "OK".
Note: You can click share icon to get the link of original audio file (Email address). If it's an online link, click </> icon to get the link.
Step 3: Click "Browse" to set a destination folder to save the downloaded audio file(s). Then hit "Download" to start the free Tumblr music downloading task. This software supports batch download Tumblr MP3 audio files.
Alternatively: How to download video from Tumblr >>
Download Tumblr Audio Using A Third-Party Add-on like TumTaster
Easy Level: ★★★★
There are extensions for Chrome, Firefox or Safari to download music from Tumblr by creating MP3 audio downloading links on the Tumblr dashboard/blogs. Let's set using a well-known add-on - TumTaster as the guide:
• Search and install the TumTaster on your Chrome
• Browse the Tumblr blog page/dashboard with music you want to download
• Right click the "Click to download" button under the audio player
• Select save link, change the music file name, and click Save to download songs/music from Tumblr directly.
More detailed instruction with pics: How to Download Music from Tumblr with TumTaster
It's an easier way for newbies, but a little bit unstable. Because users often find the Tumblr music download plug-in not work or cannot detect and represent the audio download button/link at times.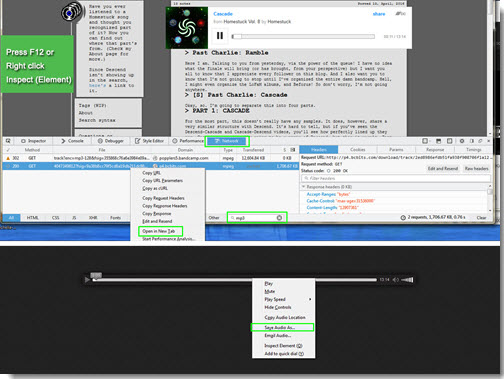 Download Tumblr Audio Using Browser Only
Easy Level: ★★★
Chrome and Firefox are two mainstream browsers, and here we take downloading Tumblr music media file with Chrome/Filrfox on Windows (10) PC for example:
• Open and full upload the Tumblr blog with audio page content on Chrome/Firefox
• Press F12 or right click Inspect (Element) to pop up the whole element window
• Choose Network section, search for "mp3" element by tapping Ctrl+F or under the search bar in the bottom
• Right click the mp3 search results, select "Open link in new tab" to turn to a single tab with only the Tumblr audio file
• Right click the audio player bar, choose "Save Audio As..." to define the place to save the MP3 Tumblr music file. You'd better rename the original file name that consists of numbers to distinguish from other useless audio file on your computer. After that click "Save" to start the Tumblr audio downloading.