How to Convert AVI to MP4 HEVC to Reduce File Size
Large AVI files can be re-encoded into HEVC for reducing file size while maintaining original quality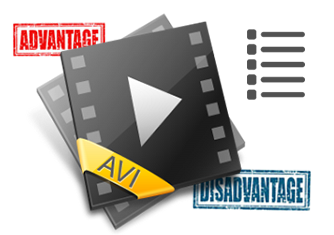 Q - "I have a lot of videos that took me forever to downlaod and I need to convert them, maybe into MP4 for uploading to YouTube. Should I use H.264 or HEVC codec? Anyone please tell me how to convert AVI to HEVC for saving in MP4."
What is AVI format? Why should you convert AVI to HEVC?
Audio Video Interleaved, well-known as AVI with file extension .avi, is a media container format created by Microsoft to store video encoded in XviD/DivX and audio files digitally for playback purposes. It becomes popular along with the development of Windows OS. AVI has pretty good quality of audio fidelity and can run on major desktop platforms, which implies that you can't play AVI videos on any iPhone or Android mobiles.
Besides, when AVI is compressed beyond limits, there will be intolerable quality loss, especially for HD or 4K UHD files. That's why we recommend you to re-encode AVI XviD/DivX to MP4 HEVC. HEVC, being the successor to H.264, now tops the most-welcomed video codec list for its highest ever data compression ratio, realizing about 50% reduction of file size. Large video transcoding is a very source-intensive process, which will slow down or even freeze your system. But it can be well alleviated by enabling hardware acceleration. So choose a hardware accelerated video transcoder is of great importance.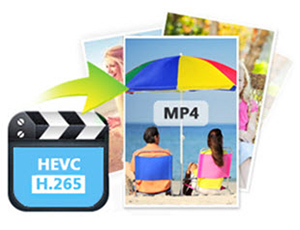 The Only Video Transcoder with Level-3 Hardware Acceleration
WinX HD Video Converter Deluxe is the only software in the market that can reach Level-3 hardware acceleration, allowing you to maximize converting speed in all three stages: video decoding, video processing and video re-encoding into HEVC, H.264, MKV, MOV, FLV, etc.
How to Convert AVI to HEVC MP4 with WinX Video Transcoder?
Here we will show you every step needed for converting AVI to MP4 HEVC on Windows 10. Before all that, please download WinX HD Video Converter Deluxe and follow the setup wizard to install the .exe or .dmg file to get ready.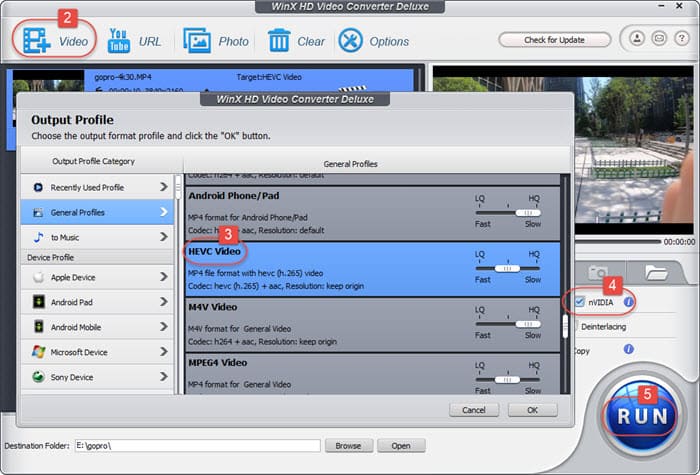 Step 1. Download video converter software
Free get WinX HD Video Converter Deluxe for Windows
Free get WinX HD Video Converter for Mac
Step 2. Load an AVI file
Double click the software icon to launch the HEVC transcoder and click "+Video" to get your AVI file loaded from local drive.
Step 3. Choose HEVC MP4 as output format
Normally the "Output Profile" window will pop up automatically. Go to "General Profiles" and scroll down to find "HEVC Video (MP4 file format)". Then click "OK" to move on.
Step 4. Convert AVI to HEVC MP4
- Check Intel or nVIDIA beside "Hardware Accelerator" under the preview window to enable hardware acceleration.
- Specify a destination folder to save the converted file.
- Press button RUN to start converting AVI to HEVC MP4.
* The following conversion results show that the file size has been reduced about 65% after transcoding from AVI DivX to MP4 HEVC.