How to Compress a Video for WhatsApp Easily Without Losing Quality?
WhatsApp is a free cross-platform instant messaging app for smartphones, which allows users to upload photos and videos to a 24-hours-lifetime feed. Especially, the end-to-end encryption feature of WhatsApp is great enough to well respect and protect privacy of users.
However, the WhatsApp has a video size limit of 16 MB for each upload, which is far from enough for today's 4K/HD videos. Also, WhatsApp supported video formats are limited. So, you may need to compress and convert your video to fit WhatsApp.
Free Download a Video Compressor to Shrink Large/Long Video for Whatsapp
With WinX HD Video Converter Deluxe, you can reduce video file size by 90% with great quality, thanks to updated compression kernel and High-Quality engine. It makes video smaller by changing encoding format, reducing video resolution, cutting off unwanted parts, etc.
Part 1 Get a Good Video Compressor
DJI drones, Gopro, iPhone, Samsung Galaxy, digital camcorder, and other popular devices record videos in high resolutions. The recordings could be in 720p, 1080p HD and even 4K. Let's do the math. An HD video of 30-40 sec will be around 18-20 MB. So, a video of several minutes can easily reach hundred MBs to GB. The video goes larger when it comes to 4K. Besides, the video format of WhatsApp video message has to be H.264 or H.265 profile aac, with a proper resolution.
So how to send a video larger than 16 MB to your friends on WhatsApp? The best solution is to reduce the video file size for WhatsApp.
Coming with the following features, WinX HD Video Converter Deluxe is the right tool to compress video for WhatsApp.
Compress any large video file to smaller than 16MB for WhatsApp in ideal quality [40%-90% compression ratio]
Convert incompatible videos to the video formats supported by WhatsApp for iPhone, iPad, Android, etc.
Flexible options to cut, crop, merge videos, downscale resolution, change aspect ratio, adjust parameter settings and so on.
Utilize GPU hardware acceleration to compress 4K/HD videos fast and smoothly.
Part 2 How to Compress Video for WhatsApp on PC/Mac Without Losing Quality?
Step 1. Download and install WinX HD Video Converter Deluxe on your computer.
Step 2. Input the video file you need to compress for Whatsapp.
Fire WinX HD Video Converter up on your computer. On the main interface of this converter, click on "+ Video" on the top left to browse and select any video file (e.g., a 2.7K/4K skiing video recorded by GoPro camera) you need to compress. If target video is on your iPhone, Android, or other devices, transfer them to your computer. By the way, batch mode is supported, so you can add several video clips at one time.

Step 3. Choose an output format for the resulting compressed file.
Not all videos can be played or uploaded through WhatsApp. When compressing a video for WhatsApp, you should make sure the output format (as well as codec) is supported by WhatsApp. Actually What WhatsApp supports mainly depends on your device. If your mobile has codecs to decode the format and is able to play the video WhatsApp will support. Generally speaking, MP4 encoded with H.264 and AAC is well accepted by WhatsApp. In WinX HD Video Converter Deluxe, you can go to General Profiles and choose MP4 Video.
If your device support HEVC codec, you can also choose HEVC as your output format. HEVC codec has higher video compression rate than H264 and many other codecs. According to our test, the compression ratio of changing an H264 to HEVC video will reduce file size by over 90% at most.
For HEVC MP4 format: Find HEVC Video in General Profiles.
For HEVC MKV format: Find HEVC Video in PC General Video.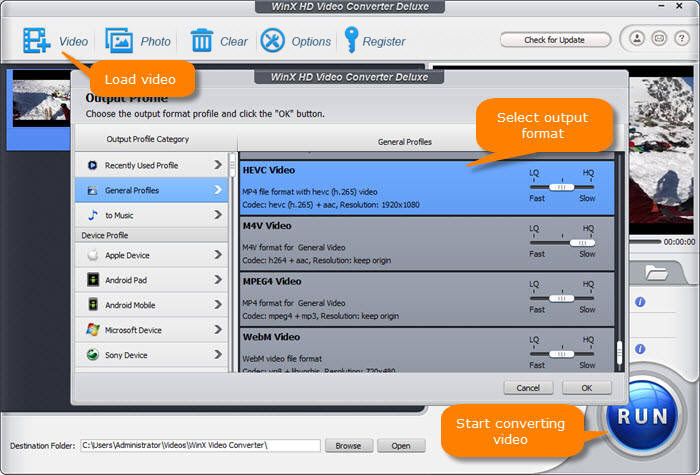 Step 4 (optional). Adjust the parameters for the output file.
Click Option button, and then you can lower the video resolution, and adjust or customize video codec, bit rate, frame rate, aspect ratio, and so on.
The following parameters are working for WhatsApp, and can be taken as references for parameter settings.
codec: H.264
resolution: 960x540 (quater of FullHD)
bitrate: 2-5 Mbit VBR
audio codec: AAC
bitrate: 128kbit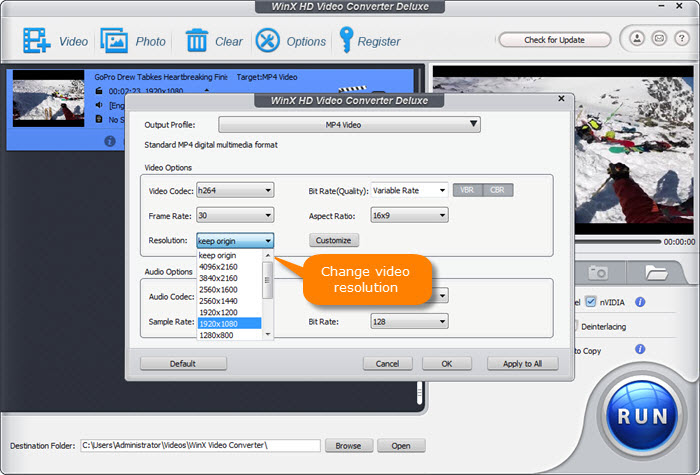 Tips: You can calculate the output file size roughly. Since you cannot preview the output file size, you'd better calculate the output file size roughly by yourself based on the file size of source file and the compression ratio. Averagely, it can reach over 90% compression ratio when shrinking an HD video to MP4 (HEVC codec).
Step 5. Remove unnecessary parts of the video(s).
To reduce video file size for Whatsapp maximally, you can choose to make the following processing operations:
Crop: crop the black boarders (if any) of the video: Crop & Expand -> check "Enable Crop" -> drag & pull or adjust the dashed box -> Done.
Trim: cut out any unwanted parts from the video: Trim -> check "Enable Trim" -> input Start Time and/or End Time, or adjust the timeline manually to select the duration you need -> Done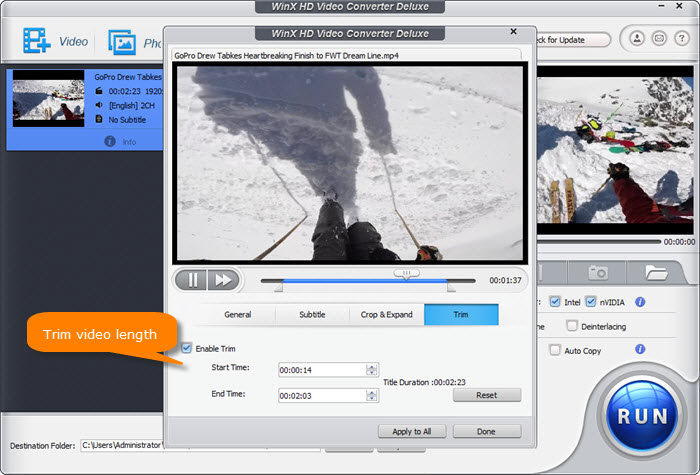 Step 6. Set the Destination Folder.
Setting Destination Folder will help you find the output file easily after the WhatsApp video compression and conversion is done. You just need to Browse and Select Folder.
Step 7. Start compressing video to WhatsApp required file size, length and format.
Just tap "RUN" button and now WinX HD Video Converter Deluxe will start reduce the size of a video for WhatsApp.
Step 8. Upload videos to Whatsapp.
Open the destination folder, find the compressed video file, and transfer the video from your computer to your iPhone or Android for later sending to others through WhatsApp.
Tips: You can also use WinX HD Video Converter Deluxe to reduce video file size for apps similar to WhatsApp, such as Snapchat, Facebook Feed , Instagram Stories, etc.
Part 3 FAQs
Q1. What is the video size limit for WhatsApp?
The maximum file size allowed for video to be sent or forwarded through WhatsApp is 16MB on all platforms.
For WhatsApp Status, you can share a video with a maximum duration of 30 seconds.
Q2. How can I send a large video on WhatsApp?
If you want to send a video larger than 16MB (such as 17MB, 1GB, 2GB) or send a long video (such as 4 minutes or 5 minutes) through WhatsApp, you need to compress the video first.
To shrink video for WhatsApp, you can use WinX HD Video Converter Deluxe to reduce video resolution, reencode video, trim and crop video.
Q3. How can I compress a video for WhatsApp online for free?