Please export drone video to computer, install and load source drone video to WinX HD Video Converter Deluxe for preparation.
How to Compress HEVC/H.265 Drone Video to H.264 MP4?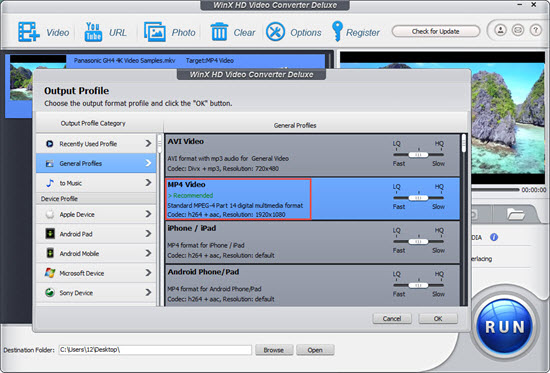 In order to publish HEVC encoded video in .mp4 on Facebook/Instagram, or plan to watch it on big screen that does not have HEVC support, you are suggested to transfer HEVC to H.264 MP4. As the most acceptable format, "MP4 Video (h.264+aac)" is also recommended by WinX HD Video Converter Deluxe and listed at the top list of "General Profiles". Choose it after loading drone video and click "OK".
One thing you have to note that the default resolution is set at 1920x1080. If you want to keep original resolution, or change to 1280x720/720x480 etc., or customize at any other desired ones, just open settings by clicking sawtooth icon to do so under video options. On the settings panel, video aspect ratio can be made to 16x9, 4x3 or 3x2; video frame rate is available to reset; video bitrate can also be chosen to VBR or CBR. At CBR model, lower bit rate achieves smaller video size.
Currently, MP4 (H.264) drone video can be well received by most smart devices. But you may at times have needs to change it to AVI, FLV, WMV, VP8 format etc., or your MP4 (H.264) drone video cannot play on iPhone iPad TV for unknown reason. At this time, transcoding video with WinX HD Video Converter Deluxe is also a wise way to go.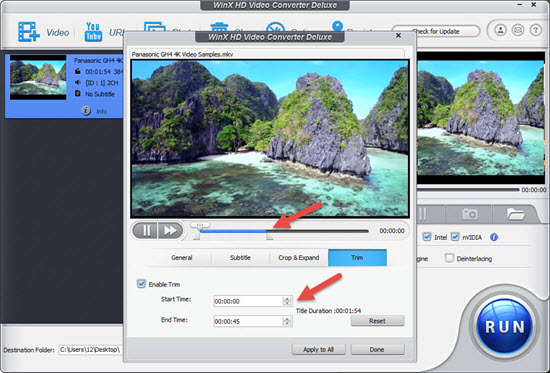 How to Reduce Drone Video Size by Trimming to Certain Length?
No matter you want to trim your long drone video to 15s, 1 min or more, WinX HD Video Converter Deluxe makes it happen easily. After importing video and output format selection, click "Edit" to process to "Trim" section, where you can compress video duration in two ways after ticking "Enable Trim":
- Set specific start time and end time;
- Manually drag the scroll bar under video preview window.
Right near trim feature, crop and expand sometimes is useful for you to cut unwanted area off. Subtitles can also be added here. After you get back to the main UI, youcan capture screenshots of this drone video by clicking camera icon under video preview box.
Hot Related:
Review on Best 7 DJI 4K Video Editors
5 Tips to Fix DJI (Phantom) Drone Video Can't Play