HandBrake DVD Ripper: How to Use HandBrake to Rip DVD Movies?
[2019 Guide] How to Use HandBrake DVD Ripper to Rip Different DVDs on Windows or Mac?
A lot of occidentals still go ahead with HandBrake as an indispensable household DVD ripper for digitalizing their DVD collection, although HandBrake is more than that (indeed, it is an open-source video transcoder). This article is to guide you on using HandBrake to rip DVD movies on a desktop or Mac.
About HandBrake DVD Ripper
The DVD conversion feature of HandBrake has won popular support for a long time. It basically meets the common family DVD backup demand when the DVD sources do not involve any copy protection.
Currently, WinX DVD Ripper has enjoyed comparable reputation with HandBrake. They both have pluses and minuses. The thumbnail comparisons are abbreviated as follows:
HandBrake vs WinXDVD

Input

• DVD sources that do not contain any kind of copy protection
• Blu-ray (Blu-ray disc structure), video file, video folder

• Any home-made, commercial or copy-protected DVDs, ISO image files, DVD folders
• Any home-made, commercial or copy-protected DVDs, ISO image files, DVD folders

Outputs

• File Containers: .MP4(.M4V) and .MKV
• Video Encoders: H.265/x265, H.264/x264, H.265 MPEG-4 and MPEG-2, VP8, VP9 and Theora
• Devices: Apple iPod, iPhone, iPad, Apple TV; Android, Android Tablet

• Videos: All universal video formats incl. MP4/H.264, AVI, MOV, AVC, MPEG, TS, etc.
• DVD related: ISO image, DVD folder, MPEG2 (DVD)
• Audios: MP3, AAC, AC3
• Devices: almost all popular Apple, Android, Microsoft, Sony devices; Chromecast, Blackberry, Nokia, PDA, ZEN
• Web: YouTube, Facebook, Vimeo

Operating Systems

• Windows: from Windows 7 on up
• Mac: from OS X 10.7 on up
• Ubuntu: For Ubuntu deb
>> For more about their differences, please read:
https://www.winxdvd.com/resource/handbrake-vs-winxdvd-free-ripper.htm
Similar to WinX, HandBrake DVD Ripper has other useful features such as Batch Scan, Queuing of encodes, subtitle burning, title/chapter selection and Constant Quality or Average Bitrate Video Encoding.
How to Rip a DVD Using HandBrake DVD Ripper? [HandBrake Rip DVD Guide]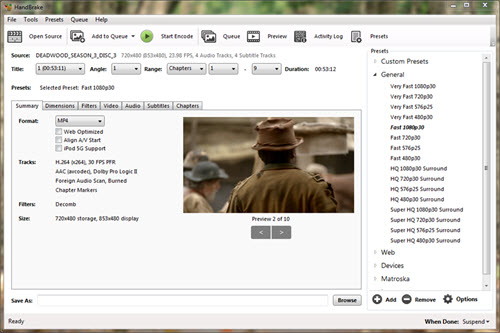 1. Head to official homepage of HandBrake, download the correct edition according to the platform and digit of your computer, and make it properly installed.
2. Open HandBrake. Handbrake will rip common (home-made) DVDs, but most DVDs you buy from the store are encrypted. If you have the whole thing tripped up by copy protection when trying to decode a movie DVD using HandBrake DVD Ripper, you'll need to turn to a HandBrake alternative.
Disclaimer: Is it legal to remove copy protections from DVDs? Well, different country has different DVD copyright laws. If you simply rip your legally purchased DVDs for your own use, it is you to decide. Digiarty Software does not advocate ripping copy-protected DVDs for any commercial purpose.
3. Insert the DVD you want to rip, click the Source button and select the DVD from the drop-down menu.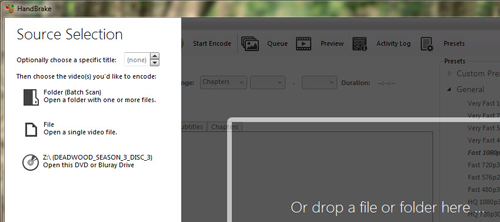 4. Let HandBrake DVD Ripper scan DVD titles. It will take a longer time to load a DVD because it scans tiles one by one.
• How to Solve Handbrake Cannot Scan DVD Title on Windows
• How to Solve Handbrake Cannot Scan DVD Title on Mac
5. Select a title:
Click "Title" drop-down menu to select which section of the movie you want to rip. However, Handbrake always selects the wrong DVD title. If you want to rip the main movie, try to select the title with the longest run time. If it still incorrect, you may need the help from VLC media player (>> See how to rip DVD to MP4 with VLC) or replace it with WinX DVD Ripper which will automatically analyze and choose the correct main DVD title for you.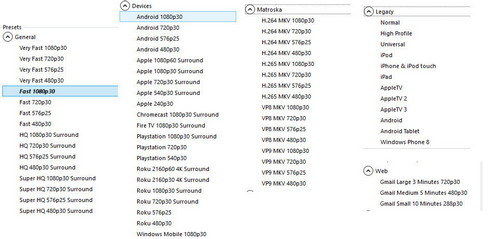 6. Choose an output format:
On the HandBrake's preset menu on the right side, you can choose MKV or MP4 video format, or select among a slew of Apple devices. The video transcoder seems to be designed more convenient for Apple users. If you need to rip a DVD to fit other devices that are not listed in the preset profiles, you should make some settings or create new presets by yourself.
7. Fine-tune your output file:
There are options that allow you to adjust the final video/audio quality of your video. For example, you can try different bit rates and Dolby processing.

8. Make some other settings if you want:
HandBrake DVD Ripper will allow you to add track, import SRT subtitles, compress the file size, crop the movie image and so on.
9. Choose where to save the output file:
By default, the output file will be saved to the Desktop. You can click the Browse button on the right of the interface, navigate to where you want to save the file, and type in a file name in the box. Click OK.

10. Make the DVD ripping process start:
If you intend to digitalize more than just one DVD or one tile, click Add to Queue to continue. Otherwise, hit the "Start Encode" button on the top to let the conversion begin.
Note: As a DVD ripper, HandBrake however is not so friendly to beginners because the too tedious and complicated adjustable settings. As for the software quality, it can rip whole movies under normal conditions (but in some case, HandBrake rips half of the DVD content only). The resulting image quality is sometimes below expectation and is swarming of pixel blocks. Please try the best alternative to HandBrake below.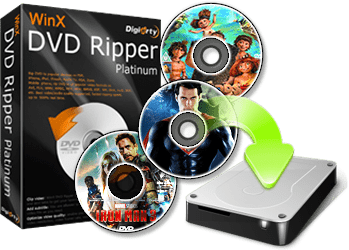 WinX DVD Ripper Platinum - The Best Alternative to HandBrake for Win / Mac
95% of users say it is much better and easier to use than HandBrake
• Support almost any kinds of DVDs, ISO images, DVD folders.
• Rip DVDs to MP4, AVI, WMV, MPEG, MOV, MTS and the like general videos.
• 350+ profiles: enable DVD playback on iPhone, iPad, TV, Android, PSP, Xbox, etc.